Actress Kristina Klebe (pronounced "Kleeb") is known to be beautiful, intelligent, driven and quite worldly. Often complimented on her classy charm reminiscent of past greats like Katherine Hepburn and Judy Garland, Klebe's demeanor comes from the fact that she spent much of her early life living in various countries in Western Europe including Germany, France and Italy– and clearly the cultures have influenced her in many ways.
Now with a resume chockfull of creative roles such as the lead of "Lynda" in Rob Zombie's remake of "Halloween" and appearances on TV shows like "Law & Order," "Law & Order: SVU" and "Rescue Me," Klebe is making a splash in Hollywood. Up next, Klebe plays Isabella Rossellini's daughter, "Katerina Bollenbecker" in the upcoming feature film "The Accidental Husband," directed by Griffin Dunne, starring Uma Thurman and Colin Firth. Currently, Klebe will soon be on her way to attend the 2009 Sundance Film Festival for her supporting role in the film "Peter and Vandy" starring Jason Ritter.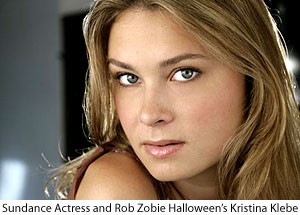 Before she leaves for Sundance, we got a chance to get to know her better… Check it out!
LA's The Place: Tell us about your past work with M. Night Shyamalan and Spike Lee.
Kristina Klebe: Spike Lee directed the first feature movie I was in. I auditioned for a
German role and he loved my tape so much that he never looked at any others-it was a very small role however and everything was improvised. I got to the set and waited around and waited around. Then I had lunch with Q Tip and a bunch of other actors in the movie. Then I waited around again. I was chatting it up with Woody Harrelson in the makeup trailer and learned something about 'vaporizing' which I still, to this day, don't quite understand. This went on for a few days until I finally realized they had cut my scene out and it seemed like I was just going to be a featured office worker who had
a German accent (smiles). I got a lot of working days though and got to make friends with a many of the other actors. On the last day of shooting, Spike actually gave me a hug, so I'm figuring he either really liked me or he felt sorry that he had cut out all my more meaty stuff! In the final movie, I'm barely in it at all. It was my first taste of filmmaking reality and a bit disappointing. But he likes to work with the same actors, so there could always be a second chance!
M. Night directed a commercial I was in. He was a very organized and serious director, but he seemed gentle as well. I had less interaction with him because it was such a quick shoot with so many people. I did, however, befriend his cinematographer, Christopher Doyle, who I later found out was Won Kar Wai's cinematographer for many years and shot one of my favorite movies, "In the Mood for Love." He's an incredibly fascinating man. Often when the role is small, the experience on the set and meeting people is what you get out of a shoot. Watching and learning is just as much a part of the process.
LATP: You have lived everywhere it seems! Which do you prefer NYC or LA? Why?
KK: I prefer New York, no question. I'm a New Yorker. I was born in Manhattan. I'm straightforward and expect people to be the same with me. I don't tell people something's great when it's not. I expect others to do the same to me. Unfortunately I have a very hard time reading people in LA because my natural tendency is to trust that people are being straightforward but I think straightforward has another definition in LA… The thing I do like about LA are the mountains, the beaches- I love hiking. And, obviously there are a lot of opportunities for work out here.
LATP: How did you feel when you found out that you had landed a lead role as Lynda in Rob Zombie's remake of "Halloween"?
KK: I didn't quite know what to think actually. Because, believe it or not, I didn't know anything about the Halloween series. Yes, the fans know this! I've made up for it by watching all the Halloween movies among other countless horror movies since then.
Actually the first thing I thought was that it was a C or D Indie horror movie. So I joked with a friend and said 'guess what, I just got cast in a horror movie- don't hold it against me.' He was like, 'what horror movie?' I said Rob Zombie's Halloween -still not putting the connection that Rob Zombie was from the band White Zombie- I just thought he had a name appropriate for a horror director. My friend nearly fell out of his seat. He was like 'what?! Rob Zombie's Halloween?!' He informed me that Malcolm McDowell was playing the lead and that it was going to be a huge movie and that before I embarrassed myself again I should go do some research. Well, then of course I freaked out! And after that, I even found out that Rob had gone to bat for me against the producers who actually wanted a bigger name for the role. So, I am really indebted to Rob. Things in life happen in such a strange way. I never would have thought I'd do horror movies, having never been allowed to watch them growing up. But working on Halloween was amazing.
It's probably one of the best experiences of my life. Rob put together such a talented and fantastic cast – the crew – everyone was great. No egos.
LATP: Around the same time, you were also cast as Isabella Rossellini's daughter, Katerina Bollenbecker in the upcoming feature film "The Accidental Husband," directed by Griffin Dunne, starring Uma Thurman and Colin Firth. What was that experience like for you?
KK: It was great working with Griffin, Uma and Isabella. Griffin is a fantastically funny guy and very intelligent. The story about booking that job is funny. I heard they wanted a German speaking American – no accent though. So I thought well, I'll bring my mother to the audition so that they actually believe that I speak German. Of course this is a total faux pas but I didn't care. I had been told one too many times that I wasn't German enough by casting directors. So I brought my mom. Next thing I know they ask my mom to audition and they ask her if my dad is a good looking guy? And next thing I know HE has an audition. Long story short, they got cast as featured extras and I got cast as Isabella Rossellini's daughter. So my parents and I are immortalized in a movie together. Not many people can say that.
LATP: You are going to Sundance! Are you excited about the film "Peter and Vandy" premiering?
KK: I'm extremely excited about "Peter and Vandy." I hope it wins the Dramatic Competition.
LATP: We're told you have a director's itch. Do you plan to direct much professionally in the future?
KK: I'm currently producing and directing a documentary but I lack the funds right now to finish it as I'd like. I'm also starting to direct music videos which I'm really excited about. You can check out a pitch of mine if you go to my myspace page www.myspace.com/kristinaklebe and click on the Low V Diamond competition. I'm also hoping to direct a music video for my friends 'The Frail' and perhaps some others…
To see more about Kristina Klebe go to: www.imdb.com/name/nm1640351 and www.myspace.com/kristinaklebe.
Wait! Don´t forget to Subscribe for Free!
Main Feed | What is RSS?
Enter your E-mail below to Subscribe

*
No spam
|
Privacy Policy
We will not sell or distribute your e-mail address to anyone else.
Written by Brittany Graham