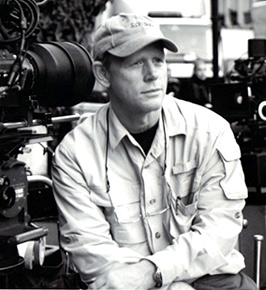 Who would have guessed, more than forty years ago, when a small red-headed boy stepped onto the set of The Andy Griffith Show, that the child would go on to win prestigious directing awards such as the Golden Globe®, Oscar® , Director's Guild of America's Best Director of the Year? Ron Howard, one of this generation's most beloved actors and celebrated directors, has come a long way since those early years. The talented actor, director and producer is being honored at the prestigious Palm Springs International Film Festival on January 6, 2009, where they will bestow the Director's Lifetime Achievement Award on Howard, with a special focus on his current film, the electrifying drama, "Frost/Nixon.
Greatness Recognized
The Palm Springs International Film Festival, in its 20th year, is recognizing Howard's 50-year contribution to film with this special honor. Howard has directed some of our most memorable films, from dramas such as A Beautiful Mind, Apollo 13, Cocoon and Backdraft, to comedies like Splash, Parenthood, and Night Shift.
Wholesome Was Gold
Howard's career began in 1959 as a child actor playing opposite Yul Brynner in the film The Journey, then The Music Man.
His breakthrough role was as Opie on the much-loved Andy Griffith Show. Howard credits the unusually supportive atmosphere on the show, where actors were permitted to express views and thoughts on scripts and dialogues, with his current ability to reach out to people.
After the Andy Griffith Show Howard continued acting, through his years as wholesome Richie Cunningham in the well-known series Happy Days to his part in the iconic teen film American Graffiti. Afraid of being type-cast into one particular role, Howard later moved into producing and directing, and founded Imagine Entertainment in 1986 with his Academy Award® winning business partner Brian Grazer. Imagine Entertainment has produced a variety of popular films, including hits such as the recent Changeling, directed by Clint Eastwood and starring Angelina Jolie, American Gangster, Inside Man, Curious George, Flightplan, Friday Night Lights, 8 Mile, and The Nutty Professor I and II, Bowfinger, The Paper, Inventing the Abbotts and Liar Liar .
Since his directorial debut in 1976 with Grand Theft Auto, Howard has acted as producer or director (and sometimes both) for many of our best-known films. His movies span a wide variety of genres and styles, including Cinderella Man (Russell Crowe), Far and Away (Tom Cruise and Nicole Kidman), Ransom (Mel Gibson), the animated How the Grinch Stole Christmas, and Willow (Val Kilmer). He received his first Best Director of the Year award from the Director's Guild of America for the film Apollo 13 (starring Tom Hanks) in 1995. Howard has also served as executive producer on award-winning television shows such as FOX's Arrested Development, an Emmy award winner for Best Comedy that he also narrated, and the HBO miniseries From the Earth to the Moon.
What He is Working on Now
An active producer/director, Howard is currently promoting his new film Nixon/Frost, which depicts the battle between President Nixon and famed newsman David Frost. He is also in post-production on the sequel to The Da Vinci Code – Angels and Demons – both films starring acclaimed actor Tom Hanks.
The Palm Springs International Film Festival
The 2009 Palm Springs International Film Festival will be held January 6-19 at the Palm Springs Convention Center. It was founded in 1990 by then-Mayor Sonny Bono. The Festival will showcase over 450 screenings of more than 220 films from approximately 65 countries. Screenings are held on 15 screens throughout Palm Springs.
The Festival's 20th Annual Awards Gala is presented by Cartier and sponsored by Mercedes Benz and Entertainment Tonight and will be hosted by Mary Hart. The Festival itself is sponsored by The City of Palm, "The Desert Sun", the City of Indian Wells, the Agua Caliente Band of Cahuilla Indians, Spencer's Restaurant, and Wessman Development, Bank of America, Integrated Wealth Management, Guthy-Renker, Regal Entertainment, Wells Fargo, Palm Desert National Bank, CBS2, Ocean Properties Development, Ciroc, Johnnie Walker, and Don Julio.
Past recipients of the prestigious award include Stanley Donen, Milos Forman, Ridley Scott, Franco Zeffirelli, and Jim Sheridan

For additional information call (760) 322-2930 or (800) 898-7256 or visit www.psfilmfest.org