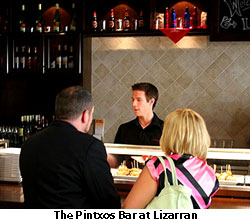 The bell rings. Patrons clap and cheer…it's time to eat.
At Lizarran Tapas Restaurant in Fullerton, eating is designed to be fun. Some of the fun comes in the form of food on a toothpick (pintxos). Some of it arrives tapas-style on small hors d'oeuvres plates. Guests are encouraged to talk, mingle, share food and socialize. Welcome to Spain.
To encourage the European tradition of sampling, the Lizarran menu offers authentic traditional Spanish dishes designed primarily tapas-style, which allows customers to enjoy and share single-size portions with family, friends and co-workers. Tapas dishes range from eggs, cheeses and potatoes, to seafood, Spanish cured meats and vegetables. Freshly baked breads, pintxos, entrees and a selection
of desserts round out the menu. The variety of foods offered makes it easy for larger groups to dine, where every guest can find something they like. From seafood lovers and meat eaters to vegetarians, there are options for everyone.
Unique to this dining experience are pintxos. A typical dish of the Basque region in North Central Spain, pintxos are often served as both warm and cold appetizers in taverns and bars. At Lizarran, each portion of the pintxos meal arrives on toothpicks. Guests decide which they
want to sample and the number of toothpicks used is then tallied at the end and charged accordingly. Each toothpick is only $1.75, which allows guests to try a variety of foods they might otherwise not.
Popular items from the restaurant menu are the Tabla de Quesos (plate of cheeses), which offers a delicious sampling of six imported aged cheeses including brie, goat and blue, served with bread straight from the oven and fresh tomato spread.  The calamari, either on its own, as a tapas dish, or mixed with rice or other delectable seafood, is savory and suitable for sharing.
Lizarran also features a bar where guests can either stand or sit, eat, and enjoy a variety of beers, wines and even sangria on tap. 80% of the wines are imported from Spain to complement the food and fit with the authentic atmosphere.
With the main food items also imported from Europe, the quality is high and allows for each of the 250 worldwide locations to provide consistency. All of the Lizarran restaurants feature a similar comfortable "rustic-modern" look, and the back wall, with its stone, photography and metal logo, is the same at each location.
Open for both lunch and dinner, Lizarran offers speed of service, good food and fun. So grab a plate. Listen for the bell. Eat. And enjoy.
Where: 310 N. Harbor Boulevard, Fullerton
Hours: Sunday through Wednesday, 11:30 a.m. – 10 p.m.
Thursday through Sunday 11 a.m. – 12 midnight.
Contact: www.lizarran-ca.com or call 714/ 879-9009.