Michelle Renee Johnson, a Certified Empowerment Coach through the iPEC Coaching School, talked with LAsThePlace.com and discussed her career as a coach and her outlook on life. Through her unique Law of Attraction expertise, Michelle Renee Johnson has built a huge coaching business that has changed the lives of her clients. With her own Expanding Joy Coaching business, Michelle has been able to help people tap into their inner strength so they can create the life they want.

LATP: How would you describe your personal system of coaching?
MRJ: My personal system of coaching is based on the belief that each client has an inner wisdom that when tapped into can guide them in every area of their life. My role as a coach is to support my clients in tapping into that inner wisdom, to educate them on universal laws and truths that will support them in their personal growth and goals and to offer tools and techniques that will support them in more effectively creating what they desire in any area of their life.
LATP: Do you think Empowerment Coaching will take the place of traditional therapy in the future?
MRJ: I believe there will always be a place for a variety of healing modalities in a world as diverse as ours. No two people are alike and therefore the steps that are right for them in their healing process and awakening process will be unique. I do believe that therapy is evolving just like coaching, and that many therapists resonate with the coaching approach, but that there are many other forms of therapy that are quite different from coaching that support people who resonate with them. I believe that many people have found that coaching is a much better fit for them now than the traditional therapy model, and I am so grateful to be able to offer coaching for those that resonate with it.
LATP: Do you find your own personal energy level shifting during your one-on-one or group coaching sessions?
MRJ: Absolutely. I always center myself before a coaching session which helps shift me into higher level of energy. Then, during the coaching session, as I support each client in remembering their truth and their potential, I often feel their shift in energy and this in turn increases mine as well. I have had many jobs that leave me drained at the end of the day. This is not one of them. I end each coaching session just as, or more energize than then when we started which is such a wonderful feeling.
LATP: What are some of the advantages you see in coaching by telephone?
MRJ: For me I have found that coaching via telephone allows me to tap into my intuition more fully. I am able to stay more clear and able to hold the client's agenda more effectively than when I coach face to face. It is also so much easier to find times that work for both the client and myself when coaching over the telephone.
LATP: How did you hear about the iPEC Coaching School and what is your current affiliation?
MRJ: I found iPEC over the internet. I just followed my intuition and it brought me to iPEC. I researched many different schools but always came back to iPEC because I resonated so completely with their mission and vision. I am now a certified iPEC coach and Team Leader for the iPEC Ambassador Program. I also love teaching and hope to become an iPEC trainer at some point in the future.
LATP: Do you see the business of coaching expanding worldwide or is this just a current phase in natural healing?
MRJ: Oh. I absolutely believe that coaching will expand worldwide. I believe there is a shift happening all over the planet and coaching is going to take a powerful role in that shift. People all over the globe are awakening to their personal potential and coaching will be a wonderful tool for many of them as they move forward.
LATP: As traditional therapy seems to drag on for months and perhaps years, is the coaching process a short term get-to-the-point process or are their advantages to long term coaching?
MRJ: For me, coaching is about personal power, not dependence. My ultimate goal as a coach is to support my clients in finding their own personal power. Therefore it is my intention that they will get to the point that coaching is no longer necessary for them. Through coaching I help my clients create a way of being that truly supports them in any area of their life. With this knowledge and new way of being they become their own coach.
LATP: Since coaching is your business, have you considered coaching business owners so they can maximize their own performance as well as their employees?
MRJ: I currently work with a few directors, business owners and business managers. I support each client in creating balance in their entire life so their role in their business often comes up. Many have found that as they shift their energy, it creates a huge difference in their own performance as well as their interactions with their employees.
LATP: Since life has so many uncertainties, how do you coach the person who has a fear based consciousness?
MRJ: One thing I have realized is that in order to effectively coach someone, they have to be committed to change. As long as they are truly committed to their growth, than any fear based thought can be shifted. I have found that awareness is the most powerful shifter when fear based thinking arises. As clients tap into their Truth, a more empowering way of being, and become committed to living that truth, then we can take steps towards recognizing their fear based thinking every time it arises and shifting out of it into a more empowering way of being.
LATP: Who are your toughest clients to get through to? \
MRJ: My toughest clients are those who are not truly ready to commit to their growth. This shows up through missed appointments or showing up consistently late to appointments and a lack of commitment to doing their own work in between sessions. With the few clients I have had where it is clear that they are not ready to make this commitment, and then we simply choose to postpone coaching until they are ready.
LATP: How do you see the coaching process in terms of personal relationship?
MRJ: Coaching can be very beneficial for supporting clients in shifting their way of being in personal relationships. Through healing their own wounds and untruths, they can show up much more authentically in relationship which is powerful. In addition, through learning to take ownership for their part of the relationship, through learning positive communication skills, and through learning powerful concepts like understanding their love language and the love language of their partner, coaching can create a much deeper connection and understanding which greatly improves many clients' personal relationships.
LATP: What group of people do you think would most benefit from coaching?
MRJ: I believe that coaching can be beneficial to anyone who wants change in their lives. That being said, I believe the group that benefits the most are those who are what I refer to as truth seekers, those who are committed to living a more fulfilling, empowered life.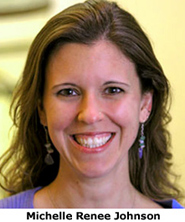 They just thrive in the coaching environment because they so fully resonate with it.
Thank you Michelle for giving back!
Read our article on Michelle here…
Michelle R. Johnson, CEC
Certified Personal Empowerment Coach
Law of Attraction Expert
Owner of Expanding Joy Coaching
916-671-8635
expandingjoy@care2.com
www.expandingjoycoaching.com
Wait! Don´t forget to Subscribe for Free!
Main Feed | What is RSS?
Enter your E-mail below to Subscribe

*
No spam
|
Privacy Policy
We will not sell or distribute your e-mail address to anyone else.
Written by Victoria Chadwell