On May 22nd, Wine and Spirits Magazine hosted their "Hot Picks" wine-tasting event at Culver City's MODAA Gallery featuring popular restaurants including Katana, Osteria Mozza and La Brea Bakery. Proceeds from the event benefit the Surfrider Foundation.
Something wonderful has been happening in Los Angeles recently. Wine bars are popping up everywhere. And they're hits. On your average evening, classy crowds corral to indulge in the grape. Wine and Spirits celebrates this passion and brings as much attention as they can. And it's working.


Oh! What a night!
As you enter the building, it's a wine lover's dream come true. They hand you a glass and there are uncorked bottles ready to taste as far as the eye can see. Some red, some white, some sparkling, with top-shelf appetizers intermingled.
Eventually you stroll out the back door and realize there's a whole other world left to investigate. More food, more vino, more fun. DJ Lady Sha on the side pumping out soothing rhythms.
Photographer Kimberly Kirven was there to have a great time. "I enjoy wine. I hope there's more events like this". While in line later, a local business owner, Rachel explained, "Culver City is the perfect place for this". She then had a sip of Ste. Michelle's wine and smiled, "I could end every day with a nice glass of wine".
One of the more surprising participants was Let's Be Frank hotdogs. Maybe more associated with baseball than wine. But not only was their line long throughout the night, they serve a tasty and healthy treat.
'Sommelier' is a Fancy Word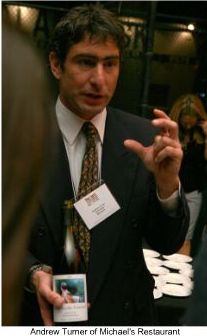 Newbies have no fear. This wasn't some snooty Napa Valley event (note: I happen to enjoy Napa, but they do have a reputation). For many, it was Intro to Wine 101. And you're being taught by the heads of the class. As if Steve Jobs was hanging out at an Apple Store fielding beginner questions.
Each of the seventy represented pourers had sommeliers present to answer your questions. And trust me, I asked some pretty naïve questions. But the best part is, they answered them. They didn't even smirk. They want you to learn and understand, therefore truly enjoying the experience.
They were all young and cool. Under 35. And that was the point. They wanted to comfortably introduce the Gen Y crowd to the wine world. What may have been a bigger surprise was how many of the guests were already fermenting their own knowledge. They knew what they liked, but wanted to expand their vino vernacular.
Certain grapes from a certain area, processed a certain way deliver a certain taste. It's a science and an artistry that the professionals take seriously. The drinker can too, but it certainly isn't necessary. All they ask is that you enjoy. And it's very easy to enjoy.
Andrew Turner from Michael's Restaurant is an all-star in my book. He's full of energy and answered everything. He gave tasting comparisons. He offered the same sip twice, with different foods to show how the appropriate wine supplemented the food's taste. "It's about enjoying your experience. At Michael's we want you to have the best experience", Turner explained.
Wine Event = Classy Ladies
I humbly speak for all us single LA guys. You want to meet attractive ladies? Skip the sweaty bar and head for the vines. I kid you not, every time I turned around there were more and more women. They were happy, smiling and looking good. Much like the sommeliers, they even entertained my silly questions.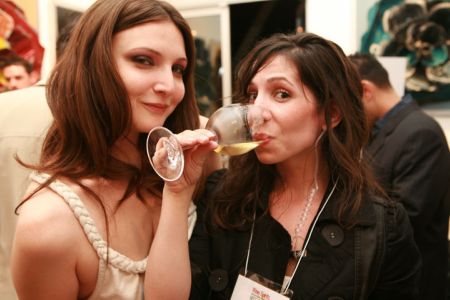 Wine and Spirits Magazine, founded in 1982, is published seven times a year with a 200,000+ readership of America's wine community. For more information visit: www.wineandspiritsmagazine.com.
The evening's event was to benefit the Surfrider Foundation, a non-profit organization dedicated to the protection and enjoyment of the world's oceans, waves and beaches for all people through conservation, activism, research and education. For more information visit: www.surfrider.org/malibu
And the DJ was courtesy of Project Ethos, which works to expose the next generation of artists to the media and public. They hold a bi-annual, red carpet event that showcases all emerging Millenial Generation forms of creativity in one house, on one night.

Wait! Don´t forget to Subscribe for Free!
Main Feed | What is RSS?
Enter your E-mail below to Subscribe

*
No spam
|
Privacy Policy
We will not sell or distribute your e-mail address to anyone else.
Written by Joe Wehinger