Everyone wants to look young and most people will go to extremes to get younger, beautiful looking skin. Between painful surgeries and nasty recovery times people should not have to sacrifice comfort for beauty.
Dr. A.F. Kalil has developed a unique product, the Vi Peel, which gives patients dramatic results without the pain and lengthy recovery time that comes with similar procedures.
Now available in 40 of the 50 states the Vi Peel does more than remove visibly damaged skin. It treats the skin on a cellular level, working with acids and vitamins to help build collagen, shrink pores and eliminate fine lines and wrinkles.
Dr. Kalil graduated from the Universite Libre de Bruxelles in Brussels, Belgium. After completing internships, residencies and research on several continents he established the Vitality Institute in South Beach, FL. From there he has gone on to accomplish many advances, including the Vi Peel.
LA's The Place had a chance to sit down with Dr. Kalil and discuss the benefits of the Vi Peel with him.
LA's The Place: What sets the Vi Peel apart from other peels?
A.F. Kalil: With other treatments the down time is terrible and complications are possible, but the results are great. With the Vi Peel we use the strongest acids, but there is no need for preparation and no pain afterwards. Plus, the down time is really only a few days.
LATP: How long after the peel will patients see results?
Kalil: We give patients moisturizers to help with the peeling and in six to seven days they will have amazing looking skin.
LATP: How often can a person get a Vi Peel?
Kalil: The peels are so practical people can have them done three to four times a year. I call it "dentalized skin care"; treat your skin like you treat your teeth. People wait until they are 30 or 40, when their skin is falling apart, to try and repair the damage. However, 80 percent of skin damage for a person's entire lifetime is done by the age of 18. People don't wait until they already have cavities to start brushing their teeth and the same should go for their skin, why wait for the damage to be done to start taking care of it.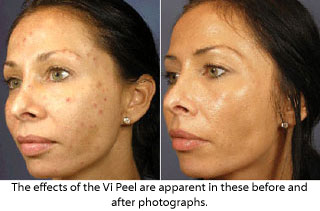 LATP: At what age can people start getting the treatment done?
Kalil: At age 14 is when the skin starts to become damaged. This is because once a person hits puberty their hormones start changing and they get acne. So I realized that the best way to treat acne scars is to not have them. Prevention is the best way because once you have a scar, you can never fully eliminate it, you can work to minimize it, but it will always be there.
LATP: What skin problems can be helped with the Vi Peel?
Kalil: It will help everything: discoloration, scars, fine lines, wrinkles and hyper pigmentation.
LATP: Why should someone have the Vi Peel done?
Kalil: A person cannot protect their skin enough. From the time they wake up and light is shining through the windows to when they are sitting under fluorescent lights, damage is always being done. However, if a person keeps getting the Vi Peel applied not only will they repair damage that has already been done but their skin will not get any worse, it will continue to look that healthy for the rest of their lives People won't believe your age, it will become just a number now.
For additional information on the Vi Peel, instructional videos or to find a doctor in your area visit www.kalilmedical.com or call 310-587-1911.