Wow was the operative word at the 2008 WOW! Oasis Hospitality Suite Gift Lounge in honor of the 80th Annual Academy Awards. Held in the penthouse of the Hyatt Sunset the views were great, music was playing, the stars were shining, and everyone was having a great time. It was a great precursor for the Big Night.
As celebrities and VIPs entered the suite, they were met by gracious host Mark Harris of WOW! Creations, who took a hands-on approach and presented stars and VIPs himself with a very beautiful and roomy Vera Bradley bag to house all the goodies to be had. With the gifting so abundent, the stars were all smiles and exited even happier. The suite was a great success and very well done. Some of the incredible swag to be had included:
Sonya Paz Art.
It was a delight to meet artist Sonya Paz, who was onhand to gift her exquisite pieces of art. Her art is like a playful vacation for the eyes. Her exuberant use of color and shapes are engaging yet simple, motivating and energized…colors that pulls you in like a vortex… all through her wildly creative and positive attitude. You feel happy and joyful just looking at her art. I was drawn in and instantly a fan.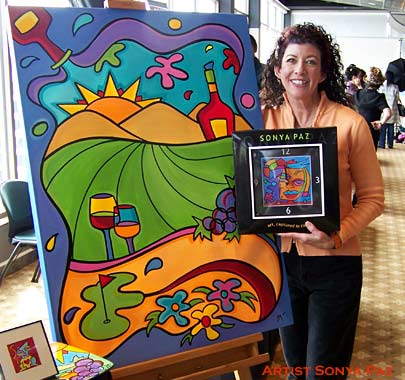 Sonya's paintings and vivid images are a reflection of her California roots and her passion and love for life. Her works are inspired by cubist style elements and the Pop Art movement. Seasoned by traveling the world to study art and its history, Sonya has a passion for Modern Art, Pop Art, Cubism, and Surrealism. These influences can be seen in her work, where traditional styles compete with wacky pop art imagery fancied over the past 30 years.
This is an artist to watch. Her pieces will not doubt become collectors items. I've got my eye on more than a few pieces! Her work is brilliant.
Sonya continues to take her artwork to fun and rewarding levels. Amongst posters, wine labels and promotional venues, she has worked with many charities to raise funds to gain awareness for foundations as the National Breast Cancer Foundation along with the Humane Society of Silicon Valley (HSSV). She is an official supporter where her company gives generous portions of sales back to those organizations. www.sonyapaz.com
Maya Volk was on hand  to help the stars rejuvenate and look their best with Hyperbaric Oxygen Therapy. The hyperbaric chamber assists in general wellness, anti-aging and rejuvenation. Run by Maya Volk and under the supervision of Dr. Gunner Heuser, the chamber is an alternative approach to medicine, and works by having a person lie in the chamber that is then pressurized and filled with highly concentrated oxygen and allows them breath in its healthful benefits. Sally Kirkland was happy to take advantage of the enhanced atmosphere, getting in on the what Maya calls the best kept secret of Hollywood stars.

Not only is it just about looking good, Maya explains that it assists in detoxifying the body, improve immune and reproductive function, as well as aid in those suffering from brain injuries. She explains that not only do we live in an environment with less concentration of clean air than we have in hundreds of years of living on the planet due to pollutants and toxins, even the food we eat can leave us feeling drained and looking older and more tired. Athletes needing to be at their best have seen a difference in their endurance and a quickening in reaction time. Those recovering from injuries can speed up their healing and the HBOT has also helped people who suffer from chronic pain disorders. Located in two locations (Beverly Hills and Sunset Strip), Maya also has a mobile thereby unit that can be set up anywhere. www.o2-beauty.com (310) 622-2525 
Watch the video from the event here:http://www.youtube.com/watch?v=YCvZzGIaI6M
Nephria was there gifting…a bar of soap! But Nephria is no ordinary bar of soap! It is the world's most luxurious, expensive and extravagant beauty bar made with real Jade. So, why boast that it is the most expensive? The Nephria Jade Beauty Bar contains an expensive and special form of Jade, mined from a single seam in South Korea, which has unique healing properties.  This particular Jade emits "Far-Infrared Rays (FIR)" which are similar to the radiant and warming electromagnetic rays of the sun.  The human body absorbs FIR as they penetrate deep into the tissue where they transform from light energy into heat energy, assisting the skin in expelling harmful toxins and metabolic waste.  This improves blood circulation and the regeneration of cellular tissue.  The FIR rays in the Jade have been captured by infrared scanning, as shown on www.Nephria.co.uk
With unique ingredients, including Nephrite (Jade powder), together with pure oils from apricot, olive and jojoba, the Nephria Jade Beauty Bar cleanses, revitalises, rejuvenates and reinvigorates the skin and complexion. The Nephria Jade Beauty Bar is available from either Fred Segal, Santa Monica, or online at www.Nephria.co.uk. The company has a range of other Jade Products including the Nephi Serums, Moisturizer and Body Lotions, which will be available later in 2008.

Vera Bradley provided her unique colorful bags to carry all the goodies. Vera Bradley's designs, which are both functional and fun to lug around, include a huge selection from quilted cotton, to durable Micro fiber. For traveling in style there are a variety of case covers for cell phones, I Pods, check books, and eye and sunglasses…Not to mention her very cute pet collection so your little pal can have fashionable collar and leash to match you while you pal around. Corresponding the old fashioned way is even more fun with her fine paper stationary.
Indulge your nesting instincts with her home collection with its luxurious linens, vibrant-hued bedding and designer rugs. Her distinctive flair for design is aimed at fitting your every mood and need. www.verabradley.com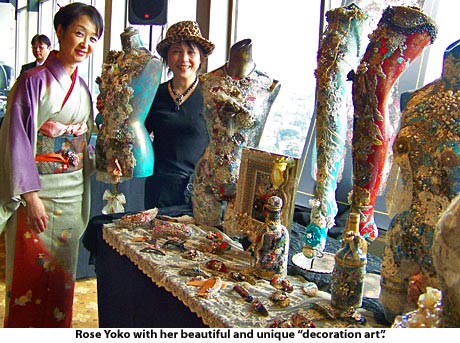 Rose Yoko is a lovely artist whose style is self-named "decoration art". Born in Japan, Yoko was inspired by her first visit to Paris and European style to start her long journey of experimentation with her unique art form that combines decoration arts with many kinds of materials including antique lace, pearls, natural stones, and beading. After owning a boutique where she carried handbags and accessories and with her experience in oil painting she began her work using images of nudes and roses, launching herself into her new artistic style. She divines her creative energy from her belief in spiritual power and channels it into her themes of romance and dreams, imbuing her works with all her being. Inspired by her mother and her recent illness, her pieces are all rooted in remembrances of her and in the belief Yoko has in praying for her recovery.
Yoko's' unique artwork has been displayed all over the world and she joined us on the eve of the 2008 Academy Awards in the Oscar Suites with her elegant creations to launch her U.S. debut. www.Rose-Yoko.com
Margarita King
The ever-popular Margarita King was there to add pizzazz and they did with their famous Margaritas in the bottle. It is the first real top-shelf margarita in a bottle and the only ready-to-serve cocktail to ever win 3 Gold Medals by the Beverage Testing Institute of Chicago for 2004, 2005 & 2006. Made with the finest double distilled tequila by the makers of Espolon, double distilled orange liqueur, natural sugar cane, and lemon & lime juices, The Margarita King was a smash!
The Margarita King is self-contained and carries the highest alcohol content, 17% ABV, of any margarita cocktail. Giovanni, the creator of The Margarita King made sure no leaf or lime was left unturned.  He spent two years devoted to researching for the very best tequilas in all of Mexico, experimenting with different mixes until he got it exactly right. The perfect fusion of the finest tequila from Arandas, Mexico and smooth orange liqueur, it was Giovanni's insatiable quest for quality and consistency in every bottle of The Margarita King. As they say…Just say "King me, baby"! The Margarita King  www.themargaritaking.com
Everyone got hooked on the PRENSUS adjustable purse hanger, handbag holder, keying, tiny diaper bag hook, compact umbrella hook, key finder… Prensus takes care of personal accessories men and women take everywhere everyday by suspending them above the ground, away from high traffic areas. We never knew we needed this until we saw it, now we wonder what we ever did without it!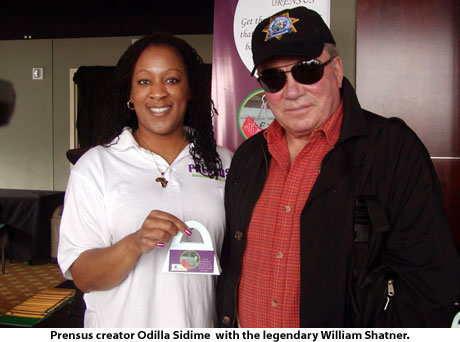 Prensus Portable Hanging Devices are the most unique ultimate purse accessories in ages. Their patent-pending design is so chic and convenient that everyone who travels with a handbag, briefcase, diaper bag, umbrella and more must have one! And there are different styles for different occasions, the Elite collection for a night out on the town, the Sport line for everywhere else.
Prensus is compact and lightweight, so it'll fit in pockets, purses, wallets, and attach to key chains and zipper-pulls. Prensus can be suspended from desktops, tables, bars, chair seats, chair backs, doors, ledges, shopping carts, bathroom stalls, wall partitions, railings, countertops, bleachers, cup holders, armrests and more.
Starting at $9.99, plus S&H, you can't beat the price, quality and design of the Prensus Portable Hanging Device.  www.newbertrevolution.com
LA Photo Party
There was a party going on inside this party. I noticed the commotion going on and I ventured over to find LA Photo Party. Think of the traditional photo booth, where you mug for funny shots, but take away the booth, and add the open space. With a large white backdrop to the ceiling, the digital camera is programmed to snap a picture every 5 seconds. LA Photo Party's photo booth-without-the-booth is wide enough for a 10-person group hug and quick enough to catch a mid-air leap (and the potentially ensuing mid-floor spill). They provide the props, costumes, and wigs, and even print the photos right there on the spot, guaranteeing your guest's souvenir pictures will be candid, hilarious, and completely unique. Available for parties, this adds another element of WOW! www.LAPhotoParty.com or call 310-997-0019
Fruits to Remember provided its original arrangements made of fresh fruits and chocolate. The centerpieces and baskets were loaded with tasty grapes, cantaloupes and pineapples carved into all kinds of shapes like daisy's and stars, as well as decadent chocolate covered strawberries. Unlike most of the ones I've tasted where the chocolate is hard and you don't get the rich taste of the chocolate, with these, even though they are chilled, the chocolate was creamy and delicious and really enhanced the flavor of the fruit. Another bonus, no preservatives, additives or sweeteners are used, so it could mean an actual alternative to replace pastries when gifting or planning an event. Mimi Rogers and Oscar nominee William Beltrami were among the celebrities who got to savor the sculpted bouquets. www.fruitstoremember.com
Jewelry television (www.JTV.com) is a website and T.V. channel dedicated to…what else – jewelry. It features the fine pieces at a great deal off of retail prices suited to fit any budget. There are also new discounts on a variety of gemstones, each day, and thousands of auctions. A source for not only the avid diamond aficionado, but a good spot to find special gifts like watches for the men. There are also segments devoted to collectibles and jewelry makers who need supplies, as well as tips on how to certify your diamonds and check the origins of gemstones. You can watch JTV on television on Direct TV channel 313 or from any computer 24/7 to keep up with the latest they have to offer.
Monster Energy Drinks unleash their bite with the "meanest energy drink" in the world. With twice the buzz of most other energy drinks the flavors are smooth, and pack a distinctly powerful left-hook to your senses. With a line of different combinations, the Monster Army gives you plenty of choices. From the classic Monster to the Lo-Carb Monster with half the calories – carbs hacked to pieces, to the Monster Kahos and  M-80 with a mix of juices inspired by athletes and pro-surfers, and just for the fun of it, the camouflaged covered Monster Assault, cause it looks cool. The latest from the Monster maker's lab are all new coffee drinks that can be had in low cal too. Creamy with that delicious coffee taste and that extra punch, you may forget all about your favorite coffeehouse drinks (and save money too)! www.monsterenergy.com
Goji Grand Goji Liqueur
We've all heard about the great health benefits of the Goji berries. It is renowned in Asia is a highly nutritious food and it has been used in traditional herb medicine for the past 1900 years. How great it is that you can now get the nutritional benefit of Goji in a liqueur. Gogi Grand uses nutrient rich Goji as a main ingredient and it is late learned with carrot juice and aroma of orange. A most interesting cocktail!
Supersmile
When a star smiles, they better be able to knock you out with a dazzling smile! But with the popularity of coffee, red wine, tobacco and more, you need to stand up in the daily to for your teeth to stay white. Supersmile Professional Whitening Toothpaste is the leading whitening toothpaste most recommended by cosmetic dentists worldwide. It removes superficial stains and leaves teeth glistening and noticeably smoother without harsh abrasives. The ultra-premium, clinically developed Supersmile oral care whitening and maintenance system was created by the celebrated Dr. Irwin Smigel, founder of The American Society for Dental Aesthetics and the acknowledged father of aesthetic dentistry. It has been clinically proven to be safer for teeth and gums – when used as directed – than other leading at-home whitening systems. It has been proven to brighten teeth more effectively than the leading national brand. www.supersmile.com
Dooley's Original Toffee is rated today's best tasting cream, liqueur. Do these features, the toffee caramel blended with smooth vodka instead of the traditional whiskey. Check their web site for over 500 different ideas to use Dooley's in and cocktails and long drinks. www.dooleystoffee.com
Stars were also gifted the Nail Art Diva Basics Smart Start Kit. Like custom applied salon nail art, the kit allows you to do it yourself with an applicator device, polish, and reusable templates to create many design combos at home in a snap. The vivid graphic nail decals are available in special edition collection theme kits, like Spring, Autumn, Christmas and Glitz and Glam. Their online store is a source of beauty supplies, polishes in various colors, cosmetics and accessories. www.nailartdiva.com

WOW! Creations is a Beverly Hills based creative marketing and publicity company specializing in creating Celebrity / VIP Gift bags filled with high-end consumer products for Hollywood Award Shows / Film Festivals / Beauty Pageants / Charity Events / Sport event / Individual Gifting Experiences and Launch parties for emerging companies.
Thank you to Mark Harris for this ultra classy, fun and successful Oscar gifting suite.
Mark Harris
Director of Global Strategic Marketing
WOW! Creations
100 North Brand Blvd.
Suite 600
Glendale, California 91203
o 818-539-2206
c 626-622-6610
f 818-240-3041
[email protected]
www.wowcreationsmedia.com
Other contributors to the gift suite were:
Foster Grant sunglasses           www.fostergrant.com
Hyatt on Sunset                       www.westhollywood.hyatt.com
Amy Tangerine T.Shirts            www.amytangerine.com
Dr. Caniglia skincare                www.drcaniglia.com
Hint Water                               www.hintwater.com
Pure Body Skin care                www.purebodyweb.com
Hawaiian Style Magazine          www.hawaiianstylemagazine.com
Ricci Events Florists                www.riccievents.com
Fudge is my Life                       www.fudgeismylife.com
Madison Avenue Candles          www.maddisonavenue.net
Airborne Health                        www.airbornehealth.com
Corazonas Healthy Chips         www.corazonas.com
South Beach Skin Care            www.southbeachskincare.com
True Lemon                             www.truelemon.com
Posh Air                                 www.poshair.com
Saphoras                                www.saphoras.com
Wellness Natural Pet foods      www.wellnesspetfood.com
Ricci Events                           www.RicciEvents.com
DJ Sleeper D.J services           www.djsleeper.com
Saphoros                               www.saphoros.com