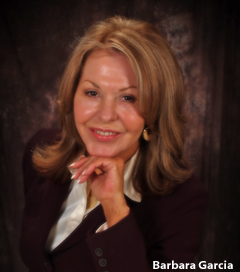 Sometimes in life, we need a little help with things we just can't get a handle on. Using a psychic to get more insight into people or events have become a popular trend. But all psychics are not equal! They all claim to be able to see past 'the veil", but there is someone with a proven track record. Someone we've used who has proven to be amazingly accurate!
And now she is available for you too. Get a phone reading, email consultation or private consultation with acclaimed psychic and author, Barbara Garcia.
In addition to working with individuals, Barbara is renowned for working tirelessly with law enforcement to provide accurate insight on numerous cases including, The Hillside Strangler Case, The Costa Mesa Murderer, The Bird Rock Mystery in San Diego, and
The Yorkshire Ripper of England.
Recognized internationally by the FBI as well as various law enforcement professionals, Barbara proved her accuracy when her predictions were published for the first time in 1979 in "The Unicorn Guide," each one later turning out to be 100% correct.
After proving her accuracy time and again, Barbara has been featured on documentary "Psychic Phenomena" (CBS), "Horizons in ESP" (BBC/Nova), "Larry King Live" (CNN), and in nationwide publications including The Hollywood Reporter, Variety and in the Los Angeles Daily News.
Barbara offers 30 minute phone consultations for $105.00 and private consultations where she will meet with you in person to do an intensive reading for $250.00 an hour.
To receive an email reading from Barbara, simply email a photo of yourself (or whomever you would like to inquire about) with 5-6 very specific questions. Within three business days, Barbara will get back to you with her anaylsis. The cost for email readings is $65.
Barbara also offers private, individual classes in which she will meet with you weekly – while also giving homework assignments – to give you a personalized experience in developing your own ESP. Though she prefers not to put an exact, set time limit on this experience, the 3-hour weekly sessions usually continue for four weeks time. The class will commence with Barbara interviewing you and analyzing your progress before setting up a personalized program to follow at home. The cost for the private class is $2,000.00.
Currently, Barbara continues to take part in paranormal investigations, while also working as an advisor for film and TV programs, teaching and writing. Her latest book, "7 Oracles" helps to guide you on a journey to developing a stronger intuitive sense.
For more information on Barbara, or to schedule a psychic reading, visit www.starmerge.com.