Voda Spa was the site of the Silver Spoon gift suite celebrating the 2008 Golden Globes. On January 9th and 10th, an elite list of stars arrived for two afternoons of fabulous VIP treatment. With celebrities such as Krista Allen, Ashley Tisdale, Samantha Harris, Lauren Storm, and Autumn Reeser in attendance, Voda Spa provided spa treatments during the two day gifting event. The celebrities onhand seemed to delight in all of the offerings. It was a sparkling atmosphere with smiles everywhere, and it seemed the gifting suites served to honor the celebs that had no Golden Globes to look forward to.
Many beauty care companies were onhand to share their products with the honorees such as Ted Gibson hair care, Stila make-up, La Fleur Organique body and beauty products, Red Water Laboratories, Excelsior Beauty, Weleda, Original Bombshell, Tweezerman beauty tools, Artdeco cosmetics and The Face Shop, featuring Asian beauty products. Skincare companies included Oli, Institut Arnaud, Skincode Essentials, Ocean Biotechnique, and Mary Cohr.
Frilly Lilly was also on hand with an assortment of body butters, lotions, lip products, and a line of chemical-free All-In-One nail polish. After stopping at this booth, Katharine McPhee said, "I Love Frilly Lilly nail polish in "Innocent" and "Lovely." These two nail polish colors are the perfect polishes I want to wear on my wedding day!" An instant sensation both in Calgary and abroad, the line can be found at Fred Segal in Santa Monica and Kitson in Los Angeles, as well as The Palms and The Wynn hotels in Las Vegas.
Celebrity and industry VIPs were treated to extraordinary products from companies such as JJ Number 8 whose rings, earrings, necklaces and bracelets all have the number 8 incorporated into them, which is thought to bring balance, serenity and unlimited happiness. Katharine McPhee and Lisa Rinna both took a shine to the JJ Number 8 Pure Pyramid bracelet featuring 18kt white gold, diamonds and white howlite. Ms. Rinna exclaimed, "Wow, this bracelet is SICK, as in stunningly gorgeous!", while McPhee stated, "I love this bracelet. It would look beautiful with my wedding dress!" Samantha Harris also loved her necklace.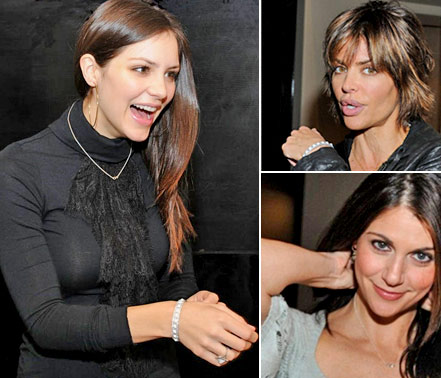 Lust 4 Luxe's high-end Italian supple suedes and leathers were a hit at the suite with their internal lighting system. Ideal for women who can't find anything in the dark, when opened, these purses automatically light up. Upon seeing the Lust 4 Luxe items, celebrity stylist Jessica Pastor excitedly stated, "These bags are fabulous" and picked out handbags for her clients, Christina Applegate, Hillary Duff, Jennifer Hudson, Haylie Duff and Emily Blunt. Samantha Harris and Britney Gastineau (above) loved theirs. Lust 4 Luxe Handbags can be purchased at Fred Segal-Santa Monica, in New York at Medici and Shock in The Hamptons.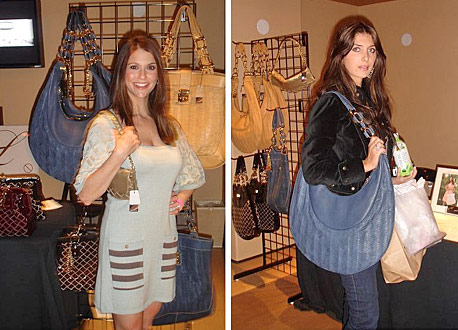 Cornering the market on fashion at the Silver Spoon suite was My Pilates Body studio, Torn by Ronny Kobo, Eclipse, Fashion Forms intimate apparel accessories and Acorn casual footwear.
Other products lavished upon celebrities included, Boatman Geller stationary, popcorn from The Popcorn Factory, Spread peanut butter/chocolate spreads and weight loss products from IONITHERMIE.
Sponsored in part by Royal Plantation vacations, Heineken and Fish Eye wines were served, as well as FRS antioxidant health drink and Tea Zazz carbonated teas..