Celebrity babies are everywhere these days and to honor Hollywood's next generation of stars and starlets this holiday season, Formula Magic has created a Celebutot VIP Gift Bag. Partnering with the top lifestyle brands on the market, this fashion forward children's sneaker company is helping to jumpstart these famous babies' foray into the fabulous world of free goodies.
Gifting the children of celebrities such as Mira Sorvino, Chris Backus, Jennie Garth, Peter Facinelli, Brian Austin Green, Trista & Ryan Sutter, Britney Spears, Kevin Federline, Shar Jackson, Norman Reedus, Carlos Mencia, Amber Valletta and more, Formula Magic's limited edition gift bag will feature all the latest fashions and trends for kids.
Arranged in a one of a kind, fun messenger style Italian leather LaNeige bag, celebrity offspring will receive the following: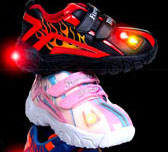 Formula Magic "Racecar" Collection Sneakers
Utilizing patent-pending LED technology, these racecar styled shoes feature headlights and are designed to keep kids hopping, skipping, running and playing. Helping to keep kids active physically as well as mentally, Formula Magic goes to preschools and tech fairs in Northern California to teach kids how the LED technology in their shoes work. www.formulamagic.com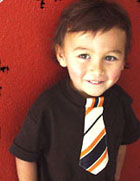 Fat Tie T-Shirts
Each Fat Tie t-shirt is made from hand-selected, limited edition, 100% vintage silks. Never too soon to introduce children to the benefits of looking good, Fat Tie believes, Dress Smart. Start Early. www.GoFatTie.com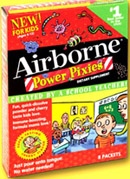 Airborne Power Pixies
Airborne Power Pixies gives kids the immune boosting formula of Airborne in a great tasting, fun to take packet. It's easy for moms because it's fun for kids. Airborne Power Pixies' delicious cherry formula contains 15 herbs and nutrients, specially formulated for kids ages 4-12. www.airbornehealth.com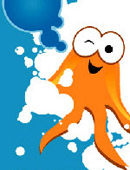 SquidSoap
Making it easier for parents to determine if their children properly washed their hands or not, SquidSoap is the first of its kind liquid-soap dispenser that stamps a child's hand with vegetable dye, ensuring kids take about 20 seconds of hand washing to remove it. www.squidsoap.com
U.S. Supreme Court Coloring and Activity Book
Law has never been so colorful with The U.S. Supreme Court Coloring and Activity Book. Created by a lawyer-mom, it's sure to "appeal" to aspiring jurists of all ages and even comes with crayons! www.ababooks.com
New Era Baseball Hat
New Era Kids brings a sense of fun, fashion and function to the game with a collection of headwear designed for both boys and girls and range in sizes from infants to tweens. www.neweracap.com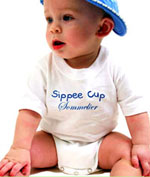 Ellie's Party Gear for Growing Gourmands T-Shirt
Inspired by her love for food and her daughter, a food and wine writer created this line of gourmet-themed slogan tees and onesies for babies and toddlers. Originally intended as clever gifts for her friends, a mention in the New York Times sent her business skyrocketing. www.elliesparty.com
LaNeige Purse
LaNeige Purse, LLC is dedicated to providing the highest quality of custom-designed, one-of-a-kind, multi-functional purses and accessories for individuals who, due to physiological issues, need a more comfortable and functional manner of carrying and organizing their personal items. LaNeige Purse, LLC is also dedicated to providing the same high quality products to men, women and children who desire comfort, uniqueness and artistic fashion in their purses and accessories. www.laneigepurse.com
As kids enjoy all these wonderful products Formula Magic bestows upon them, their parents won't feel left out as each celebrity will be given the new Jimi Hendrix Liquid Experience Energy Drink (www.hendrixliquidexperience.com). The idea behind this company is to encourage people to become involved in a movement of charitable living. A doorway to create an entirely new way of thinking within the music industry, Jimi Hendrix Liquid Experience supports retirement plans and residences for artists, as well as children's educational centers, and the tours, events and artist-owned label that aids in supporting it all.
Even though Formula Magic is lavishing children of famous parents with cutting edge products, it's not just all about gifting the stars. For each Celebutot that receives this VIP Package, Formula Magic will donate a pair of sneakers to a child in need at The Children's Institute foster care program.
Wait! Don´t forget to Subscribe for Free!
Main Feed | What is RSS?
Enter your E-mail below to Subscribe

*
No spam
|
Privacy Policy
We will not sell or distribute your e-mail address to anyone else.
Written by Staff Writer