The holidays are a time to gather with friends and family and indulge in great food and drinks. But making all the meals and mixing all the cocktails can take a lot out of you! So why not let someone else deal with all the hassle, and you just sit back and relax. When making all your holiday plans this year, we hope you'll keep these amazing places and parties – where you don't have to lift a finger – in mind.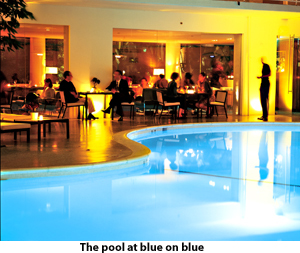 Oysters and Cocktails at blue on blue
blue on blue in the Avalon Hotel in Beverly Hills has created a special mid afternoon treat to brighten up your winter. Now through the end of January and starting at 3:00 p.m. daily, guests can delight in blue on blue's special selection of oysters and sparkling wines and enjoy them out by Avalon's famed hourglass shaped pool. Menu selections include 1/2 dozen Hama Hama Oysters & two glasses of Nicholas Feuillate Sparkling Rose; 1/2 dozen Fanny Bay Oysters & two glasses of Laurent Perrier Brut '99; or 1/2 dozen Kumamoto Oysters & two glasses of Prosseco. Blue on blue will also be offering Oysters "Billionaire" during the month of December which includes, 1/2 dozen oysters "billionaire" (your choice oyster topped with raw ahi tuna & caviar) & two glasses of Dom Perignon.
Of course if you stop in just for a drink, you can experience the wonders of blue on blue and sample their delicious holiday concoction Winter Wonderland. With Stoli Raspberry, Godiva White Liqueur, whipped cream and raspberry syrup, this decadent elixir will make your holiday season all the more enjoyable.
The Avalon Hotel is located at 9400 West Olympic Blvd in Beverly Hills. www.avalonbeverlyhills.com.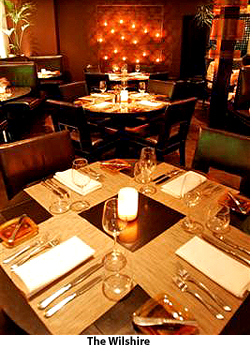 Winter Menu at the Wilshire Restaurant
Executive Chef Christopher Blobaum and Chef du Cuisine Andrew Kirschner designed the Prix Fixe Winter Menu at Wilshire, a restaurant located in Santa Monica at 2454 Wilshire Blvd. The Wilshire is gorgeously lit up and decorated, with the spacious garden-like patio creating a relaxing, cozy atmosphere. This holiday season you can enjoy Wilshire's Farm Fresh Organic Cuisine, which is as delectable as it is affordable. Their mouth watering winter menu consists of the Bitter Green Winter Salad, Alaskan Black Cod, Oak Grilled Squab, and Frozen Lime Parfait.
When making your holiday reservations, keep in mind that on Mondays, Wine Director Matt Straus offers a selection of esoteric wines for half price and on Tuesdays, Pastry Chef Danielle Keene serves up Ice Cream Shoppe inspired desserts. www.wilshirerestaurant.com
Christmas Eve at NINETHIRTY
Located in the W Los Angeles Hotel, NINETHIRTY has been re-launched with new Executive Chef Monique King at the helm. Labeled "Modern American Cuisine with Global Influences," King creates dishes with distinction, bold tastes and lots of flavor.
To celebrate the holidays, NINETHIRTY is offering a special Christmas Eve menu that starts off with Roasted Pumpkin Bisque and Baby Sonoma Greens, and includes the choice of Wild Sturgeon, Blackened Pork Chop, Pan Roasted Duck Breast, Slow-Roasted Prime Rib of Beef, or Stuffed Acorn Squash. To top off this fabulous meal, diners will have the option of a Traditional Christmas Triffle, Chocolate Sticky Toffee Cake or Cranberry Poached Pears.
The W Los Angeles is located at 930 Hilgard Ave. www.ninethirtyw.com
New Year's Eve Celebration at the Whist at Viceroy
Looking for a great night out on New Year's Eve? The Viceroy Santa Monica might just be what you're looking for. Celebrate under the stars with Go-Go and Brazilian dancers and enjoy tunes spun by DJ Mark Rae and DJ Valida, who will mix hip-hop, soul, house, dancehall, salsa, and live instrumentation. The Viceroy's regal cabanas will house private parties and a champagne toast will be held to ring in the New Year.
But before you celebrate the beginning of 2008, you and your guests can indulge in The Whist's mouthwatering menu prepared by Executive Chef Warren Schwartz. With seatings held at 5:30, 6:00, 6:30, 8:30, 9:00 and 9:30, you can choose between three package options, which will include, among other culinary delights, Sautéed Spot Prawn, Seared Duck Breast, Mushroom Puree and Jerusalem Artichokes, Grilled Prime Angus New York Steak, Wild Striped Bass and Pan Roasted Elk Tenderloin. Ending the evening on a sweet note, Chef Schwartz will offer the choice of Pink Champagne Cupcakes, Orange Muscat Sorbet, Thai Chilies and more.
The Whist at Viceroy is located at 1819 Ocean Ave in Santa Monica. To purchase to tickets and packages, visit www.viceroysantamonica.com or call 310.434.2855.

Cocktails at Whiskey Blue
If you're looking to head out just for cocktails to celebrate the season, check out the Whiskey Blue inside the W LA. With their seasonal selection of cocktails, you're sure to find just the right mix to toast the holidays. Stop in and indulge in Whiskey Blue's signature winter drinks including, The St. Germain, made from champagne, St-Germain Elderflower Liqueur & a splash of club soda; the Mayan Macciato, a soothing concoction of Patron XO, Patron Silver, espresso & whipped cream; the Sparkling Pear Martini, which mixes Belvedere, champagne, pear juice, lime juice and simple syrup; the Black Velvet, which is a sultry and smooth drink featuring Guinness & champagne; and the Bon Bon, the ultimate indulgence in a glass – chambord, Amaretto, Frangelico, chocolate syrup, cream & fresh raspberries.
The W Los Angeles is located at 930 Hilgard Ave. www.starwoodhotels.com/whotels
New Year's Eve at Amaranta Cocina Mexicana
Ring in 2008 with a little flavor this year by enjoying dinner and cocktails at the Amaranta Restaurant in Canoga Park. By combining ingredients, textures, aromas and colors found in traditional Mexican kitchens, their delicious dishes reflect true Mexican cuisine.
Helping Angelenos celebrate New Year's Eve, Amaranta has put together a special menu with seatings at 7:00 p.m. and 10 p.m. Presented by Executive Chef Sarah Rocio Gomez, diners will be treated to a lime juice marinated tilapia starter, to be followed up by a choice of mixed green salad, chilled Poblano pepper stuffed with pork or Amaranta's Sopa De Tortilla. Before the next course begins, a mango and champagne sorbet will be served to cleanse the palette, enabling diners the ability to truly savor their choice of pan-seared scallops, baked filet miñón or pan-seared ahi tuna. A warm Mexican fruit punch will be served next and then guests can top their meal off with a decadent Mayan chocolate cake or Churros filled with Bavarian crème.
Amaranta will be open until the wee hours of 2008, so don't forget to toast the New Year with one of their nearly 400 varieties of 100% blue agave tequilas. Amaranta is located in the newly redesigned Westfield Topanga Shopping Center at 6600 Topanga Canyon Blvd. Ste. 1029. www.amarantarestaurant.com
Read our featured article on Amaranta here.
Wait! Don´t forget to Subscribe for Free!
Main Feed | What is RSS?
Enter your E-mail below to Subscribe

*
No spam
|
Privacy Policy
We will not sell or distribute your e-mail address to anyone else.
Written by Staff Writer