Everyone has a kid or two on their gift list, whether it's a niece or nephew, a friend's child or your very own. Kids are fickle and their tastes change as quickly as the trends, but we've found a few items that are sure to please even the most discerning of kids.

Guitar Hero III Legends of Rock
Featuring a set list with music from bands like Aerosmith, the Sex Pistols, Guns N Roses, Rolling Stones, Metallica and Pearl Jam, Guitar Hero III includes original music recorded specifically for the game by guitarists Slash and Tom Morello. Of special note is the fact that The Sex Pistols also entered the studio for the first time in 30 years just to record Anarchy in the U.K for the popular game. Not only will your kids, and lets face it – you, be able to play to the greatest soundtrack recorded for a video game, but users will also be able to download much of the content. With improved graphics, gamers will be able to heighten their visual experience with the new wireless Gibson guitar controllers. Users will also be able to customize their own characters and tear it up next to Slash, Tom Morello and Brett Michaels. With other new amazing updates and improvements, Guitar Hero III is the best way for music lovers of all ages to channel their inner rock god.
Read more about Guitar Hero III here.
The Only Hearts Club Dolls
Listen to your heart and do the right thing. It's the perfect message for your kids at Christmas time and the one The Only Hearts Club dolls send out. The dolls, spear-headed by toy-maker and toy Hall of Famer Rouben Terzian, portray a more real and age-appropriate image, which is in positive contrast to the current trend of fully made-up, sexy dolls. Each doll has her own story, identity, personality and interests, but still maintains the persona of an everyday real girl. To learn more about each doll and their story, The Only Hearts Club has also put out a series of books containing the various storylines, all of which are relatable and mirror what girls today have to deal with. www.onlyheartsclub.com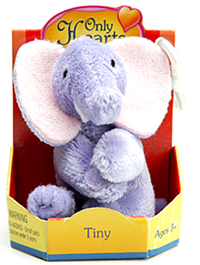 The Only Hearts Club Pets
Now that your kids have the dolls, why not give them pets to go with? The Only Hearts Club Pets come in a wide variety of animals and colors that feature cute faces and soft, cuddly bodies. Each pet has it's own name and comes with a handy backpack clip. Velcro is attached on each paw so the pets can hold hands to form bracelets, necklaces and barrettes, as well as hold on as a backpack, pen or pencil buddy. These plush pets are also packed in a brightly colored open gift box and can be found at Target. www.onlyheartsclub.com
"The Magic of Think" & "The Magic of Christmas"

Just in time for the holidays, singer/songwriter and voiceover actress, Janyse of the cartoon Ed, Edd n Eddy, has put out two CD's entitled "The Magic of Think" and "The Magic of Christmas."
Inspired by Janyse's work on the series, Adoption Stories, as well as her work with the Make-A-Wish Foundation, her goal with "The Magic of Think" was to create songs led by animated characters that would build self-esteem and empowerment and enrich a child's life. The first in a series of a multi-media project to be developed into books, games and animation, a percentage of CD sales will be donated to children's charities.
With "The Magic of Christmas," Janyse created a "humorous, sassy album" that makes people smile. Putting a new spin on the traditional Christmas song, Janyse approached each track with humor, mischievousness and a feeling of gratitude. Give your kids fun, new songs to enjoy during the holidays and help them feel good about themselves at the same time. www.magicalvoice.com
Little Capers
Most kids love superheroes and love dressing up as them even more. This Christmas give the kids on your list an original secret identity with Little Capers. As an alternative to the standard polyester superhero options, these soft, comfortable 100% cotton t-shirts come with detachable capes and reflect non-violent, non-commercial original superhero designs that are fun and stylish. Available in both long and short sleeves up to a size 8, Little Capers also come in infant sizes (without capes) and are made in a non-sweatshop environment right here in Los Angeles. Coming in Star, Earth, Lightning, Peace, Heart and Smallest Hero designs, Little Capers can be found in boutique stores around the L.A. area, as well as other parts of the country and Canada. www.littlecapers.com
Sprout Kids Clothing
Get your child the comfortable and sustainable clothing that you'll enjoy as much as they will with Sprout Kids. This clever and unique brand is designed for children ages newborn to three years and highlights bright colors, fashionable styles, and exceptional softness. All products are made using a special jersey fabric comprised of 70% bamboo and 30% organic cotton. Not only is the line adorable and comfortable, but is also contains a natural agent called "bamboo kun," which serves a natural sunblock and will protect your child from harmful UV rays. To contribute to Global Warming causes, Sprout Kids is generously donating $1.00 with the purchase of "Stop Global Warming, Wear Bamboo," t-shirts to a climate change fund. Sprout Children's Clothing is available in the US and Canada, or at www.sproutkidsclothing.com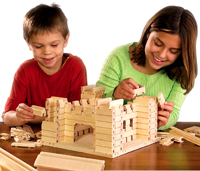 Stack & Stick
Named the "Best New Toy" from I-Parenting, Stack & Stick are solid wood educational toys that allow your kids to build and create to their hearts content. Designed to have each block stick and hold in place, Stack & Stick are made in the U.S. from three generations of skilled woodcraftsmen. Exceeding all federal toy safety standards from consumer testing, these building blocks help build manual dexterity, nurture creativity, foster self confidence, increase imagination and encourage problem solving. Help foster your child's imagination and give your children the opportunity to indulge their creativity. www.stackandstick.com
Going to Grandma's Children's Suitcase
They may not be the world travelers you are, but kids need luggage even if it's just for a sleepover at grandma's or a friend's house. Great for any young child, this 16" wheeled upright suitcase is constructed of durable polyester with vinyl backing and includes inline skate wheels and a locking telescopic handle which makes it easy for little ones to maneuver. Coming in pink, red, blue and green these suitcases are a great way for kids to pack and go. www.csnstores.com

Out to Tea Clips
The holiday season is here and for stylish moms who've waited their whole lives to dress up a little girl, now is the time to start thinking about ways to dress her hair! From bows to beads and shiny sequins, a new on-line boutique called Out To Tea has everything a girly girl needs to sparkle on every occasion. For your little one's locks this Christmas – a hand-sewn candy cane or a sequined Santa clip is the perfect way to finish off that special holiday dress or add a sparking angel or snowman to her curls to spread the Christmas spirit! What's special about Out to Tea Clips is they actually stay in! Each Out to Tea hair accessory is made by hand using the finest materials from France, Japan, and the United States. Out To Tea clips are fully lined so they are secure even in the finest of hair. And – because all Out To Tea headbands are elastic and adjustable, they don't slide off easily – the perfect fit every time! They also don't hurt behind the ears like many plastic headbands do. The Out To Tea hair collection was invented by a stay at home mom in Washington, DC. She got tired of wasting money on high-dollar baby hair clips that constantly popped out of her daughter's hair. When she started making her own, other moms took notice and started placing orders. That's how Out To Tea was born! www.Out-to-Tea.com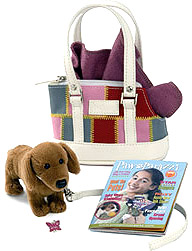 Pawparazzi Pets
Making a splash at the 2007 Toy Fair, these interactive dolls are the latest rage. Each pet comes with their own interactive celebrity life. With individualized personalities, every toy's adventures can be chronicled on the Pawparazzi website. Here, kids can follow the escapades of their celebrity pet with the Pawparazzi Celebrity Weekly Tabloid. To further immerse your child in today's online culture, every toy owner can post pictures of their Pawparazzi Pet or even go to the message boards to interact with fellow owners.
Jump start your child's collection with pets such as Salsa, the Latina singing sensation, Bailey, the aristocratic stylish fashion model, and many others found at Nordstrom, FAO Schwartz and other boutiques across the country. Even celebrities are in on the fun as Dakota Fanning is a fan and collector of her very own Pawparazzi Pets. www.pawparazzipets.com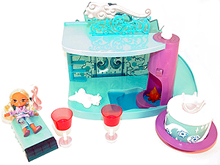 Bratz Kidz Super-Secret Ice-Cream-Making Snow Lodge
Add a true winter wonderland to your kids' Bratz collection with this two-story hotel, that features a bedroom, lounge, fireplace and adventure slide. The snow lodge is sure to add some fun to the exciting world of Bratz dolls and even doubles as a real ice cream maker. With recipes for hot chocolate, strawberry and peanut butter cup ice cream, the bed becomes a sprinkles holder, the fireplace dispenses syrup toppings and the seats turn into ice cream cups. Complete with a Vinessa doll, this Ice-Cream-Making Snow Lodge is a must have for the Bratz lovers on your list. www.bratz.com

"My Adventure on Sesame Street" Personalized Story
Sesame Street has been a staple in children's lives for years and now kids can actually interact with the characters they love to watch. Turning their favorite show into their very own adventure, your child will be the star character in this personalized story. All you have to do is select a favorite photo to be featured on the cover and throughout the book's 40 plus color pages. Basic information is also required that will be incorporated into the story, including name, birthday and hometown. A dedication to the child in the book's opening may also be written for an even more personalized experience. www.shutterfly.com

Up and Away Jackets
An infant and children's jacket manufacturer, Up and Away creates quality products for stylish kids. Whether choosing the A-2 Bomber, Letterman, Camouflage or MA-1 style, your children will be fashionably decked out this holiday season. A company located right here in Los Angeles, Up and Away uses multiple and authentic patches that are proportioned according to each jacket size; utilizes innovative, large zipper pulls; and features an extremely impressive look. All of the jackets are considered classic, which means your kids will be "in" year after year. www.upandawayjackets.com

K-Swiss Shoes
The classic style that's always in season, K-Swiss has a whole line of athletic shoes just for kids and even infants. Considered the first successful American leather tennis shoe, K-Swiss is available in both boys and girls sizes and comes in Classic, Original, Limited Edition, Tennis, and Free Running styles. For the active kids on your list, you can't go wrong with the shoe that's functional, as well as fashionable. www.k-swiss.com
ESPN Play by Play: No Better Gift for Boys of All Ages
Finally there is a karaoke game that applies specifically to boys. This gift is a must for any young boy, or the inner boy in any man. The Play by Play allows its players to be their own sports announcer in a karaoke-esque manner, complete with typical sports sounds. And that's not all for this product. It also doubles a an MP3 player with the appropriate hook-ups.
Wait! Don´t forget to Subscribe for Free!
Main Feed | What is RSS?
Enter your E-mail below to Subscribe

*
No spam
|
Privacy Policy
We will not sell or distribute your e-mail address to anyone else.
Written by Staff Writer