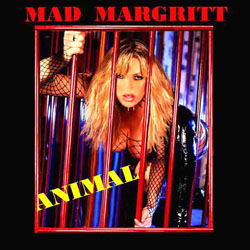 by Susie Salva
Hair band fans unite! Mad Margritt have just released "Animal" on Perris records and they are out to make their mark. This explosive, high-energy rock outfit based out of Atlanta, Georgia is pulling out all the stops with this hard-driving rock 'n roll CD. This time out Eddie Smith's vocals are refined and the band hearkens back to the '80s with strong melodies and killer harmonies. They definitely don't go quietly…they know how to rock!
Mad Margritt is comprised of Eddie Smith, lead vocalist and guitar, Scott Banks, guitar and keyboards, Skip Mullis, bass, and Danny Belli drums.
The opening instrumental track "Extreme Osculation" would be better titled, "Extreme Orgasm" as the song simulates a woman having an orgasm. This time out, "Animal," the title track, is heavier hitting then their previous albums such as fan favorite, "Straight Through the Heart," (a best of CD that featured two new songs). "Animal," deals with the animal forces and instincts in a relationship. This song features a blistering guitar solo to kick-start the CD and can only be summed up as very dynamic.
"Looking In From the Outside," is a streetwise tale of one person being on the outside and not taking any crap from anybody. This track has memorable melodies and a gutsy performance by all of the band members.
"Don't Say A Word," deals with the idea of being comfortable in a relationship and having that warm body by your side. This track has undertones of that similar to the '80s powerhouse rock band Ratt. Again, you can hear the nice harmonies that keep this song alive.
"Loaded Gun," a common song title in rock, has a driving guitar riff with primal drumbeats. This song explores the idea of being up against the wall and everything is caving in around you and you have the feeling like you are ready to explode.
"I Don't Think I Love You," talks about a faltering relationship where you think you have found the one and you realize that you are no longer needed and the relationship falls apart.
"Ruling Me," is a melodic, radio-ready, instant classic tune that works on many levels. Again, the theme of trying to make a relationship work out and even though you find out that it might not be good enough you still tried. This track is one of the standouts on the disc and displays their fine musicianship.
Finally, "Time," closes the album. Not one of my favorites, it is subtle but a little dark.
Mad Margritt have found their nitch in the music business with this new disc, but also with their previous releases. They have their own identity and are not afraid to put themselves forward. Mad Margritt has opened up shows for several noted acts including Ratt, Cinderella, Great White, Warrant, Slaughter, Quiet Riot, KISS, and Poison. They definitely have their roots firmly planted with '80s metal music, but they put their own spin on their material.
Be sure to pick up their latest CD, "Animal" at all your favorite music suppliers. Check them out at: www.madmargritt.com, www.myspace.com/madmargritt and www.perrisrecords.com.

Wait! Don´t forget to Subscribe for Free!
Main Feed | What is RSS?
Enter your E-mail below to Subscribe

*
No spam
|
Privacy Policy
We will not sell or distribute your e-mail address to anyone else.
Written by Susie Salva