A gift out of the ordinary always goes over well. Looking to the latest technological products on the market, giving something different will leave a lasting impression and make your gift one to remember.
Adobe Photoshop Elements Software 6.0
The recently upgraded Photoshop Elements Software by Adobe provides an easy way to manipulate and show off your photos this holiday season. With Adobe Photoshop Elements 6.0, you can create professional looking scrapbooks, photo books, interactive web galleries and slide shows. Adobe 6.0 includes many advanced features including guided editing to walk you through various techniques to improve your photo editing capabilities, smart albums for efficient organization, panorama help and enhanced photo book creations. For even more advanced editing, Adobe 6.0 also helps with group shots, enabling you to compose various photos together for one shot and image blending, which will enable you to combine features together from various faces. For more information, read our article on Adobe Photoshop Elements 6.0 at Adobe Photoshop.
Adobe Premier Elements 4.0
Released along with Adobe Photoshop Elements 6.0 is the Adobe Premiere Elements 4.0, enabling you to edit and manipulate videos to your liking. Aiming to make the product user friendly for all levels, regardless of previous experience, Premiere Elements 4.0 allows you to create custom videos with a theme, transitions, some background music of your choice and even various layout options for credits or titles. In addition, the software enables you to upload your videos to internet websites including YouTube, burn to Blu-ray discs or upload to your iphone.
The Sceneline feature on the software enables you to easily edit, drag and drop clips, effects and transitions for a totally unique clip. With the Timeline editing, you are able to see and coordinate different events, as well as coordinating audio and video tracks. And for the person who is worried about using an unsteady hand to record videos, Premiere Elements 4.0 allows you to steady the shots with an Image Stabilize filter.
For more information on Adobe Premiere Elements 4.0, read our article at Adobe Premiere Elements 4.0.
Sprint's Palm Centro
Palm Inc. and Sprint have teamed up to create the Palm Centro, the ideal gift to help friends and family organize their lives. Featuring a touch screen and keyboard, the Centro makes it easy to conference call, text message, connect to one's Bluetooth and utilize the one-touch speakerphone. Receiving the fastest access to voice, text, IM, email, web, and calendar capabilities by way of the Sprint Network, users will be able to watch videos on You Tube, get stock quotes, keep up with the latest events, share pictures, utilize Google Maps and browse restaurant reviews on Yelp, all in one compact phone. Utilizing the speed of Sprint's Mobile Broadband Network, the Centro reaches more than 224 million people, 12,988 cities and 1,166 airports and enables users to watch over 50 live TV channels as well as video-on-demand. www.sprint.com/holiday
Read more on the Sprint Palm Centro in Latest Technology.
Hairmax Lasercomb
Although this may be a delicate topic to approach with your balding friends, the Lasercomb can help them regrow what they've lost. A patented medial device, the Lasercomb can produce significant amount of regrowth in 12 weeks. The only home laser system certified by the FDA, it targets the hair follicles to help recharge the hair growth cycle by using low level (cold) lasers. Most effective on hair that has been dormant for two years or less, the Lasercomb is best used at the fist signs of thinning hair and can be used on men or women. www.lasercomb.net
Read more about Hairmax Lasercomb in Beauty & Body.
HoMedics Quad and Comet
Creating innovative and ergonomically designed products, HoMedics provides fun,
convenient and affordable handheld devices. The Quad and the Comet are two such therapeuti massage products that are sure to please anyone on your gift list. The Quad contains glowing massage knuckles while the Comet utilizes glowing massage heads to create a soothing vibrating experience. Available at Bed, Bath and Beyond, Kohl's or Target, these portable relaxation devices are great gifts that won't break the bank. www.homedics.com
Nikon Cool Pix S51c
The Nikon Cool Pix S51c camera is a must have for photo enthusiasts. This lightweight camera contains 8.1 megapixels, a 3x zoom and approximately 13MB internal memory. Notable features include settings for Night Portraits, Firework Shows and Panorama Photos. It also includes built in Wi-Fi so photogs can upload their pictures straight from the camera to the web, using any open wireless connection. Also included with the purchase of the camera is 6-months free access to T-Mobile Hotspot, the wireless connection in most Starbuck's locations. Nikon's My Picturetown is also included, making innovative picture organizing and sharing easy. With so many fantastic features, you may think twice before giving it away as a gift. www.nikonusa.com
XShot
Perfect for the photographer who likes to take photos of themselves, the XShot allows users to get that self-portrait without the awkward arm reach. A telescopic rod, the XShot attaches to any compact digital camera or hand-held video camera and covers over three feet of reach. Enabling users to snap a shot of themselves no matter where they are, this gadget easily adjusts to the desired angle and can include up to five people in the picture. www.xshotpix.com
My-iButton
A programmable, lightweight multimedia button, My-iButton is a personalized interactive message board. Whether you want to help your giftee promote a business, product or personal statement, the high-quality display screen offers both video and audio capabilities. This customized button can be pinned to a shirt, blouse or jacket and can be manipulated to be worn around the neck. Easily downloadable from a USB port, the My-iButton can play videos from You Tube, display presentations or proudly show off personal video or photos. Providing up to eight continuous hours, the audio feature also enables the user to listen to what's happening on their iButton. www.my-ibutton.com
Q-Home-FX True 5.1 Wireless Headphone system
Produced by LTB, this six-channel one-piece headphone system is ideal for the music, movie or gaming lover on your list. Providing optimum acoustic performance from audio content, this headphone system works best with HDTV, HDradio, Xbox, DVD or Playstation. The CMOS headphone amplifier provides superior sound quality while the digital antenna diversity guarantees dropout free reception. Covering a 100+ meter range, this headphone system's receiver offers superior sound quality and provides a built in microphone ready for team communication on the user's favorite game system. www.ltbaudio.com
Cherry Atomic Wall Clock
Perfect for the perpetually late person on your list, the Atomic Clock is radio-controlled so it never has to be adjusted. The only thing required is the selecting of a time zone and the clock will adjust itself to the standard national time for the area. As this La Crosse Technology clock is calibrated daily and is tuned to the atomic time standard, it also defaults to Fahrenheit, inches and mph. www.csnstores.com
Photobot
For the perpetual photo taker on your list, the Photobot is the first zero-click, automatic digital photo correcting software. Once installed in the user's computer, Photobot will make red-eye, poor color differentiation and other problems a thing of the past. Ideal for showing off holiday photos, this software will automatically correct each and every photo and even help preserve and organize photos indefinitely. www.photobot.com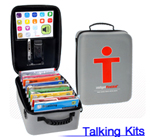 The Talking First Aid Kit
Filled with individually labeled color-coded injury packs, the Talking First Aid Kit contains all the supplies necessary with easy to follow instructions for managing each injury. While this may seem standard, this first aid kit sets itself apart by including an audio module that when activated, delivers spoken step-by-step instructions that will pause and repeat when necessary. This kit provides rapid and accurate first aid assistance, and while practical, is an exceptional gift
for people you care about. www.intelligentfirstaid.com
Bonjour – Primo Latte Milk Frother
Decorative and effective, this device's spring disc easily turns milk into creamy froth in seconds. Perfect for the coffee lover on your list or for serving lattes, cappuccinos or mochas at your holiday party, this handheld gadget includes a matte wire stand that keeps the frother handy while colorfully fitting in on one's kitchen countertop. Forget Starbucks and make the perfect coffee drink at home! www.csnstores.com
Smellkiller Classic Air Cleanser
Just in time for all your holiday parties, the Frieling-Smellkiller Classic Air Cleanser eliminates bad odors safely, effectively and naturally. Immersed in water in a black rubber bowl, the Smellkiller disk pulls odors out of the air and neutralizes them. The classic disk can also be picked up and used to remove odors from one's hands by using it like a bar of soap. Decorative and portable, this air cleanser uses no chemicals, sprays or electric currents. Safe to use near children and pets, this air cleanser neutralizes odors leaving one's home smelling clean and fresh when welcoming guests to celebrate the holiday festivities. www.csnstores.com
Jiffy Steamer
Jiffy Steamer helps to get wrinkles out of clothes in a simple, efficient and safe manner, eliminating the need of an ironing board for good.
With various options to choose from, including a travel series steamer, personal series or professional series, Jiffy Steamer is the largest and oldest manufacturer of steaming equipment and garment steamers.
The Specialty Series with easy roll casters, a ¾ gallon water reservoir system, 5 ½ foot hose and a 6 ½ inch metal brush also provides a great cleaning system for your home, making it easy to get out tough stains and dirt, even without the use of chemicals. www.jiffysteamer.com.
Read more about Jiffy Steamer here.
Aviator Laptop Stand
The Aviator Laptop Stand, made by Keynamics LLC, has never come in handy more than now as JetBlue has offered its passengers – for the first time – a chance to use in-flight internet and email service over U.S. territory.
The Aviator – stable and sturdy enough to handle common turbulence – raises the laptop screen 3 inches above the tray table, thereby eliminating the need to strain your neck and back. In addition, you can find a more comfortable typing position as the Aviator angles and extends the keyboard 2.5 inches past the front edge of the tray.
On land, the Aviator can be used as a portable desktop or table stand whether in a coffee shop, a hotel or even at the office.
Weighing only 9 ounces, the Aviator can be stored flat in the side of a briefcase, making it easy and convenient to carry with you anytime. www.keynamics.com
Wait! Don´t forget to Subscribe for Free!
Main Feed | What is RSS?
Enter your E-mail below to Subscribe

*
No spam
|
Privacy Policy
We will not sell or distribute your e-mail address to anyone else.
Written by Staff Writer