As if it's not hard enough not to overeat on Thanksgiving. Now that I'm privy to a top chef's secrets on how to make the day's food even more irresistible, I'm surely doomed. Lucky for me and my waistline, the holiday only comes once a year.
Whist Restaurant at the Viceroy hotel in Santa Monica was recently named by Food and Wine Magazine as one of the country's best hotel restaurants. Chef Warren Schwartz (a veteran of Patina and Saddle Peak Lodge) gives quarterly cooking classes which include tips on preparation, cooking and presentation. Students have the opportunity for hands-on participation and sampling along the way. If you're not into hands-on, there is also the option to sit back, drink wine and observe the action. Heckling the chef is highly encouraged (by the chef himself).
The menu for the November 14th class included:
• A salad of baby greens, pears, blue cheese, pecans and apple cider vinaigrette
• Mashed garnet yams with maple syrup
• Blue Lake green beans with apple wood smokes bacon and shallots
• Whole grain and sage stuffing
• Herb roasted free-range turkey breast and leg roulade
• Cranberry and orange compote
• Pumpkin pie
The class was held in the Bristol room at the Viceroy, complete with elegant table settings and plenty of staff on hand should the wine in your glass begin to wane. Schwartz started with some practical advice for preparation, telling us that whatever dish lasts the longest should be prepared first. The cranberry compote for instance could be made several days in advance, as none of the ingredients tend to go bad quickly. He said you would want to save the salad for last but the pears could be done the day before. This kind of planning can save a lot of stress when preparing a big meal.
The first thing Schwartz did was to start boiling the yams. I learned that it's best to place the peeled yams in cold water and then begin heating. This way the yams cook more evenly. He cautioned us against overcooking and said that when they're done you can dry them out in the over for about two minutes at 350 degrees to get the excess moisture out.
Then we started on the cranberry sauce. He simmered 2/3 of the called-for cranberries in orange juice, sugar and vanilla bean, saving 1/3 of the cranberries to add at the end to give it an extra kick. Someone asked about using a sugar substitute and he said it was possible to use Splenda but you would then have to add a thickener such as pectin. We tasted the simmering sauce and it was so good we all agreed it would work well as an ice cream topping.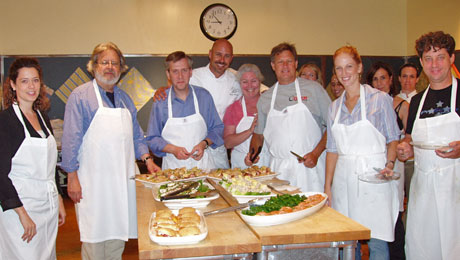 Next we moved onto the stuffing. As bulbous garlic cloves simmered in butter he let us dip some bread in to taste. He chopped shallots, showing us how to position our fingers to facilitate speed and avoid the severing of digits. As we marveled at his speed and agility he asked, "Do you want to know the secret to cutting?" He diclosed that his first restaurant job involved the head chef belittling and berating him for 12 hours a day until his technique was flawless. "So abuse is the secret to cutting…" someone mused. With the smell of the stuffing our appetites went into overdrive.
Schwartz's philosophy, that Thanksgiving is not about reinventing the wheel but conjuring up traditional food memories, was evident in the simple and straightforward recipes. The Mashed garnet yams, for instance, consisted of nothing more than butter, maple syrup, nutmeg and cinnamon, but were so delicious that they induced a warm contented feeling in all who ate them.
By the time we got to the turkey and the green beans I was several glasses of wine in and having too much fun chatting with the other students to play close attention to what was going on. There was some stuffing and some roasting. The green beans were blanched and sautéed with Nueske bacon. When it was all done we settled down and ate the products of our lesson. With my newfound turkey-day secrets, I found myself wishing that Thanksgiving came more than once a year.
Schwartz also offers a Valentine's Day cooking class where guests learn how to the perfect romantic meal. The class will be held on Wednesday, January 30, 2008 from 6 – 8:30 pm. The cost is $55 per person. For more information contact [email protected] or [email protected]. Whist is located in the Viceroy Hotel at 1819 Ocean Ave. Santa Monica, CA.