Considering the laundry list of hot female teachers preying on their male students, (Mary K. Letourneau, Debra Lafave, Pamela Diehl-Moore come to mind), "Mustang Sally" halfheartedly approaches the double standard with tepid results.
Male teachers and coaches are instantly labeled predators, molesters, sexual deviants and pedophiles by the media and community when they are caught with a minor. Female teachers, however, have skated along for the most part, with little jail time, their teaching credentials stripped, and in the case of Letourneau, infamy and children by the boy she preyed on. The women seem to plea their case with batting doe eyes and little remorse. Theirs is a crime of passion. They are lonely, unloved, victims to an unfeeling society or unsatisfying marriage. "Mustang Sally" doesn't challenge this myth. It purports it.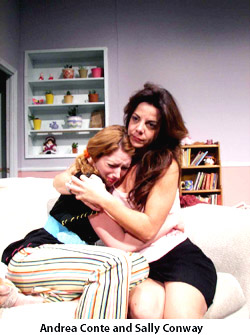 Not that the play should follow the heels and stockings of a Mrs. Robinson stereotype, but the intentions of Kathy, an emotionally immature music teacher are dubiously sketched by playwright Linda Felton Steinbaum. Reams of research went into writing this play, and for that Steinbaum should be commended, but research alone cannot provide the characters enough cause or action to propel the play. There is a putt-putt-puttering as the audience tries to understand Kathy's motives or her need. All that Steinbaum provides is flimsy excuses.
The student in question, a boy of thirteen, is an enigma and not part of the action onstage. It is Kathy's play, and her plight, but her desperation is curtailed by an obstinate older sister and her evangelical, smothering mother willing to smooth the crime of passion over just to make it go away. The family dynamics shed a little light, but it is as murky as a high beam in fog.
The legal proceedings, the wrangling of Kathy's rights and her questionable standing in the community are neatly bow-tied without any conflict. The only twist in the play comes from Kathy's friend and colleague, Tony, in a forgettable performance by Sean Vincent Biggins who provides the other side of the argument, namely that of the victim. The underhanded way in which this develops, however, doesn't leave much room for sympathy.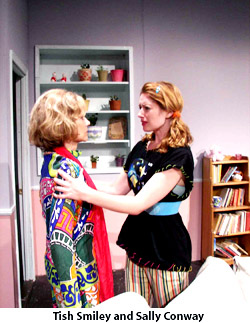 Sally Conway as Kathy is overshadowed by her wardrobe. She wears eccentric garb, and when the costume tells more about the character than the actor, one is left to assume they are on cruise control. The emotional end of the play feels like waiting for the light to change. There's no immediacy and no impact.
The supporting cast fails to commit with the exception of Tish Smiley as Marilyn, the god-fearing, commandment touting, sweepstakes sap with only magazine subscriptions to show for her retirement. Smiley appears to be the only one who realizes she's in a play.
As a playwright/screenwriter, Linda Felton Steinbaum is a veteran of her craft and can usually be counted on for brave, new insights. It is unfortunate that "Mustang Sally" never revs up its engine, but idles in neutral. The contemporary issue of female teacher/authority figure pedophilia is certainly a subject that bears more serious attention. Unfortunately, this play views it from the rear view mirror.
Curtain Call: This play is as flat as four bald tires.
Photos by Arturo Castillo
Wait! Don´t forget to Subscribe for Free!
Main Feed | What is RSS?
Enter your E-mail below to Subscribe

*
No spam
|
Privacy Policy
We will not sell or distribute your e-mail address to anyone else.
Written by MR Hunter