Celebrity Chef Jerome Brown has been a personal Chef to the stars for almost 20 years. His clientele consists of Master P, Colin Powell, Nancy Kerrigan, Priscilla Presley and Shaquille O'Neal.
Chef Rome, as he's known by, currently serves as personal chef to Clippers point guard, Brevin Knight, but Brevin is not Rome's only client. He travels the world creating menus, giving cooking demonstrations and making television appearances.
The Appetizer
Who knew that the nine-year-old kid, sneaking into the kitchen to make pancakes would become a celebrity chef. Whether it's flapjacks or foie gras, Jerome Brown is your chef.
Chef Rome started his career at Gardner's BBQ in Rocky Mount North Carolina.? After high school, Chef Rome joined the US Army to serve his country and ended up serving?over 3600 meals per day.
After dedicating nearly seven years of service, Jerome decided to take his chances with a single culinary opening at Orlando's Walt Disney World Resort.?Jerome's odds were 400 to 1, but that didn't stop him. His passion and determination earned him the job beating out 399 other applicants.
The Main Course
In 1988, Chef Rome promoted himself to a Personal Chef, landing an NBA player on his first leap and helped him drop the needed 30 pounds to ensure a spot on the roster.?
Chef Rome's extraordinary skills in the kitchen, his knowledge of food and his dynamic personality led him to be known as "The Chef's Chef."? Many professional athletes and entertainers have made him the go-to guy for someone you can trust in your kitchen.
In 2000, Chef Rome started his culinary placement service and to date has assisted and placed over 75 top chefs in various athlete and entertainer's homes. To date, if it was not a conflict of privacy, Chef Rome's client contact and culinary placement services list reads like a who's who culinary book.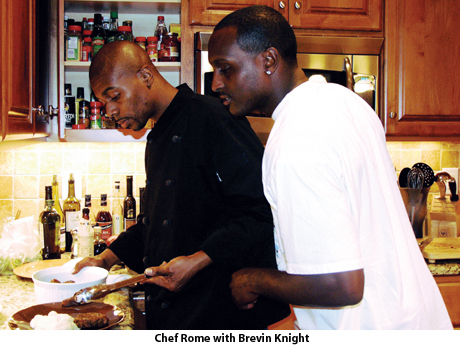 ?
In 2001, Chef Rome was commissioned by an NBA player to come on board and consult with the opening of his restaurant.? Chef Rome single handedly planned the restaurant menu, layout of the restaurant floor plan, and systemized the operations, management and flow of the kitchen.
In 2004, Chef Rome did a soft launch of his first book and self published a limited run.? The response was overwhelmingly positive and the books were sold within a very short amount of time.
And for Dessert
In 2005, Chef Rome created his live cooking show, called "The Perfect Ingredient." In front of a live audience, Chef Rome, the flavor master, demonstrates recipes from grandma's favorite to gourmet cuisine.
He brings food to life with bold-balanced flavors and vivid presentations right in front of your eyes, giving you flavors you can't seem to ever get out of your mind.?
Chef Rome enters and exits the stage to theme music with a heavy bass beat.?He wears custom-made chef gear, from his own line, Rome Couture Chef Gear, with his signature script R on the chest. He wows the crowd with his lightning-fast chopping knife and mixes in just the right amount of humor.
?
In 2007, Chef Rome with his partners created a Couture Chef Line, Rome Couture Chef Gear.? Still in development, he is planning the launch of a Chef Shoe, and a line of Cookware and Knives have been set in place.? Chef Rome also has T-shirts that are available with his signature caricature on it.
As Chef Rome currently resides in Los Angeles, California, LA's the Place and Rome is your chef!
For more information contact Publicist Domenick Nati at [email protected] or visit his Myspace page.