Upping the ante in the Emmy Gift Lounge arena was the Main Event Red Carpet Lounge held at the Friars of Beverly Hills.  The Friars is one of the classic Hollywood landmarks that was frequented by the likes of Frank Sinatra and the Rat Pack, and all the old Hollywood greats. It was the coolest spot in town on that day. As soon as guests hit the doors, the upbeat sounds provided by DJ B-Loc were heard pumping upstairs, calling everyone to the party.
With over 50 companies gifting celebrities, the many guests were invited to sing Karaoke or try their hand at Guitar Hero while B-Loc was doing live call-ins to KBER (101.1 FM) rock station in SLC, Utah.
As this was the year of the environmental Emmys, the Main Event Red Carpet Lounge definitely lived up to the theme. The many eco friendly sponsors spread the "Green" love, as nowlive.com broadcasted a worldwide radio and video stream of the event. Even the celebrities' pets got in on the action, as they had their own green room where they could be pampered while their owners strolled through the lounge.
Aside from the top quality spa services, beauty products and jewelers displaying their goods, charities Invisible Children and spcaLA were on hand to remind celebrities and industry V.I.P.s that there's more to life than free stuff.  Invisible Children (www.InvisibleChildren.com) helps put an end to the abduction, brainwashing, torture and killing of children in Northern Uganda. SpcaLA (www.spcaLA.com) was originally formed to bring about positive strategic changes in the animal related and human welfare arenas.  SpcaLA was the first to spay/neuter animals prior to adoption, conduct a violence prevention program for teens, offer a domestic violence program and create a disaster response program.
With celebrities such as Joe Mantegna, Mary-Louise Parker, Adrian Pasdar, Kevin Dillon, Nick Carter, William Shatner, Jerry O'Connell and Rebecca Romijn in attendance, the lounge was perfectly designed by Grand Events for an easy, fun vibe with tasty cocktails provided by H.E.R Energy Drink, Patron Tequila and Mojito Island.
The many eco-friendly and fabulous companies bestowing gifts upon the high profile guests were:
Bags on the Run
The first company to greet prospective giftees, Bags on the Run handed out their reusable, eco-friendly bags for guests to put all their goodies in. Crusading to rid the world of plastic bags, this company hopes to educate the public on the evils of plastic.  Considering it takes a plastic bag over 500 years to decay in a landfill and the petroleum used to make 18 plastic bags could drive a car 1 mile, Bags on the Run offers an environmentally friendly alterative.  Reusable and hand washable, these bags can carry up to 22 lbs of weight.  They are also recyclable, provide discounts at certain stores and can be used for shopping, to bring to the beach, or simply as a cool everyday tote.
www.BagsontheRun.com
John Kelly Chocolates
On hand to promote their truffle fudge, John Kelly is quite possibly one of the greatest chocolate treats you'll experience.  Since it's also a truffle, this fudge isn't grainy and hard like most other fudge. Instead, it's soft and creamy and delicious!  Coated in semi-sweet chocolate, each bar contains premium quality ingredients, is certified Kosher and contains a shelf life of up to a year when refrigerated.  Made by hand in Hollywood, CA, John Kelly comes in 12 different flavors including Chocolate, Cappuccino, Caramel, Chocolate & Peanut Butter, Dark Chocolate, Mint, Orange, Raspberry and Vanilla, with select flavors available with nuts.  Coming in 2oz or 8oz assortments, these tasty treats are also available in gift basket form for chocolate lovers everywhere.
www.JohnKellyChocolates.com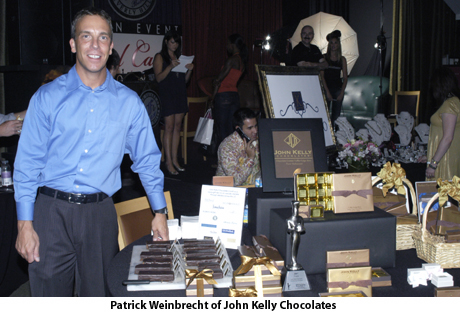 Art of Chipotle
Receiving inspiration after his first taste of chipotle at a backyard bbq in Southern California, Tom Pfleider decided to create a company dedicated to the many ways chipotle can be enjoyed.  Beginning with his first sauce, the award winning Sweet Heat Addiction, Pfleider set out to perfect the chipotole art form. The Art of Chipotle products are all natural and nutritionally clean.  Containing no artificial ingredients, trans-fats, gluten or MSG, these spicy toppings contain pure, rich chipotle flavor which is distinguished enough for a gourmet meal and easy enough for an impromptu barbecue.  Packaged in glass, tamper-proof bottles that preserve freshness and safety, The Art of Chipotle products are not too hot or too sweet, but robust in chile flavor for the perfect paste, salsa and one day soon-syrup!
www.ChipotlePeople.com
Fully Loaded Tea
A true modern drink company, Fully Loaded Tea takes exotic berries that are full of vitamins and antioxidants.  Blended with whole leaf green, black and white tea, this beverage company is redefining the classic warm drink.  With their "Tomato Rebel Black Tea", which has real tomato pieces and basil leaves mixed in whole leaf black tea and "Cucumber Mojo White Tea", which contains real cucumber pieces and carrots, you're in for a unique drinking experience.  Throwing out the old, boring, bland drink everyone is used to, Fully Loaded Tea offers up the next big thing in the world of tea.
www.FullyLoadedTea.com
Shaklee
For the last 50 years, Shaklee has been providing the public with natural health products and sustainable business practices. Helping to pioneer the nutritional supplement industry and word of mouth distribution referral method, Shaklee was one of the companies to embrace nature.  Shaklee finds the purest natural ingredients for vitamins and made one of the first biodegradable household cleaners ever.  As their mission is to give people a healthier and better lifestyle, Shaklee draws from the wisdom of nature in everything they do.  Taking stringent measures to keep out pesticides, contaminants and other unnatural things that don't belong in their products, Shaklee uses only the purest natural ingredients and never tests on animals. The first in the world to be certified Climate Neutral, Shaklee operates with a net zero impact on the earth.   Whether it's vitamins, energy bars or a good cleanser, Shaklee has just what you need.
www.Shaklee.com
Boresha Gourmet Coffee
Meaning, "to improve, to make better, to make superb and to make excellent," in Swahili, Boresha coffee is made up of 100% Arabica coffee beans.  Cultivated in rich soils of small farms, the beans come from fertile, high mountain regions and moist lake areas of Africa. Organic in nature, Broesha is naturally grown without the use of any artificial fertilizers, pesticides or other chemical products.  Looking to make quality coffee, as well as make the world a better place to live, Boresha directly donates a percentage of their proceeds to the non-profit organization, Invisible Children.
www.BoreshaCoffee.net
Marius Morsels
Perhaps the most enthusiastic and energetic sponsor at any of the Emmy suites, Marius Hickman clearly enjoys what he does.  Combining his love for cookies with his creativity, individuality and professional expertise, Marius has created a cookie that "leaves people smiling with delight."  Using 100% organic ingredients including Venezuelan chocolate, sugar from the island of Mauritius, pecans from a local California farmer and salt from Peru, Marius Morsels are made with love and pure harmony to create a deliciously fabulous cookie. Popular with Dolce & Gabbana, Jet Blue and the cast and crew on Ghost Whispers, Marius Morsels can be found at Caffe Divine in Fred Segal Santa Monica.
www.MariusMorsels.com
Guitar Hero
Are you an air guitar god?  Do you tear it up pretending to rock out to your favorite tunes?  Put your skills to the test with the popular video game Guitar Hero.  A Simon Says type game that allows players to follow along with a  song, while trying to hit the right chords, players can choose their own rocker persona and jam at a concert venue that grows in size the better they become.  Rockstar wannabe's can play with friends as a band or face off with their rivals to become the ultimate Guitar Hero.  With over 70 rocking tunes, they've also just come out with an 80's version for players to embrace their inner metal rock star. Get the all new Guitar Hero 3.
www.guitarherogame.com
TIGI
A company with a sense of irreverence, TIGI warns that a sense of humor is required before using their products.  Striving to exceed expectations, TIGI wants to make sure they also make a statement while doing it.  Providing products to help customers live up to their inner rockstar, glamour queen or sophisticated socialite, TIGI works with hairdressers worldwide to ensure they offer the latest cutting edge products.  Offering hair, body and cosmetic products, TIGI makes all their products available to professionals and consumers alike.  With products such as Self Absorbed, Dumb Blonde, Power Trip and Boy toys, TIGI is committed to offering quality products, as well as having fun.
www.TIGIHairCare.com
Bella Beverly Hills
Boasting highly credentialed dermatologist, Dr. Lawrence Moy, Bella Beverly Hills offers their clients expert services in the science of aging, meticulous attention to detail and a top notch nursing staff. From massages to laser treatments to teeth whitening, Bella is an oasis for the mind, body and spirit. While they also offer massages and facials, Bella proudly features the Accent XL Radio Frequency Treatment.  A non-surgical body contouring and skin tightening treatment, Accent XL reduces unwanted cellulite and fat from the stomach, love handles, legs, buttocks, arms and neck areas in a quick, pain free and non-invasive manner. The results seem miraculous. Bella is one of a very few spas to have this technology. To receive the perfect blend of balance, benefit and beauty, visit Bella Beverly Hills on Wilshire Blvd.
www.bellabeverlyhills.com
UndercoverWear
The leader in the Lingerie Home Party Industry, UndercoverWear has been encouraging women to enjoy their sexuality for the last 30 years. Realizing women lead busy lives, with work, family and other commitments, UndercoverWear's goal is to help women end their day feeling good about themselves.  With styles for every body type, this lingerie company offers products that range from comfortable pajamas and romantic lingerie to luxurious "pamper me" products.  For even more fun at night, UndercoverWear tempts women and men alike with their "naughty little nothings", including passionate potions and bedroom accessories.
www.UndercoverWear.com
Extra Virgin Body Products
Bringing their customers the purest products the world has to offer, Extra Virgin Body Products blend nature and science to create unique products.  A Hollywood producer, make-up artist and licensed cosmetologist, the company's founder Kelly Andrea Rubin has been in the personal care industry for over 20 years.  Extra Virgin Body Products use raw materials and finished products that are microbiologically tested for cleanliness and purity prior to shipping.  Designed for Beauty, Purity and Simplicity, these beauty and body products are full of herbal and botanical infusions, antioxidants, vitamins and many other unique ingredients.  EV ensures that every treatment has been carefully formulated and tailored to achieve optimal balance within mind, body and soul.
www.ExtraVirginBodyProducts.com
Magic Dog Studio
Celebrating children and their individual personailities, designer Jennifer Bunt offers her customers the opportunity to capture every special moment in time. Creating wall pieces with small hand or footprints etched into metal, charms that contain thumbprints, message tags with children's names on them, and whimsical family necklaces, Jennifer's goal is to represent her clients' children's uniqueness and the artwork they create. Hand crafted and signed by Jennifer herself, every piece of artwork recognizes the spark in  every individual.  For those who consider their pets children, Jennifer will also create jewelry and artwork with paw prints as well.
www.MagicDogStudio.com
Don't Bug Me
Love being outdoors, but can't stand being around insects?  Don't Bug Me is just the thing you need to repel bugs and prevent the spread of insect borne diseases.  The first of it's kind, Don't Bug Me is a DEET free insect repellent patch that delivers a combination of protective Vitamin B1 and aloe throughout the body. Lasting up to 36 hours, this patch protects against bites from mosquitoes, gnats, ticks, chiggers and fleas.  The thiamine-based formula used is absorbed into the bloodstream through the transdermal delivery of the patch.  Secreting the excess B1 through the body's pores, Don't Bug Me creates an odor undetectable to humans, but offensive to mosquitoes.  Forming a protective barrier around the body, the patch shields users from biting insects.  The Aloe then accelerates the absorption of B1 and serves as an anti-inflammatory to help reduce reactions for those sensitive to mosquito bites.
www.DontBugMePatch.com
thinkproducts
One of the nation's largest independent natural nutrition bar makers, thinkproducts  are wheat and gluten free and deliver powerful nutritional benefits. Founded by former fashion model Lizanne Falsetto, these products are all natural, convenient, great tasting, functional foods that fuel those striving to live a vitally full life, free of disease. Their products include high protein thinkThin, raw fruit and nut thinkOrganic and superfood-rich thinkGreen.  Offering the nutritional benefits of their ingredients in the form of an easy to eat bar, thinkproducts are vegan and use raw unprocessed ingredients.  Coming in Apricot Coconut, Cashew Pecan, Cherry Nut, Chocolate Coconut, Tropical Nut and Cranberry Apple flavors, thinkproducts stay away from using artificial ingredients and compounds found in many of today's best-selling bars.
www.thinkproducts.com
RÉGÉN DE PEAU II
Created for all skin types, RÉGÉN DE PEAU II improves skin suppleness and texture while adding a flawless, radiant glow. Formulated in France, this cream creates an eight-hour time released protective barrier against free radicals and provides three times the oxygen normally absorbed into skin. RÉGÉN DE PEAU II contains no fragrance, color, additives or chemical preservatives and works at the dermal level to go into the deep tissue of the skin within 30 to 90 seconds. Proven to be revolutionary as a timesaving skin care regimen, RÉGÉN DE PEAU II is a real breakthrough in product penetration and performance . RÉGÉN DE PEAU also donates 20% of their proceeds to St. Jude's Hospital.
www.Oli-Co.com
SeaAllure
A skin firming treatment designed to minimize the appearance of facial wrinkles, SeaAllure is a nighttime firming patch clinically proven to reduce the appearance of facial wrinkles.  Using moisturization and natural skin-tightening ingredients from the sea, this patch consists of a soft Silon gel material with a fabric backing.  The Silon gel allows for the patch to gently sick to the skin while providing occlusion to increase the skin's hydration level.  The silon also acts as a reservoir for a skin-tightening agent delivered topically to the treatment site.  Extracted from sea kelp, Sea Allure holds and delivers hydrophilic (water-loving) nutritional molecules to the skin.  Retaining moisture even after the patch is removed, the increased hydration tightens and firms the skin reducing the appearance of wrinkles, which results in a natural radiance.  A non-invasive, anti-aging option for women, SeaAllure is a natural and painless alternative to injections and dermal fillers.
www.SeaAllure.com
Dr. Melina Protein Bars 
Specializing exclusively in nutrition for weight loss and disease prevention and treatment, Dr. Melina Jampolis has recently launched her own line of protein bars. An author (No Time to Lose Diet), lecturer, practitioner and frequent talk show guest (Regis and Kelly), Dr. Jampolis believes in teaching a balanced and sustainable lifestyle based eating and exercise program and has helped hundreds of clients improve their overall wellbeing.  The Dr. Melina Protein Bars contain Milk, Soybeans and Nuts. Available in Chocolate Peanut, Cinnamon Almond or Lemon Raspberry, these bars contain 180 calories, 14 grams of mainly high quality whey protein and 5 grams of fiber.  A good source of calcium and vitamin D, they contain no trans fat or high fructose corn syrup.  Available through Amazon, there is no cost for shipping for orders over $25.
www.DrMelina.com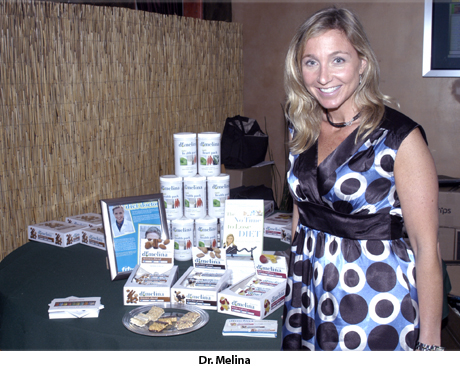 Begley's Best
The original Hollywood environmentalist, Ed Begley Jr has put out an all-purpose cleaner designed to replace all other household cleaning products.  Unique, effective, versatile and safe, Begley's Best is made from extracts of pine, palm, de-acified citrus, maize, fermented sugar cane roots and olive seeds.  Natural and non-toxic, this cleaning product is totally biodegradable in just 3 to 7 days.  Usable on any surface, Begley's Best attacks grease, grime and dirt in a quick and safe manner. Effective on any surface, the eco-friendly cleaning product can be used in the kitchen, bathroom, and on carpets and upholstery.
www.BegleysBest.com
Other exciting products and gifts given to guests at the Main Event Emmy Red Carpet Lounge included, Magnotti Design (www.MagnottiDesign.com), H2Om (www.H20mwater.com), Seattle Aerial Arts (SeattleAerialArts.com), Lara Noel Hill Vintage Jewelry (www.DesignsByLNH.com), Shamat Custom Design
www.shamarpurses.com, and Cherella Designs (www.CherellaUSA.com).