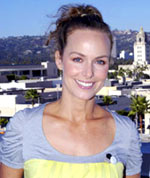 High atop the Luxe Hotel on the roof deck penthouse overlooking Rodeo Drive in Beverly Hills, Sheer Cover presented Melanie Segal's Platinum Emmy Lounge. As the celebrities strolled around the rooftop, they were treated to luxury items, drinks and noshes all while enjoying the beautiful view of the Hollywood Hills.  With comfy couches set up in between the vendors, it was a perfect spot to grab a beverage and relax after the hard work of being gifted all day long.
Also raising awareness and money for the Elizabeth Glaser Pediatric AIDS Foundation, celebrities signed the Platinum Emmy Lounge Board that will be auctioned off with proceeds going to the foundation.
Interspersed between the many high end companies handing out their luxurious products, stations were set up for a quick cosmetics touch up by Sheer Cover or an oxygen facial by Intraceuticals. Other special touches were provided with the addition of a piano bar, "green" area, pet lounge and tarot card reader for those who couldn't wait to find out if their name would be called on Emmy night.
Other glamorous sponsors of the Platinum Emmy Lounge included:
Dr. Leif Rogers
Specializing in facial aesthetics, facial rejuvenation, and body contouring, visitors to the Platinum suite received generous gift certificates for Dr. Rogers' services. Not just a plastic surgeon to the stars, Rogers is also a member of the trauma team and the Cancer Center at the Huntington Hospital in Pasadena. Performing advanced trauma reconstructions, Rogers has become known as one of the few surgeons that performs the DIEP flap post-breast cancer reconstruction. On the Board of Directors for the Afghanistan World Foundation, Rogers will lead a team to Afghanistan to train Afghan doctors in techniques that will help in emergency health services and reconstruction. Dr. Rogers currently offers services in private practices in Beverly Hills, Granada Hills and Pasadena. 
www.LeifRogersMD.com       www.afghanistanworldfoundation.org 
Organic Food Bar
The original organic power bar, Organic Food Bar believed in and advertised the benefits of raw foods before it was trendy. A 70-90% raw bar, this power food helped pave the way for other raw entrepreneurs to make their products available today. Organic Food Bar is made of the finest ingredients around the world, which are certified organic, kosher and are purchased fresh every month. 100% USDA organic, Organic Food Bar contains no refined sugars or preservatives and are free of trans fats.  Mixed, blended, packaged and stored at room temperature, these bars are endured to preserve the natural qualities and enzyme activity of the ingredients.  Making everything in house, Organic Food Bar has total control over the ingredients, making them healthier and better tasting than their competitors. 
KangaROOS
Around since the 70′s, KangaROOS has become a cultural staple. Designed by architect and runner Robert Gamm, the signature pocket feature came about when he wanted a place to put his house key when he went out for a run.  Utilizing a patented energy return technology tested by NASA, Gamm started churning out his invention, which was propelled in popularity by the help of famous sports stars Walter Payton, Ozzie Smith and Clyde Drexler.  Still going strong today, KangaROOS still sports the trademark pocket and can be found in classic or brand new styles.  Committed to fashion, color and athletic style, Kangaroos helps you express your individual personality.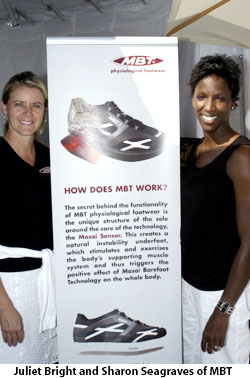 MBT Physiological Footwear
MBT is changing the way we think about our footwear. Olympians Juliet Bright and Sharon Seagraves were onhand to share the brilliant strategy behind MBT. Pioneering a global footwear category, this company is altering and improving the way people walk.  The sole of the shoe is curved with essentially no heel, creating a rocking motion when you walk in them. This action mimics the way the Masai people of Kenya walk, which is barefoot on naturally uneven, soft terrain. Since Kenyans have practically no joint or back problems, MBT modeled their footwear after them.  Standing for Masai Barefoot Technology, MBT created a shoe that enables the body to stand and walk in the way nature intended.  These shoes offer proven stress relief to the knee and hip joints and strengthens and tones the leg, abdominal and buttocks muscles.  While it may take a bit to get used to the unusual feel of the shoe, you will essentially get a workout every time you walk and will minimize any back and leg pain you may have. Coming in walking, sandal and business styles, MBT increases muscle activity and circulation and encourages upright posture and a relaxed stride.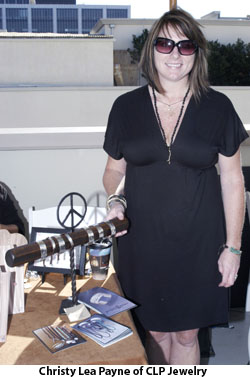 CLP Jewelry
Turning her passion for the rustic into a full blown design business, Christy Lea Payne has combined her  Oklahoma, New Mexico and Denver influences to create unique and inspired jewelry.  Creating well-worn designs with a touch of herself in each piece, Christy uses a torch and hammer, gold, sterling and stones to find the "special imperfections" in the designs she creates.  Receiving inspiration from her surroundings, she creates necklaces, earrings, bracelets, rover tags and even custom designs for clients.  Christy also supports and designs bracelets for Code Pink, a women-initiated grassroots peace and social justice movement working to end the war in Iraq, stop new wars and redirect resources into healthcare, education and other life-affirming activities.
www.CLPjewelry.com    www.CodePink4Peace.org
Blizzard Entertainment
Unless you've been cut off from the rest of the world the past couple of years, you've undoubtedly heard of the World of Warcraft. You know, the online game where you can enter a supernatural world and play along side the other eight million plus players to go on "grand quests and heroic exploits" in this interactive fantasy land.  Maybe you've never played, but you've surely heard of the South Park episode where the four Colorado friends get totally consumed by the game and can think of nothing else.  If you haven't, you should go out, get the DVD and watch (as we were informed that day) the Emmy winning episode to get a glimpse of how all consuming the World of Warcraft can be.
Beginning in 1773, Miller Christy started making fine quality hats in London.  Over two centuries later, the tradition and style of his creations lives on.  For the 2008 spring collection showcased at the Platinum Lounge, designer Tony Merenda was inspired by the feel of the season, as well as Christys' English roots.  Considering many Brits vacation in the islands, Merenda drew on his experiences living in Miami and was influenced by bright colors of little Haiti, the warmth and pride of Little Havana and the lush tropical climate.  Using plaids, panama inspired straws, antique florals and quintessential Christys class, Merenda set out to recall a specific time, place and feel.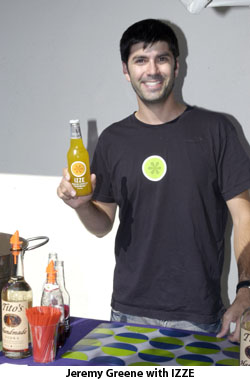 IZZE
Setting out to create a delicious and natural new beverage, Todd Woloson and Greg Stroh founded IZZE in 2002.  These two friends from Boulder, Colorado wanted to create a company that produced a high quality product that also contributed to a higher purpose.  Deciding to create an all natural version of sophisticated beverages they had experienced in Europe, the two friends came up with a sparkling juice with nourishing fruit and refreshing fizz. IZZE comes in eight different flavors and is sold in natural and conventional grocery stores across the country, as well as Canada, the Caribbean and South Pacific.  Living up to the higher purpose portion of their company, IZZE raises awareness for the Global Education Fund, which is a non-profit organization, dedicated to providing educational opportunities to underrepresented individuals throughout the world.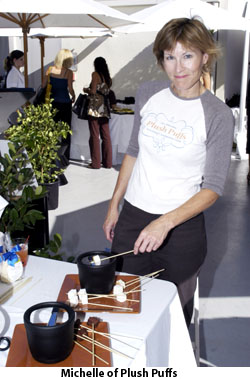 Plush Puffs
Love marshmallows, but would like a little flavor added to your favorite treat?  Plush Puffs is exactly that-tasty all natural marshmallows containing intense flavor.  Good on its own, Plush Puffs are also a delicious addition to your favorite hot drinks and recipes and roasting the marshmallows over an open flame intensifies the flavor.  Created by two moms who wanted to make tasty Halloween treats for their kids, Plush Puffs comes in Pumpkin Praline, Toasted Coconut, Chocolate Chipetta, Caramel Swirl and many other scrumptious flavors. 
Sheer Cover Mineral Makeup
With their mini-salon set up, Sheer Cover explained the value of their mineral makeup with a hands on approach. While applying the cosmetics to celebrities and industry VIPs, the makeup artists detailed the benefits of their loose powder cover up.  By blending in the minerals, you can "brush away" the imperfections of your skin.  Not only will you cover up your blotchy, ruddy or blemished skin, but you'll also be doing something good for it.  The patent-pending Mineral Foundation SPF 15 helps defend skin from the signs of premature aging, contains 100% pure minerals from the earth, feels lightweight and most importantly looks natural. Containing no preservatives, chemical dyes, fragrances, silicones or talc, Sheer Cover helps to protect skin from oxidative stress and future damage with age-defying Green Rooibos Tea.  Sheer Cover lets you take control of your complexion, by allowing you to decide how you want to look to the rest of the world.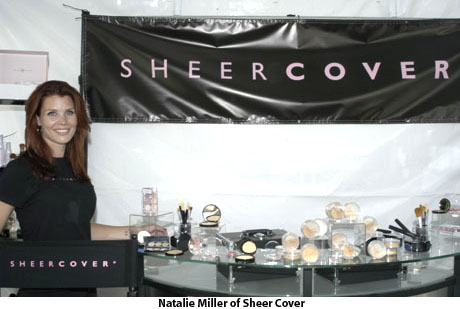 Best Buy and Liz Claiborne
As Best Buy is essentially the king of electronics, you might not automatically think to go there for a trendy bag. However, you actually can do that now, as the media outlet has included the always fashionable Liz Claiborne accessory line to the massive list of products they offer.  Now when you go out to buy an iPod, laptop, cell phone or camera, stop in Best Buy and pick up a stylish case to carry them in.  Coming in a variety of styles and colors, there are many accessory bags to choose from.  The Liz Claiborne cell phone clutch Best Buy was handing out at the gift lounge, doubles as a mini wallet, is very cute and extremely handy when you don't want to be bogged down with a bulky purse.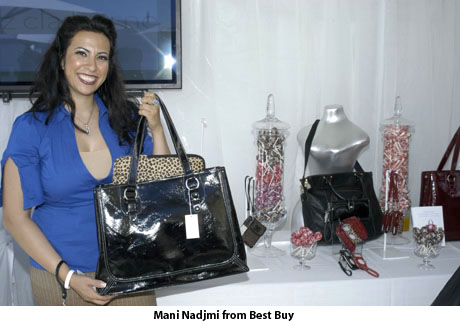 HER
Standing for  Healthy, Energy, Revitalizer, HER is the first energy drink specifically for women.  Containing calcium, antioxidants, ginseng, taurine and caffeine, HER is light and sweet and doesn't have the strong aftertaste many other energy drinks leave behind.  Available with sugar or without, HER can be mixed with your favorite liquors, such as vodka, tequila, champagne or even beer to produce delicious and refreshing cocktails. Even though it's in a pink can, men can enjoy the delicious drink whenever they need a pick me up as well.  This energy drink also donates a portion of every sale of Her to local and national domestic violence programs and supports breast cancer research and awareness.
Alterna Professional Haircare
This groundbreaking professional haircare line has set the standard for the finest luxury products in the world.  Staying one step ahead of technology, Alterna captures the essence of indulgence and uses their imagination to give customers what they never thought they could achieve.  Displayed in uniquely shaped bottles and rich vibrant colors, Alterna created the concept of Enzymetherapy, the science of skincare for hair.  This concept assists in the delivery of essential ingredients by providing the enzymes required to help transform ingredients into a structure that can be easily absorbed. Taking advantage of fatty acids, vitamins, minerals and proteins, Alterna allows for superior keratin production, which is necessary for stronger, healthier growing hair.  Alterna has also created products to take on curly, frizzy hair and uses Caviar Anti-Aging with Age-Control Complex to target the aging process with focused precision.  Sulfate-free, Alterna has infused ten key elements from around the world to transform any hair from ordinary to extraordinary.
Intraceuticals
Utilizing high pressure therapeutic grade Hyperbaric Oxygen in their line of skin care products, Intraceuticals combines medical and cosmetic science to develop a revolutionary professional skin care brand.  Developing a serum that when used in conjunction with oxygen, plumps and hydrates the surface of the skin to smooth fine lines and wrinkles. Intraceuticals' line of skincare products was designed to combat free radical attack, replenish the skin's natural lubricant, supply essential vitamins and restore elasticity.  With locations all over the world, Intraceuticals also offers clients Atoxelene Infusion treatments.  A topical alternative to anti-wrinkle injections, Atoxelene can be applied without needles and most importantly, pain.  In just 10 minutes, this skin smoothing complex targets expression lines and wrinkles and assists in the prevention of new line and wrinkle formation without that nasty paralysis other treatments can cause.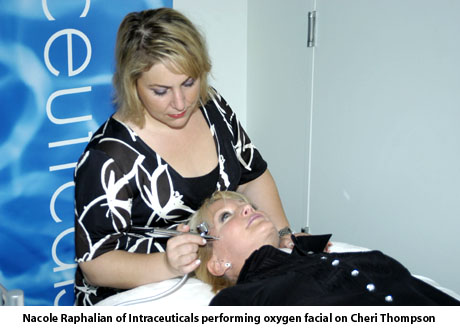 Other high profile companies at the Platinum Luxury Emmy Lounge were Beach Bunny Swimwear (www.beachbBunnyswimwear.com), Rafia Jewelry (www.rafiajewelry.com), Plantronics (www.plantronics.com), Beautiful Faces (www.beautifulfacesglobal.net), TIVO (www.tivo.com) and Keys to My Castle (www.keystomycastle.com).
Photos by Lori Wilson
Wait! Don´t forget to Subscribe for Free!
Main Feed | What is RSS?
Enter your E-mail below to Subscribe

*
No spam
|
Privacy Policy
We will not sell or distribute your e-mail address to anyone else.
Written by Staff Writer