Bright lights, casinos, entertainment, clubs…Las Vegas isn't a city known for being boring or tame, yet Dick's Last Resort at Excalibur Hotel and Casino is sure to give you a one-of-a-kind, outrageous, always entertaining dining experience.
Don't expect your average dining experience here. Servers play original loony, whacky characters, each with their own entertaining schtick, and take great joy in mocking and insulting their customers.
And everyone seemed to love it. If people arrive tired, grumpy from losing money or sleep in Vegas, all that falls to the wayside once inside this outrageous establishment. The funny part is watching people who aren't aware of the tradition at Dick's Last Resort.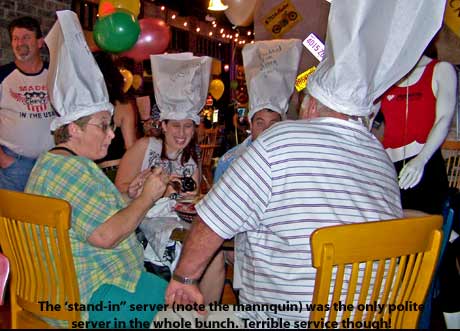 Their initial shocked looks turn to full blown laughter. This was one restaurant where the customers love getting rude service!. There are simultaneous antics going on at each table. You'd think crazy people took over this restaurant. Personally I cannot remember the last time I laughed so hard.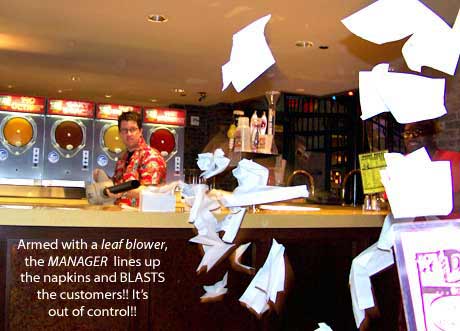 Even though the staff goes about shouting and making their customers the brunt of their jokes, they still manage to provide you with good service. Besides a full bar, you have your choice of nine different flavors of daiquiris served jumbo-sized. The deliciously messy cuisine consists of gigantic portions of large, sloppy beef ribs, messy honey-roasted chicken and juicy crab legs, as finger-style eating is the way to go at Dick's.
Maybe it's to help bring out the kid in you or perhaps to keep your clothes from getting dirty, but the servers make sure to prepare you with a nice-sized bib. They even customize giant homemade zany headpieces with your own personalized insult written in big black marker. My son's was personalized as "the kid that Brad and Angelina wouldn't adopt".
With a unique and crazy décor, such as the customer-donated different colored bras that hang above the bar, live music and always a boisterous atmosphere, Dick's definitely isn't your typical restaurant.
Restaurant by day, serving lunch and dinner, Dick's Last Resort transforms into an exciting hotspot each night, featuring live entertainment by thrilling Vegas musical acts that will get you on your feet. Sundays and Mondays, Panama is sure to get you up and moving with 80's rock as well as Top 40 Hits, while Disco Inferno rocks out Tuesdays thru Saturdays.
Dick's is owned and operated by Pure Management Group, the same group that own popular hotspots such as (among others):
· Pure Nightclub at Ceasar's Palace
· Pussycat Dolls Lounge (inside Pure Nightclub)
· Tangerine Lounge and Nightclub
· Sushi concept Social House at TI
· Coyote Ugly Las Vegas at New York-New York.
So if you're looking for a casual setting to let your hair down and let loose in, Dick's Last Resort is the place to go. Open daily from 11:00 a.m. till late, it is located at 3850 Las Vegas Blvd. inside the Excalibur Hotel and Casino. For more information, call (702) 597-7991 or visit http://www.dickslv.com/