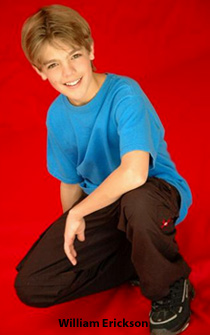 William Erickson is not your typical teen. In addition to his looks, a charming personality, brilliant talent and solid acting experience in commercials, theater and television, William takes his curiosity about life to the limits. He is actively involved in environmental non-profit organizations and aspiring to become a dedicated, young spokesperson for a significant cause.
Just beginning his teenage years, William is already a seasoned actor. He started in commercials at the age of five. Now, after all forms of acting, from commercials to films, William is stepping it up. He is featured in the short film Entropy, a national Subway commercial and starring in the hit PBS KIDS GO! TV series FETCH! with Ruff Ruffman. The new season aired this past May, with a new cast, new challenges, and a new animated feline character.
"Participating in the kid's TV show FETCH! was one of the best experiences I have ever had. I now see the true meaning of teamwork and found out that learning can be very fun!" says William. When asked about what he plans to do next, William shares, "I would love to do more TV shows. I really hope to work with Disney someday."
In addition to his new television and commercial ventures, Erickson's most recent film includes a short by director Nathan Ehrlich entitled, "Entropy." Erickson was cast as the lead, young Daniel.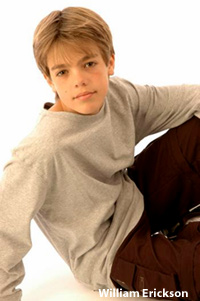 The film is a comedy short that follows young Daniel after the death of his mother as he is pushed together with his quirky father and left to fend for himself.
William's list of other independent films include "Courage", directed by Santa Sierra, "Bus Stop", directed by Pamela Preston, "Magic Rock" by Brad Gallo, "Click" directed by Scotty Dugan and "The Playground" directed by Peter Pizzi. "As much as I enjoy TV, I do enjoy film, too," William says, "It gives me a chance to express different characters, and sometimes create a special angle my director hasn't thought of. It is fun to act as a team."
Learn more about William Erickson at: www.williamerickson.info
Wait! Don´t forget to Subscribe for Free!
Main Feed | What is RSS?
Enter your E-mail below to Subscribe

*
No spam
|
Privacy Policy
We will not sell or distribute your e-mail address to anyone else.
Written by Gianna Brighton