Former U.S. Vice-President Al Gore has been on a mission to wage war against global warming. Live Earth Founder Kevin Wall teamed up with former U.S. Vice President Al Gore and Alliance for Climate Protection CEO Cathy Zoi to create the Live Earth Call to Action – a series of commitments where Live Earth asked people across the globe to make to combat the climate crisis. Wall announced there were more than 6,000 satellite Live Earth events that took place in more than 100 nations around the world on July 7th in support of Live Earth. In Los Angeles, City Landmarks Will Glow Green to Raise Awareness of the Climate Crisis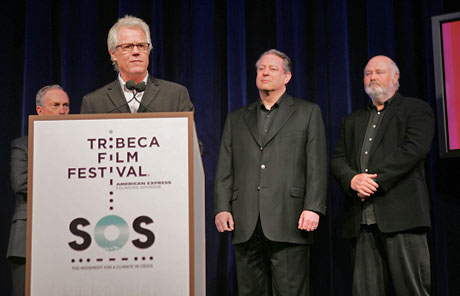 In addition to providing over 100 simple actions people can take in their daily lives, which will have a tremendous positive impact when carried out on a mass scale, Live Earth asked people to support a 90% reduction in CO2 emissions by 2050 and a comprehensive international treaty on global warming by 2009.
Live Earth was a 24-hour, 7-continent concert series that took place on 7/7/07 that brought together more than 100 music artists and 2 billion people to trigger a global movement to solve the climate crisis.
Live Earth reached this worldwide audience through an unprecedented global media architecture covering all media platforms – TV, radio, Internet and wireless channels.
Live Earth marked the beginning of a multi-year campaign led by the Alliance for Climate Protection, The Climate Group and other international organizations to drive individuals, corporations and governments to take action to solve global warming. Former U.S. Vice President Al Gore is the Chair of the Alliance and Partner of Live Earth.
Live Earth was founded by Kevin Wall, the Worldwide Executive Producer of Live 8, an event that brought together one of the largest audiences in history to combat poverty. Wall formed a partnership with Al Gore and the Alliance for Climate Protection to ensure that Live Earth inspires behavioral changes long after 7/7/07.
Live Earth staged official concerts at Giants Stadium in New York; Wembley Stadium in London; Aussie Stadium in Sydney; Copacabana Beach in Rio de Janeiro; the Coca-Cola Dome in Johannesburg; Makuhari Messe in Tokyo; the Oriental Pearl Tower in Shanghai; and HSH Nordbank Arena in Hamburg.
Live Earth concerts were broadcast to a live worldwide audience by MSN at www.LiveEarth.MSN.com.
With support from the U.S. Green Building Council, creators of the LEED Green Building Rating System, Live Earth implemented new Green Event Guidelines. All Live Earth venues were designed and constructed by a team of sustainability engineers who addressed the environmental and energy management challenges of each concert site, as well as the operations of sponsors, partners and other Live Earth affiliates. Each venue was not only designed to maintain a minimum environmental impact, but showcased the latest state-of-the-art energy efficiency, on-site power generation, and sustainable facilities management practices.
Live Earth was a project of the SOS campaign , which used a powerful multimedia platform – film, television, radio, Internet, books, wireless and others – to move people to combat the climate crisis.
Live Earth was transmitted worldwide, from EIGHT cities (New York, London, Johannesburg, Rio de Janeiro, Shanghai, Tokyo, Sydney, and Hamburg) by Intelsat (www.intelsat.com) using its industry-leading network of Satellite and terrestrial facilities in standard and high definition, across multiple media channels – TV, radio, Internet and wireless channels.
On July 7th, Live Earth concerts were streamed live by MSN at www.LiveEarth.MSN.com.
MAIN NETWORK
8pm-11pm est BRAVO
9am-2am est
UNI HD
4am-2am est
SUNDANCE
4am-2am est MSNBC
8am – 4pm est
(continuing coverage)
CNBC
8am-2am est TELEMUNDO
7pm to 8pm est
MUN2
5pm to 7pm est
"If we are going to solve this crisis, we have to commit, and we have to do it now. Live Earth will ask people across the world to commit to changes in their lives and to move other people, communities, companies and governments to reduce our carbon output by 90% by 2050 and ensure there's a new, global treaty on climate change by 2009," Gore said. "Nations all over the world are making progress in tackling the climate crisis. But too many proposals fall short of the strong, decisive action that's needed. Individual nations alone cannot solve this crisis. The nations of the world must join together as one if we are to succeed."
Live Earth asked people to commit to making changes at home, at work, while getting around, while shopping, in their communities and to urge changes by their governments. Through its "Answer the Call" campaign, people can make their commitments and find solutions against the climate crisis at liveearth.org, LiveEarth.MSN.com, or by sending a free text message of "SOS" to 82004.
At Thursday's announcement in New York City, Gore, Wall and Zoi all signed Live Earth's 7-point pledge on the climate crisis:
• To demand that my country join an international treaty within the next 2 years that cuts global warming pollution by 90% in developed countries and by more than half worldwide in time for the next generation to inherit a healthy earth;
• To take personal action to help solve the climate crisis by reducing my own CO2 pollution as much as I can and offsetting the rest to become "carbon neutral;"
• To fight for a moratorium on the construction of any new generating facility that burns coal without the capacity to safely trap and store the CO2;
• To work for a dramatic increase in the energy efficiency of my home, workplace, school, place of worship, and means of transportation;
• To fight for laws and policies that expand the use of renewable energy sources and reduce dependence on oil and coal;
• To plant new trees and to join with others in preserving and protecting forests; and,
• To buy from businesses and support leaders who share my commitment to solving the climate crisis and building a sustainable, just, and prosperous world for the 21st century.
The names of people who made commitments and signed the pledge through their computers or cell phones on July 7th were shown on the Live Earth web site, on the screens at the concerts, and on the global TV broadcasts.
Wall noted that Live Earth and this pledge reached a massive global audience through an unprecedented media architecture.
"Live Earth will jump-start an ongoing, global effort that will drive a critical mass of people to stand up and make challenging global warming a priority in their lives. Live Earth will be a launch event that no movement has ever seen before. Our message will reach all 7 continents with 8 official concerts, special broadcast events broadcast worldwide on TV, radio and the Internet. We've produced a collection of films, PSAs, and even an official Live Earth companion book. This massive multimedia platform will be the foundation for a movement that drives us to the tipping point," Wall said. "If enough people come together to fight against the climate crisis, corporations and governments will have no choice but to act as well."
Live Earth was broadcast on television and radio in more than 100 countries. For example, in the US, Live Earth was broadcast on the NBC network, the Spanish language Telemundo network, the Sundance Channel, Bravo, MSNBC, and Universal HD. In the UK, Live Earth was carried by the BBC and in Japan, in an unprecedented step, both NHK and Fuji TV carried the shows. The shows were broadcast globally by MSN at LiveEarth.MSN.com. MSN reaches 465 million unique visitors a month in 21 different languages.
"The climate crisis requires a global solution. Live Earth is using an unprecedented media architecture to reach a global audience," Wall said.
In addition, Wall noted that Live Earth has produced more than 60 short films, 30 PSAs featuring stars like Cameron Diaz and Penelope Cruz, and a book – The Live Earth Global Warming Survival Handbook by David de Rothschild that was released just this week – to serve as lasting media that will echo the Live Earth call to action delivered at the concerts on July 7.
Wall said that after the announcement of Live Earth, people and organizations all over the world asked to host their own events to support the cause, and the "Friends of Live Earth" program was created to support these efforts. The events range from small gatherings in homes to public screenings of the Live Earth concerts for thousands of people to multi-day festivals in places ranging from Portland, Oregon to Zurich to Malta, all held on July 7th. To date, more than 6,000 Friends of Live Earth events have been organized in 109 countries. Visit liveearth.org to participate in the Friends of Live Earth program.
"These 6,000 events are just the beginning," Gore said. "If just one person from each event holds one of their own, we've doubled our reach. We think many more people will answer the call and help us spread the message of Live Earth even farther on July 7th and for long afterward."
The Alliance for Climate Protection, Al Gore.com, Avaaz, Defenders of Wildlife, ICLEI and the Sierra Club have joined with Live Earth to organize Friends of Live Earth events around the world. Evite is also encouraging its users to hold Live Earth viewing parties.
"Live Earth is just the beginning of a massive global movement. It will be the first great note in a worldwide song demanding change that will be heard on every continent in every time zone. And we will keep singing this song until meaningful actions are taken by our leaders to halt the climate crisis," Zoi said. "Post Live Earth, The Alliance for Climate Protection is undertaking a 3-5 year campaign to educate people from all walks of life that the climate crisis is both critically urgent and something we can solve. We will take the momentum of Live Earth and continue to challenge people to take action in their own lives and demand action from their leaders — actions that must deliver reductions in global warming pollution that will safeguard the planet and provide for a prosperous 21st century."
Prior to taking the helm at the Alliance, Zoi spent more than two decades in the energy and environmental sector in both the United States and Australia, including stints with environmental organizations, the New South Wales government, and the Clinton-Gore Administration. She was Group Executive Director at the Bayard Group in Sydney, Australia. Bayard is the world leader in smart metering systems with operations in 30 countries and revenues in excess of $1.2 billion.
Official Live Earth concerts will be streamed live at http://liveearth.msn.com. MSN's 39 localized web portals worldwide attract 465 million monthly users.
smart is the world's only automaker serving as an Official Partner. Unlike any other vehicle, the new smart fortwo combines a modern, individual lifestyle with environmental protection by setting the standard in urban mobility and offering the lowest CO2 emission of any vehicle on the market. smart responds to environmental demands with innovative, technologically sound solutions and as a result produces positive and credible answers to the question of ecological driving.
Philips, as the world's leading lighting supplier, joins Live Earth as an Official Partner. Philips was the first to introduce the energy saving light bulb in 1980 and has put environmental product improvement at the heart of its business with its EcoDesign program since 1994, increasing its green product range year by year.
Live Earth partnered with companies on a local level who share the commitment to helping people live a more energy efficient lifestyle. PepsiCo, an Official Partner of Live Earth, is committed to making a difference with eco-friendlier packaging, energy and water conservation and waste reduction. It's all part of PepsiCo's commitment to Performance with Purpose — to do better by doing better. Esurance, the direct-to-consumer personal auto insurance company, joins Live Earth as an Official Sponsor and is the latest extension of Esurance's efforts to conserve energy and preserve the planet's precious resources. For more than seven years, Esurance policyholders have helped save thousands of trees by buying their auto insurance online and using electronic documents. An official partner of Live Earth, The Absolut Spirits Company, Inc., a subsidiary of V&S Group, produces and markets ABSOLUT® VODKA, Level ™ Vodka, FRÏS® Vodka , Plymouth™ Gin and Cruzan® Rum. The Absolut Spirits Company focuses on reducing the impact on climate change, sustainable agriculture and optimizing use of natural resources as mandated by V&S Group. To view details on the company's efforts to combat global warming, visit www.vsgroup.com and click on "Corporate Responsibility/Environment."
For more information, visit www.liveearth.org or www.liveearth.msn.com.
About the Alliance for Climate Protection
The Alliance for Climate Protection is a 501c3 organization founded in 2006 by Gore, who is currently the Chairman of the Board of Directors. The Alliance is engaged in an unprecedented effort to convince people from all walks of life about the urgency and the solvability of the climate crisis.
Building on the momentum of the Academy Award winning film, "An Inconvenient Truth," the Alliance's objective is to engage individuals, communities, corporations and governments across the world to take action to quickly reduce their own greenhouse pollution to become "carbon neutral" and demand action from their political, business and community leaders to enact policies that will sharply reduce emissions.

Through an innovative combination of communication platforms and an influential collection of supporters that includes the environmental community, key leaders in business, the entertainment industry, the faith community, labor and many others, the Alliance will reach new audiences to engage them in solving the climate crisis.
Live Earth is the first major public project for the Alliance.
http://LiveEarth.org.
Wait! Don´t forget to Subscribe for Free!
Main Feed | What is RSS?
Enter your E-mail below to Subscribe

*
No spam
|
Privacy Policy
We will not sell or distribute your e-mail address to anyone else.
Written by Jane Emery