Thermography or DITI (Digital Infrared Thermal Imaging) is a radiation free, no contact, pain free, and FDA approved screening tool to visualize PHYSIOLOGY. This exciting new and improved technology is now available in Los Angeles by Innovative Thermal Imaging.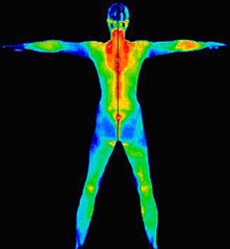 Thermography measures the heat which is constantly radiating away from the surface of the skin. Breast thermography is a 15 minute non invasive screening tool. It is safe and appropriate for any woman, regardless of age, even teenagers are candidates for thermography. Thermography is especially valuable for women with dense breasts, implants, prior surgeries and premenopausal women.? It is also an effective screening tool for women with a history of breast cancer in their family, women who have been on the pill or hormone replacement therapy.
Thermography can detect subtle physiologic changes that accompany breast disease, whether it is fibrocystic disease, infection, vascular disease, or cancer. Mammograms, MRI, and Ultrasound are all tests of anatomy. Because physiological changes often preceed changes in anatomy, thermography offers a chance for very early detection of changes in the breast tissue. Studies show DITI has the ability to alert a woman of a developing cancer up to eight years before any other test. It is a well know fact that early detection of breast disease is crucial. This affords a woman time to make lifestyle changes and pursue other less invasive treatments to return to health. Everyone is born with their own unique thermal fingerprint. For this reason, it is necessary to develop a baseline to determine your unique vascular patterns. The second series of scans is taken 90 days after the initial scans. This is because of the duplication pattern of cancer cells. Once a stable baseline has been established, the screening is done annually. ?
Another important use of thermal screening is to monitor the person who is using therapies to improve their breast health, and validate that there are returning to a healthy status. For example, women with estrogenic activity in the breasts who are balancing their hormones, can see the changes taking place with thermography.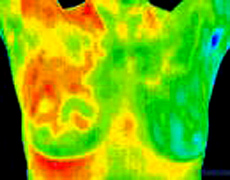 Women who catch early vascular changes to the breast can monitor their treatment protocols, and verify that they are returning to normal breast tissue. Thermography can also be used for full body scans. This is especially useful for unexplained pain. Again, X-rays and MRI?s are tests of anatomy and cannot visualize pain. Thermography can help locate the origin of the pain, and therefore improve the implementation and monitoring of treatment. Inflammation, which we are learning is the cause of many diseases, can be recorded by this ultra sensitive camera.
A very important component in the effectiveness of Thermography is the doctor who reads the scans. Innovative Thermal Imaging utilizes specially trained M.D.?s called Thermologists who read and report on the digital pictures when they are sent over the intranet. The pictures are then saved, and can be reviewed with new scans to determine a baseline.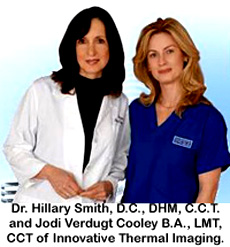 There are two amazing women to thank for this forward thinking technology, Dr. Hillary Smith, D.C., DHM, C.C.T. and Jodi Verdugt Cooley B.A., LMT, CCT.
Dr. Smith has been in the preventative business in the San Fernando Valley, Los Angeles for over 20 years. In 2006 she put together the parent company of Innovative Thermal Imaging with Jodi Cooley. Together they completed training under the American College of Clinical Thermography at Duke Medical Center. Dr. Smith carries a B.S. in Biology and a doctorate of Chiropractic degree from the L.A. College of Chiropractic and a Doctorate of Homeopathic Medicine from The Hahnemann College of Homeopathy.
Jodi Verdugt Cooley is also a Certified Clinical Thermographer, and she is the Chief Thermographer amongst the halls of Innovative Thermal Imaging. She also oversees the coordination of all mobile clinics and education of the community. She is a graduate of the University of South Florida and attended Florida State University for grad school. A celebrated life coach and celebrity Massage Therapist, Cooley earned a certificate as a 'You Can Heal Your Life' practitioner in 2002. Her unique understanding and blend of massage therapy, spirituality, philosophy and psychology keep her Prosperity Workshops popular among people who wish to achieve better health, direction and financial stability.
Modern thermography is the only method available for visualizing pain. It offers the opportunity for very early detection of breast disease. And it is radiation free, risk free and cost effective.
www.innovativethermalimaging.com
Wait! Don´t forget to Subscribe for Free!
Main Feed | What is RSS?
Enter your E-mail below to Subscribe

*
No spam
|
Privacy Policy
We will not sell or distribute your e-mail address to anyone else.
Written by Gianna Brighton