Jazz fans have a brand new season of exciting performances to look forward to, as UCLA Live has released their 2007-2008 line up. Jazz aficionados will be treated to a mix of small ensembles, larger collectives and orchestras while enjoying the smooth sounds at Royce Hall on the UCLA campus.
At the top of the list for the season running from the fall of 2007 until May 2008 is jazzman and 2007 Pulitzer Prize winner, Ornette Coleman. Coleman is set to grace the UCLA stage in September playing songs from his Grammy nominated "Sound Grammar", as well as new tunes that are sure to become old favorites.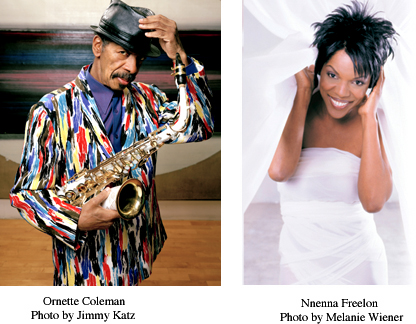 In addition to Coleman, The prestigious Monterey Jazz Festival, the world's longest continually running event of its kind, will be celebrating its 50th Anniversary with a national tour spearheaded by Grammy-winning trumpeter Terence Blanchard, Grammy-nominated vocalist Nnenna Freelon, saxophonist James Moody and pianist Benny Green, among others. In another anniversary event, renowned pianist Keith Jarrett marks 25 years performing with his acclaimed trio of bassist Gary Peacock and drummer Jack DeJohnette. The dapper German Max Raabe also returns to UCLA Live with his 12-piece Palast Orchester, gloriously evoking the romance of Berlin's 1920s-30s cabaret; and the all-star SFJAZZ Collective honors groundbreaking saxophonist Wayne Shorter in a show featuring such artists as saxophonist Joe Lovano, trumpeter Dave Douglas and vibraphonist Stefon Harris. In May, the versatile, multi-Grammy-winning vocalist Dianne Reeves with guitarists Russell Malone and Romero Lubambo provide the jazz season finale.
UCLA LIVE'S 07/08 JAZZ EVENTS
Wednesday, Sept. 26, 2007, at 8 p.m., Royce Hall
Ornette Coleman, saxophone, violin and trumpet
With Denardo Coleman, drums; Tony Falanga, bass; and Al Macdowell, bass
Since his prophetically titled 1959 album, "The Shape of Jazz to Come," saxophonist and composer Ornette Coleman has influenced generations of jazz innovators with his cataclysmic and otherworldly forays into free jazz. The 77-year-old Coleman is still creating vigorous work, recently earning both a Lifetime Grammy Award and 2007 Pulitzer Prize for his latest album, the Grammy-nominated "Sound Grammar" (2006). At Royce Hall he will perform cuts from this work as well as new compositions leading his uncommon "two bass band" of Tony Falanga and Al Macdowell, along with his son Denardo Coleman.
Tuesday, Oct. 30 at 8 p.m., Royce Hall
Max Raabe and Palast Orchester-"Heute Nacht Odernie" (Tonight or Never)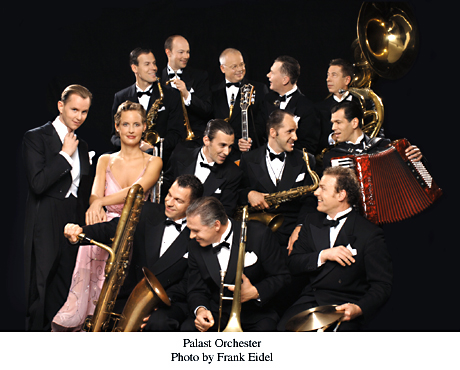 With his tuxedo, slick hair and cheeky demeanor, singer-bandleader Max Raabe and his dazzling 12-piece Palast Orchester capture the essence of Berlin's cabaret culture of the 1920s and '30s. Performing a whimsical mix of popular German chansons and original compositions alongside Cuban rumbas, cheery foxtrots, elegant tangos and covers of modern pop songs, Palast has earned rave reviews and standing ovations in glamorous concert halls across the globe.
Friday, Jan. 18, 2008, at 8 p.m., Royce Hall
Monterey Jazz Festival-50th Anniversary Tour
Terence Blanchard, trumpet; James Moody, saxophone, flute; Benny Green, piano, music director; Derrick Hodge, bass; Kendrick Scott, drums; and Nnenna Freelon, guest vocalist
Since its 1958 debut, the Monterey Jazz Festival has been synonymous with world-class performances, presenting such artists as Louis Armstrong, Billie Holiday, Dave Brubeck and Dizzy Gillespie. Now, the festival celebrates its 50th anniversary with a national tour featuring, among others, Grammy-winning trumpeter Terence Blanchard, six-time Grammy-nominated vocalist Nnenna Freelon and virtuoso pianist-musical director Benny Green.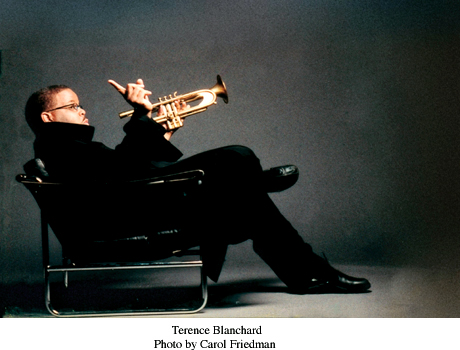 Wednesday, March 5 at 8 p.m., Royce Hall
Keith Jarrett, piano; Gary Peacock, bass; and Jack DeJohnette, drums-25TH Anniversary
In a brilliant career spanning more than 35 years, master pianist Keith Jarrett is an unsurpassed improviser, an award-winning classical musician and a gifted composer who has redefined contemporary piano music. Jarrett and his outstanding trio of bassist Gary Peacock and drummer Jack DeJohnette celebrate 25 years of transcendent music making in their return to Royce Hall.
Friday, March 21 at 8 p.m., Royce Hall
SFJAZZ Collective-Original Compositions and Works by Wayne Shorter
Featuring Joe Lovano, tenor saxophone; Dave Douglas, trumpet; Stefon Harris, vibraphone, marimba; Miguel Zenón, alto saxophone, flute; Andre Hayward, trombone; Renee Rosnes, piano; Matt Penman, bass; and Eric Harland, drums
Launched in 2004, SFJAZZ Collective has quickly become one of the most exciting forces on the U.S. and international music scene. Named Downbeat's 2006 "Rising Star Jazz Band of the Year," this all-star ensemble comprises some of jazz's finest musicians-including Downbeat "Artist of the Year" honorees, Grammy-nominated trumpeter Dave Douglas (2006) and saxophone giant Joe Lovano (2001). Respecting the past, yet looking to the future, the Collective honors saxophone legend Wayne Shorter in a program of his works as well as band member originals.


Thursday, May 22 at 8 p.m., Royce Hall
Dianne Reeves-with Russell Malone and Romero Lubambo, guitars
With Dianne Reeves' timeless voice and magnetism, she not only embodies jazz in its purest form, but also is influenced by African, Brazilian, Caribbean, R&B, classical and pop music. Since 2000, Reeves has been awarded a Grammy for Best Jazz Vocal Performance for four of her last recordings, including the soundtrack to the 2005 Academy Award-nominated film "Good Night, and Good Luck." Joined by acclaimed guitarists Russell Malone and Romero Lubambo, Reeves returns to Royce Hall performing music from her upcoming new album.
Tickets: Series and Choose-Your-Own subscriptions consist of multiple events sold at a discount when applicable, and are on sale now. Single tickets are on sale as of July 23 (July 16 for current subscribers and donors). Tickets may be purchased online at www.UCLALive.org, by phone at 310-825-2101 , in person at the UCLA Central Ticket Office at the southwest corner of the James West Alumni Center, and at all Ticketmaster outlets.
Wait! Don´t forget to Subscribe for Free!
Main Feed | What is RSS?
Enter your E-mail below to Subscribe

*
No spam
|
Privacy Policy
We will not sell or distribute your e-mail address to anyone else.
Written by Staff Writer