By Susie Salva
Selling nearly 18 million albums worldwide with the success of major-label debut, "Fallen," Evanescence continues their rapid rise to fame with their new CD, "The Open Door" on Wind-Up Records. This amazing songstress Amy Lee and songwriter Terry Balsamo put forth an outstanding sophomoric effort with "The Open Door." Their hauntingly beautiful melodies and spooky rhythms are evident on this new disc. Their music combines the aggression of Nine Inch Nails with the powerful melodies of Ann Wilson from Heart. Evanescence has the flair for being both creepy and sexy.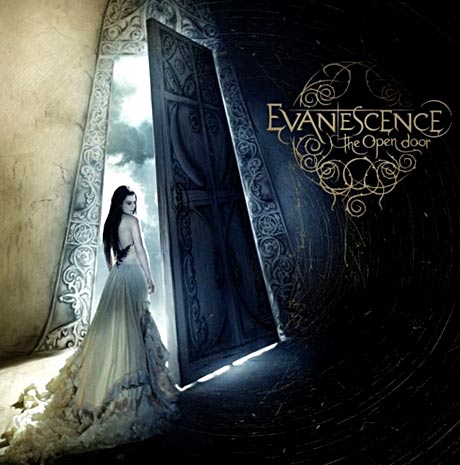 Originally hailing from Little Rock, Arkansas, the band's evolving sound is a magical marriage between rock, goth, and classical music. This CD expresses a broad range of emotions not just pain and sadness, but anger and even happiness. This album from two-time Grammy-winning band is defined by Amy Lee's striking melodies, compelling lyrics, poignant piano and stunning vocals fused with Terry Balsamo's urgent, yet intricate guitar combining hard rock music to that of classical sensibilities.
Evanescence is comprised of Amy Lee (vocals, piano), Terry Balsamo (guitar),
John LeCompt (guitar), Will Boyd (bass) and Rocky Gray (drums).
Reuniting with  producer Dave Fortman (Mudvayne, Bif Naked), the album's musical elements include a classically-infused choir and strings on several tracks dealing with song selections featuring introspection, longing, doubt, self-respect, and ultimately, empowerment.
The albums lead track opens up with "Sweet Sacrifice," a post-relationship catharsis that head dives from otherworldly intro into a hard-driving thrash of hard rock guitars and soaring rock vocals. It's first single, the mid-tempo "Call Me When You're Sober," reinforces the moving away from dysfunction.
Other notable tracks on "The Open Door," include, "Lithium," which embraces feeling over numbness, "All That I'm Living For," Lee's tribute to band life, "Weight of the World," hear plea for perspective from the expectation of her young fans, and "Good Enough," a string-and-choir infused closer track.  
Unlike many sophomore efforts that fall flat Evanescence rises out of a potential slump and delivers the goods with a successful combination of hard rock music with a sharp edge and a biting soundtrack. This disc is one of the best efforts thus far. The music while dark is accessible and the band doesn't disappoint their throng of fans. Be sure to pick up a copy for your own library.
For more information please visit: www.evanescence.com or www.winduprecords.com
Wait! Don´t forget to Subscribe for Free!
Main Feed | What is RSS?
Enter your E-mail below to Subscribe

*
No spam
|
Privacy Policy
We will not sell or distribute your e-mail address to anyone else.
Written by Susie Salva