Laser therapy in general has emerged as one of the most versatile and valuable tools in cosmetics. That tiny, painless beam can help minimize varicose veins, acne scars, and birthmarks; correct vision problems; and eliminate unwanted hairs, for just a few examples. This past Feb 2007, the FDA approved a device (Laser Comb) utilizing low-level laser therapy as a treatment for male and female hair loss. This clearance to grow hair by the FDA was a tremendous lift in the fight against hair loss.
Our featured company, Sunetics International, has positioned itself as a major player in the hair loss industry by harnessing this power in a safe, handheld brush that can be used at home or anywhere you would use a normal brush. The Sunetics Laser Hair Brush has already caught the attention of consumers and media alike, even earning a featured spot on NBC?s Today Show. Watch the video here.
A healthy head of hair is an aphrodisiac and a status symbol, and it can be almost literally your crowning glory. The problem, though, is that we can?t all have flowing locks, and it?s through no fault of our own. Enter the cordless, portable, and rechargeable Sunetics Laser Hair Brush. Clinical studies conducted by Sunetics International for Laser Hair Therapy have produced dramatic findings: 86 percent of patients had healthier hair and 78 percent had thicker hair – with no side effects. Overall, more than 85 percent were satisfied with the
results. To use the Laser Hair Brush, all it takes is 10 to 15 minutes out of your day, for three days a week. As if this wasn?t groundbreaking enough, the Laser Hair Brush also has separate head attachments to become an anti-wrinkle, anti-acne device!
The technology behind the Laser Hair Brush is also available for use in the physician?s office and other medically supervised facilities. Sunetics? Clinical Laser Model E is the foremost low-level laser therapy device on the market in the United States or internationally. The "hood" device covers 100 percent of the scalp, like a salon-style hairdryer, and on average, each treatment requires just 15 to 30 minutes.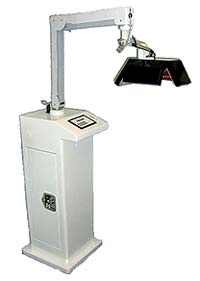 Dr. Alan J. Bauman is one medical expert who uses Sunetics? devices and considers them breakthroughs in the hair loss industry. This prominent hair restoration physician has been using Sunetics? laser devices since 2003, and he believes the laser hair brush works on the cellular stratum, as it emits low-level laser energy to animate live but weakened follicles. This awakened activity, in turn, reawakens hair growth. According to Dr. Bauman, "Laser Hair Therapy is an important part of a multi-therapy approach to restoring lost hair."
Sunetics International, the company behind the Laser Hair Brush, has been in operation since 2003 and is a registered cosmetic manufacturer with the FDA. Sunetics has also created several low-level laser products in use by the cosmetic, beauty, and healthcare industries, such as devices to treat acne and wrinkles, as well as to rejuvenate skin. The company also has numerous patents pending in the United States and all over the globe. Heading up Sunetics is Dr. Charles Maricle, president, CEO, and an expert in the use and protocol of low-level laser therapy.
Sunetics
877-777-8818?
info@sunetics.com
Wait! Don´t forget to Subscribe for Free!
Main Feed | What is RSS?
Enter your E-mail below to Subscribe

*
No spam
|
Privacy Policy
We will not sell or distribute your e-mail address to anyone else.
Written by Gianna Brighton