The beauty and spa industry has reached new levels of technological advancement and growth in recent years.The latest cosmetics treatments, products and trends were on display at the 2007 Spa & Resort and Medical Spa Expo and Conference – the nation?s premier spa event for professionals,?where the?latest spa treatments met the?latest?in medical procedures.
The Expo returned to the Los Angeles Convention Center from March 3-5, with three days of breakthroughs in medical technology, outstanding keynote speakers, and the latest and greatest new products and spa techniques ? all under one roof.
Produced by public relations firm Trent and Company, thousands of day spa, medical spa, hotel and resort owners, managers, therapists, specialists, as well as prominent dermatologists, plastic surgeons, chiropractors and other physicians converged downtown to learn about new techniques and products to grow their businesses. This is the only event where both spa and medical professionals can research, demo and source the latest products and services.
The highlight of the event was the exhibit hall, where guests could learn about the best of both the spa and medical worlds?with over 250 exhibitors, including Acara MedSpas, Avance, Bodyworkmall, Candela, Canfield Clinical Systems, Cynosure, Dermalogica, d?vine vinotherapy, Lumenis, Physiodermie, (methode)/Europelab, Inc., ScripSpaSupply, SpaBiz/Extended Technologies, Vibraderm, Universal Companies and more.
In one of the largest booths of the expo, Arasys Perfector showcased their cutting edge anti-aging and body sculpting machines with one-on-one demonstrations. Guests could sign up for appointments to try out both the Arasys Effortless Power Workout, which speeds up muscle building and inch loss at a fraction of the time you would spend at the gym, and Nano Perfector, a non-invasive skin rejuvenation computerized device that builds new tissue, lifts sagging muscles, purifies and detoxifies until your skin glows with health. Arasys Perfector is dedicated to using medical science to introduce healthy alternatives to anti-aging. www.arasysperfector.com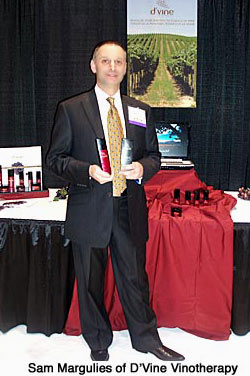 For a brief respite away from the exhibit hall floor, VIP guests could relax in the retreat sponsored by d?vine vinotherpy. D?vine Vinotherapy stands apart due to its unique product line and powerful antioxidants and nourishing benefits. D?vine vinotherapy is the only complete product line devoted to providing superior anti-aging and skin balancing effects derived from powerful wine and grape seed extracts. It is designed for indulging at either the spa or at home. www.dvineinc.com
JeuneFusion and their team of spa consultants were there to help those thinking of starting up a spa get their idea off the ground.? JeuneFusion is a one-stop shop resource for those in the spa industry to find many of the industry's finest products for retail and operational needs. They carry a plethora of retail lines for spa boutiques or retail shops, and also many of the industry's name brand items for resort and spa operational needs. www.jeunefusion.com
Guests could pamper their hands further over at the Revitalight booth. Revitalight uses intensive LED photopulsation therapy to combat the signs of aging, such as the visible appearance of fine lines and wrinkles on the skin. They have two products, the HandSpa (for hands) and the Revitalight Skincare System (for the face). Made for the skincare professional, they come with a 5-year warranty, all marketing material, training DVD, manual, client consent forms, disposable pulsator covers and client eye protectors. With its optional blue pulsators, it is FDA cleared for acne. www.revitalight.com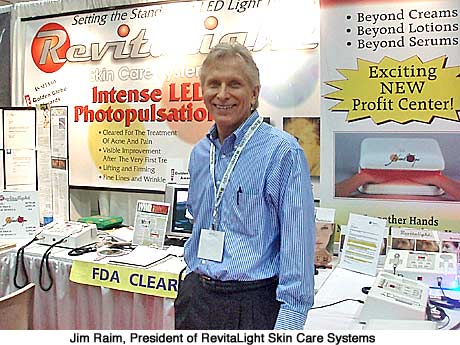 Dermalogica displayed their entire line of scientifically advanced skin care products. Professional skin therapists were on hand to provide complimentary Face Mapping, Dermalogica?s signature skin analysis that reviews the 14 zones of your face for expert skin care results. Click here for more on Dermalogica. www.dermalogica.com
Guests were treated to a free, relaxing 15-minute demo at The Bio Mat Company booth. The BioMat's advanced light technology uses Far Infrared, Negative Ions and Amethyst Crystals to reverse degenerative aging cycles and speed cellular renewal. The BioMat helps to provide deep relaxation, detox, Ph balance and pain relief. The BioMat is an FDA approved medical device ideal for spa use. www.thebiomatcompany.com
Spa Revolutions PerfectSense INFUSIONIST paraffin treatment gave hands the ultimate moisturizing experience. A revolutionary new technique, Spa Revolutions has created individual, sanitary doses of physiotherapeutic spa-grade paraffin, infused with the finest nourishing and detoxifying ingredients for a results-focused experience. Treatments melt with natural minerals and no electricity required. And nothing is left on the hands except the feeling of silky softness. www.sparevolutions.com
Int?gr?e also offered treatments using their? state-of-the-art equipment. The company is the world's first truly integrated beauty and wellness system; combining state-of-the-art technology, the most effective products, traditional and cutting edge massage treatments and an unsurpassed, full-scale training program. It is the proven European solution spa owners have been searching for. www.integreeusa.com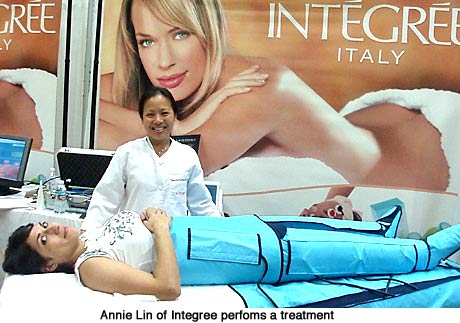 Everyone was clamoring to get their hands on RevitaLash. Developed by a physician, RevitaLash is a remarkable cosmetic innovation that within weeks will help you achieve long, healthy, beautiful eyelashes. Your natural eyelashes; spectacularly longer, thicker, fuller! A portion of sale proceeds will benefit breast cancer research and educational initiatives. www.revitalash.com
Representatives from Sprayology provided complimentary spritzes of their innovative homeopathic and vitamin oral sprays. Sprayology combines natural ingredients proven to affect your health and well being. The revolutionary concept is quite simple: vitamins and other nutrients sprayed into the mouth and under the tongue are more readily absorbed into the bloodstream than the same substances ingested into the stomach. With 25 different varities, they are sold in destination/resort spas, medi-spas, wellness centers, doctor?s offices and apothocaries. www.sprayology.com
To ease aching muscles, guests could stop by the Performance Health booth to learn about their products, Biofreeze and Prosaage, and to receive 15 free "pain management" treatment protocols. Biofreeze pain relieving products include a soothing gel, convenient roll-on and new no-touch natural Cryospray. Prossage is a uniquely blended, 100% all-natural, area specific, controllable, glide warming ointment for Massage Therapists. www.biofreeze.com
DermaNew Microdermabrasion treated guest to complimentary microdermabrasion for their hands. DermaNew was the first company to adapt professional microdermabrasion for at-home use and has since grown to include systems for specific skin types as well as a full skincare line. Currently, DermaNew is launching a complete range of professional microdermabrasion products as well as its first professional-only machine, the HyperBarOX.?www.dermanew.com
NeoStrata exhibited their medical-grade skin care products. NeoStrata, is a medically based dermatological company, manufactures a comprehensive line of patented skin care products based on advanced AHA/PHA technology. Product lines include NeoStrata Professional sold through physicians, NeoCeuticals, Exuviance, Exuviance Professional and CoverBlend concealing makeup. www.neostrata.com
Another great skin care line exhibiting at the expo was Sampar.? Sampar Skin Care incorporates phyto aromatics, nano technology and state of the art research on bio-peptides, antioxidants and naturally sourced Vitamins A and C. Sampar products contain up to 96% active ingredients resulting in a limited distribution line that combines high performance with 21st century science and unabashed luxury. www.sampar.com
Other innovative exhibitors included:
302 Professional Skincare: 302 Skincare offers a non-acid, holistic approach to skin rejuvenation. Highly effective in-studio and take-home treatment products and solutions provide a wide0range of benefits for all individuals. The 302 technology centers around patented natural compounds derived from avocados. www.302skincare.com
Abrione by VS Cosmetics: VS Cosmetics is the manufacturer of Abrione, as well as private labeled custom spa, facial, body, hair and nail products. They use high concentrations of botanical and sea-derived ingredients, artfully blended with cutting-edge technology, to naturally nourish, revitalize and renew skin cells so skin glows with a younger, smoother, more radiant, healthier look. www.vbcosmetics.com
AquaVida USA: Aquavida manufactures an Ionizing Detox Foot Spa in the United States. It is the first and only worldwide "fully automated, no guesswork" detox foot spa. The foot spa assists the body to eliminate debilitating toxins. Their revolutionary technology is a simple and effective way to aid our bodies in detoxification and overall wellness. www.aquavidausa.com
Avanc?: Avanc? Skin Care, Body Care and Internal Supplements are highly evolved beauty and wellness products that work as a comprehensive system to restore the body?s natural balance and radiance. Based on the philosophy that beauty is best achieved through wellness, the products are designed to promote good health and overall well-being. www.avanceskincare.com
Bioelements Complexion Color: Bioelements skin care offers highly advanced professional treatment techniques including custom blending, incredibly easy-to-sell retail skin care and makeup, the ultimate business-building support system and free advanced education. More than just an "off the shelf" product line, Bioelements is a complete program for skin care success. www.bioelements.com
B. Kamins, Chemist: A product of Canada, B. Kamins, Chemist makes pharmaceutical grade skincare products using the most advanced ingredients to responsibly repair and restore skin in gentle yet effective formulas. Their cutting-edge, results-driven products focus on a range of conditions including sensitive, aging, menopause, rosacea, acne, eczema, problematic, extra dry and every day skin types. www.bkamins.com
Boiron: Boiron, a world leader in homeopathy, is a $500 million pharmaceutical company producing over 1,500 homeopathic medicines, including Oscillococcinum and Arnica. Boiron maintains the highest standards in manufacturing, complying with the FDA, HPUS and drug GMP. www.boiron.com
Caleel + Hayden: Caleel + Hayden is the premier resource for advanced skin therapies. They are the worldwide distributor and manufacturer of several prestigious cosmeceutical skincare products, including Cellex-C, glominerals, glospa, glotherapeutics, Lycon Wax, ScarGuard and The Sonic Youth System. This collection of diverse and advanced skincare brands demonstrates their commitment to providing scientifically supported, high-performance products. www.caleelhayden.com
C?Watre: C'watre, oceanic skin care is a leader in skin hydration, developing Intelligent-Aging products for superior skin health. C'watre formulations begin with molecularly stimulated ocean water, and is the only spa and wellness line to do so. This creates a series of natural and luxurious skin care products that refresh, revitalize and rejuvenate all skin types. www.cwatre.com
Dynamis Skin Sciences: Dynamis Skin Sciences MEG-21 and MEG-32 creams with Supplamine reduce the appearance of skin wrinkling and aging; they are associated with dermal 3DG, a reactive compound causing loss of collagen, AGES, oxidative stress and free radicals. The creams are ideal for increasing skin smoothness and the appearance of firmness and moisturization. www.dynamis-therapeutics.com
Energy Muse jewelry: Energy Muse Jewelry is based on the power of intention and energetic properties of crystals. Crystals are an earth energy allowing one to become grounded and increase spiritual connection to the divine. Energy Muse utilizes ancient healing technology, making each sacred piece a unique keepsake from your spa experience. www.energymuse.com
Erbaviva organic skincare: Erbavia is a high-end, natural and organic body skincare line for babies, pregnancy and adults. They offer retail products along with professional sizes for spa treatments. www.erbaviva.com
Jane Iredale Mineral Cosmetics: Everything developed at Jane Iredale is a true extension of skin care. Their makeup is not just a refinement of normal makeup; it is a new technology. It is so effective it is recommended by skin care professionals around the globe. At last, a makeup that's actually good for even the most sensitive skin. www.janeiredale.com
Nailtiques: Nailtiques is dedicated to the development and maintenance of healthy, natural nails. The complete line of therapeutic products provides the best nail care system available worldwide. The salon-tested formulations offer special combinations of ingredients proven to help nails that are inclined to peel, break or split. www.nailtiques.com
PCA: PCA Advanced Skin Care Systems revolutionized skin care in 1990 with the first non-prescription, science-based products for physicians. Founder and CEO Margaret Ancira?s proprietary formulas aid in correcting acne, rosacea, hyperpigmentation and sun damage. www.physchoiceaz.com
Prescriptive Music: Prescriptive Music Private Label Program is an affordable way to help build sales at spas. They create a custom CD package to reflect your "brand". Customers will love how your music affects them and will continue to remember their experience at your spa when they listen to your custom CD. www.prescriptivemusic.com
Promedis: Promedis is a new generation of therapeutic, pharmaceutically pure and clinically proven anti-aging skincare, oral and topical formulas that complement and enhance the procedures performed by a dermatology professional. These products maintain healthy skin appearance and help prevent aging due to the inflammation, oxidation and glycation process. www.promedisonline.com
Rhonda Allison Clinical Enterprises: Rhonda Allison leads the industry in providing quality skin care products and education. Training classes, DVDs and second edition "The Art of Skin Peels" set them apart. They help spa professionals provide safe, effective, result-oriented treatments using only the purest of ingredients. www.rhondaallison.com
SkinMedica: SkinMedica is a specialty-dermatology company featuring a complete skincare line dispensed by physicians. TNS Recovery Complex is the only product with NouriCel-MDr, which contains human growth factors found in healthy skin. In addition, SkinMedica distributes pharmaceutical products including VANIQA?, NeoBenz? Micro and EpiQuin? Micro. www.skinmedica.com
TanTowel: A patented evolution in self-tanning, Tantowel is the easiest and most convenient self-tanning product on the market today. The Tantowel line offers two degrees of tan along with a selection of products that serve to extend the life of your self-tan, condition skin and other skin care and beauty needs. www.tantowel.com
Thera:Vie:? Thera:Vie Healing Therapy is an innovative, patented, transdermal moisturizing system. The disposable, biodegradable Thera:Vie Gloves and Booties contain face-quality serum, enhanced with natural botanicals. Slip them on and in just 20 minutes experience silky, revitalized skin. Thera:Vie is the no-mess alternative to paraffin. www.takingthewaters.com
Topix Pharmaceuticals: Topix Pharmaceuticals develops, manufactures and markets innovative therapeutic and image enhancing skin care brands and private label solutions that meet the needs of physician partners and their patients. Some of the innovative direct dispense brands include, Replenix, CRS, Citrix, Glycolix, and Solvere. topixpharm.com
Vivant Pharmaceuticals: Vivant Pharmaceuticals is dedicated to providing skin care professionals with potent, medically-proven dermatological therapies. Vivant?s skin care products are formulated by James E. Fulton MD, PhD, co-developer of Retin A. Vivant provides physicians and aestheticians with the most cutting edge, innovative, non prescriptive products available in the market. www.vivantskincare.com
To bring the spa environment to the showroom floor, the Spa Sanctuary provided the opportunity to refocus, recharge and relax with mini treatments. Guests pampered themselves with a variety of specialty treatments such as facial massage, stone massage, foot exfoliation, teeth whitening, pedicures, manicures and much more in 10-15 minute appointments. The Spa Sanctuary was presented by ScripsSpaSupply, a co- sponsor of the expo. The event was also sponsored by Universal Companies.
Guests could also take advantage of a world-class education program endorsed and sponsored by the Medical Spa Society. With Accredited Education programs, education packages, conference sessions, networking and exhibitor workshops covering Spa and Medical topics and products, guests were sure to learn everything they needed to know to grow their businesses.
If you missed out on this great event, don?t worry. The 2008 Spa & Resort/Medical Spa Expo will return to the Los Angels Convention Center on February 23-25. For more information, please visit www.medispaexpola.com.
Tip:
Want permanent hair removal? Then laser hair removal is what you need. Check out the New York laser hair removal center and discover the painless way to get rid of unwanted hair. We also have a Miami laser hair removal center too.
Wait! Don´t forget to Subscribe for Free!
Main Feed | What is RSS?
Enter your E-mail below to Subscribe

*
No spam
|
Privacy Policy
We will not sell or distribute your e-mail address to anyone else.
Written by Amy Grensted