Upon hearing the band name, The Rocket Summer, images of an entire rock group come to mind. However, names can be deceiving, as this band is comprised of just one guy. That guy, Bryce Avary, is a 24 year-old singer, songwriter, producer and all around jack-of-all-trades.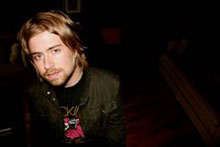 With a grassroots beginning, Avary tirelessly peddled his own EP to local stores and radio stations in Grapevine, Texas. He finally gained attention with local station KDGE who agreed to play his songs. After receiving some much-needed airtime, The Rocket Summer quickly became the most requested local band on the program.
After more sweat and tears, Avary was signed to The Militia Group and released his first full-length album entitled, "Calendar Days." Playing all the instruments on every song himself, Avary became an underground favorite and toured in support of his efforts. As word quickly spread about this incredible multi-tasker, The Rocket Summer achieved a cult like following.
Creating a sound of melodic pop rock filled with passion and sincerity, major buzz circulated around Avary's live shows. As it's been stated that "Bryce creates something so magical on stage it can't be put into words", it's safe to say Avary knows how to entertain an audience while rockin' the piano and guitar.
But it's probably his relationship with the fans that is the true key to his success. Developing a welcoming and accepting atmosphere where most of his fans can probably relate to what he has to has, Avary's appreciation of his supporters is evident. As he has stated, "The TRS [fans] are absolutely the most amazing people. I don't know what I would do without them. I feel that there's definitely something special going on and I hold it very dear to my heart."
After years of hard work and developing his fan base, The Rocket Summer has toured the U.S, Canada, Japan and Europe. During Avary's considerable success, he has gone on the road with bands such as Radiohead, Blondie, Jimmy Eat World, Dashboard Confessional, and The Strokes.
In 2005, Avary put out his follow up effort to Calendar Days with Hello, Good Friend. Sharing the themes of his previous record, Avary ponders his place in the world, while looking to the past as well as the future.
In Move to the Other Side of the Block, Avary boldly yearns for something more when he muses, "And don't you know it never stops. Try to please the world and beat the ticking clocks, but I, I'm not letting it happen this time"
In a track most young twentysomethings can appreciate, Avary discusses the desire to break free of his hometown. In Brat Pack, he reflects, "For years I've hated this town. There's so much I just want to get out. Since graduation was long ago, please somebody get me out of this hole."
With a new album due out in June of this year on Island Records and a tour already in progress, it looks like The Rocket Summer's star has nowhere to go but up. For more information on this multi-talented musician and for, as the Associated Press describes, an "exuberant, elegant and…proper introduction for the uninitiated", go to www.therocketsummer.com.

Wait! Don´t forget to Subscribe for Free!
Main Feed | What is RSS?
Enter your E-mail below to Subscribe

*
No spam
|
Privacy Policy
We will not sell or distribute your e-mail address to anyone else.
Written by Staff Writer