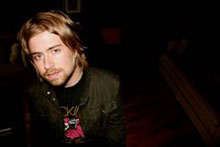 Playing every instrument himself, Bryce Avary makes up the entire band that is The Rocket Summer. This hard working and multi-talented performer knows how to connect with his audience while putting on a rockin' good show. Read more in Music…
Wait! Don´t forget to Subscribe for Free!
Main Feed | What is RSS?
Enter your E-mail below to Subscribe

*
No spam
|
Privacy Policy
We will not sell or distribute your e-mail address to anyone else.
Written by Staff Writer