Targeted at the everyman photographer, Adobe Photoshop Elements 4.0 has made it possible for Mac users to get in on the new and improved editing features. With it's power and simplicity, users will be able to effortlessly enhance photos, manipulating the new tools which promise to make specific adjustments fast and easy.
Kicking off the new features of Adobe Photoshop Elements 4.0 is the Adobe Bridge. Since a photo is required to begin the editing process, this version has included features enabling users to access their photos easier. The Bridge allows photographers to quickly sort and find their photos through the ranking and labeling and filmstrip and slideshow organizational modes. When looking through hundreds of images for one specific photo, these tools will make life a whole lot easier.
Next up is the Quick Fix. Once the photo desired has been located, Elements 4.0 has several ways to make the image perfect before it's shared with others. Users can fix flaws, adjust lighting and color, and otherwise enhance photos in more and better ways than before. Once Quick Fix has been clicked on, the easily manipulated sliders and buttons make even the most novice of Photoshoppers feel at ease and confident when correcting red eye or
other trouble areas.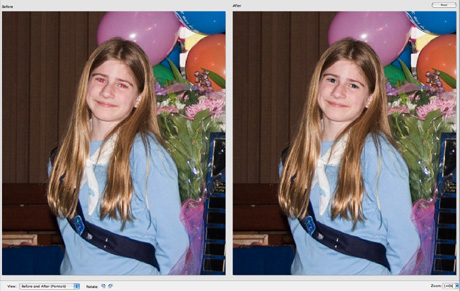 Another enhanced feature is the Magic Selection Brush, which makes selecting areas for correction a breeze. Instead of carefully and precisely selecting a specific area or object with the old tools, this new version only requires a few clicks of the Brush to highlight what needs to be worked on.
If cropping unwanted photo areas was considered easy before, the updated feature is sure to please even the most experienced photo manipulator. The crop tool now includes a preset to automatically match the photo's original aspect ratio. Furthermore, the Reverse Aspect Ratio button instantly changes the crop from landscape to portrait orientation.

One of the hardest areas of a photo to perfect can be skin tone. Who hasn't spent far too much time agonizing over this ever-important detail of a portrait? With Photoshop Elements 4.0, ensuring a more realistic color is faster and easier. Offering more advanced control, a simple click of the Adjust Color for Skin Tone button takes most of the guesswork out of achieving accurate skin color.
When it comes to scanning images, manipulating the photos can be a problem. Elements 4.0 has a solution for that as well. The Divide Scanned Photos feature locates the edges of each photo on the page, crops each image, straightens any skewing of the photo and opens each one in a separate window.
Scrapbookers everywhere should love that feature, as well as the Magic Extractor and Cookie Cutter tools. The Magic Extractor pulls objects away from their backgrounds for composites, while the Cookie Cutter crops photos into fun and creative shapes.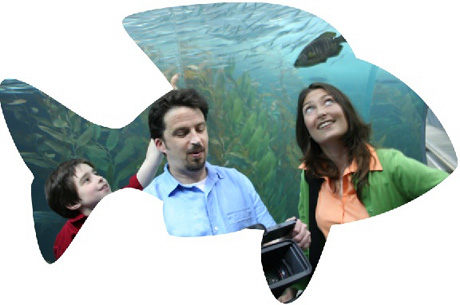 In addition, Adobe Photoshop Elements 4.0 as added tools that make it easier to clean up an image with the Spot Heal Brush, enable photographers to edit in a RAW image state and allow users to view fonts before committing to them.
After all the time spent editing photos for the public's consumption, Elements 4.0 has included a simple way to print the images. In Adobe Photoshop Services, users can order prints, calendars and photo books that will be shipped to their homes. Users who choose to print their own photos can go to Picture Package for inventive ways to output their own images.
Adobe Photoshop Elements 4.0 has made it possible for even rookie digital darkroom photographers to edit their photos like a pro. At an affordable price and with easily manipulated tools, Mac users are able to create the perfect photo.
For more information go to www.adobe.com.
Wait! Don´t forget to Subscribe for Free!
Main Feed | What is RSS?
Enter your E-mail below to Subscribe

*
No spam
|
Privacy Policy
We will not sell or distribute your e-mail address to anyone else.
Written by Staff Writer