Primary Action, a luxury product placement and public relations firm, and the premiere agency for production resources and luxury brand public relations, hosted their lavish Liberace Oscar Suite the weekend of the Academy Awards show. The fabulous suite was held in the famed Liberace Penthouse on Beverly Blvd., where the flamboyant pianist once lived. The penthouse is now home to Primary Action, founded by Jeff Karinja.
Myself and LA's The Place Editor-in-Chief, Jane Emery, were lucky enough to rub elbows with the stars and enjoy an afternoon of luxury. It might have been raining outside, but inside it was pure sunshine.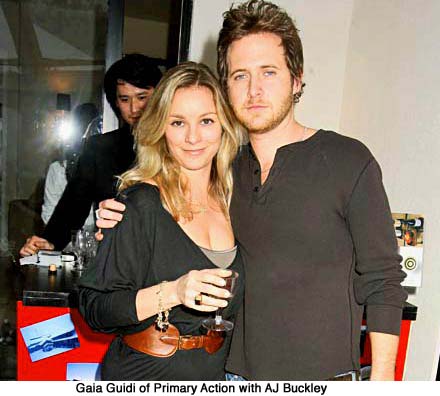 Once we stepped into the elevator, we knew we were in for a treat. The gold-plated walls harkened back to the old glamour days of Hollywood. It quickly rose up, up to the penthouse floor, where even more delights awaited us. A-list talent, top stylists, entertainment industry executives and LA's style influencers were all in attendance and received merchandise and services from an impressive range of clothing, jewelry, beauty, cosmetic surgery, and beverage brands.
Our first stop was TIGI, where they gifted us with a deluxe gift bag filed with hair products, tools and makeup. The oversized and fun black shoulderbag was filled with great products, including Bed Head Headrush Shine Spray, Bed Head Hard Head hair spray, Bed Head Hard To Get texturizing paste, S Factor Smoothing Shampoo, body by Bed Head body wash, Hardcore Lil' Hottie flat iron, and Bed Head makeup, including a deluxe palette, Big Fat Fun! eyeliner and Shine Junkie lip gloss. James Kyson Lee from "Heroes" was overheard telling the Bed Head girls that the entire cast is addicted to their products, whilst Craig Robert Young (Pirates of The Caribbean) took the opportunity to get a quick-fix styling before running off with a bag filled to the rim with great products.
Bed Head, made by hair care giant TIGI, is the ultimate in funky, fun products. They have everything from shampoos and conditioners to styling tools to complete your unique look. www.tigihaircare.com
Rosato Jewlery proved that "Gold is Glam" with their gorgeous and whimsical line of gold charm jewelry. The gracious representatives of the Italian line charmed us with their hospitality and thrilled us with their stunning designs. The line is the handiwork of Simona Rosato, who wanted to preserve the value of gold through beautiful jewlles. And with the gorgeous Demi Moore as their spokesmodel, you know it has to be fabulous. The beautiful Sofia Milos (CSI: Miami) snagged an oversized handbag charm necklace from Rosato, all the while chatting with Ms. Simona Rosato and staff in fluent Italian, and describing her pieces as "molto originale!". Neve Campbell was all smiles and giggles as Simona presented her with a fun charm bracelet, and Cathy Shim (Reno: 911!) recieved a good luck charm. Simona also received kudos for her men's line from AJ Buckley and Josh Henderson, who each snagged a piece from the line. www.rosato.it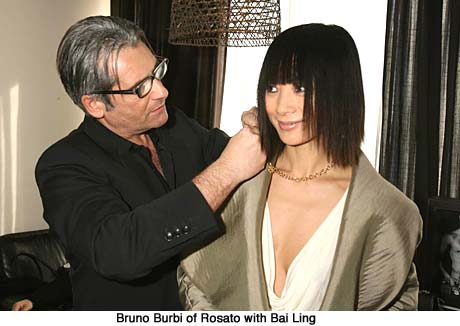 Two of our favorite people, April Jackson and Margot Witz of Elizabeth Grant International, were at the suite with luxurious skin care products. Elizabeth Grant is known around the world for its exceptional anti-aging skincare. Lacey Chabert (Mean Girls) spent most of her visit shopping at Elizabeth Grant, on of her all-time favorites. (Her mom is a huge fan, to!). And Rex Lee ( Entourage) was so excited to see one of his Elizabeth Grant at the suite that he proceeded to tell his friend the story of the founder, which he knew thoroughly!
At the suite they gifted their Caviar Rejuvenating Ampoules as well as their sumptuous Aromatherapy Rebalancing Spa Bath & Massage Oil, formulated with a 100% natural blend of essential oils of French lavender, lemon, sage, hazelnut, and palm oils. They also gifted their amazing BioCollasis with Torricelumn Advanced cellular Eye Cream, Torricelumn Pur Essence of Torricelumn and Torricelumn Pur Extreme Line treatment for Lips. For more on Elizabeth Grant and the amazing Caviar, read our article here. www.elizabethgrant.com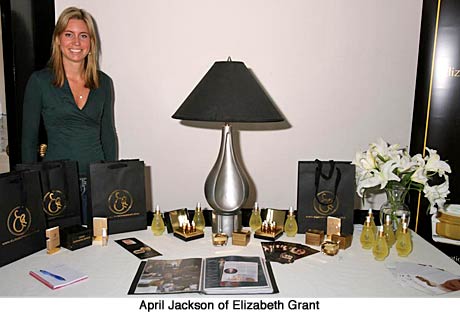 Dermacia gave the gift of flawless skin. Expert make-up artists were on hand to ensure everyone received a perfect match to their skin tone. Actress Clare Grant (Black Snake Moan) was able to get the staff from Dermacia to specially blend foundation colors to match her skin, and then snagged some cleanser and toner to take home as well.
Recommended by doctor's and demanded by celebrities, Dermacia Breathable Foundation has found a permanent home in the kits of Hollywood's leading makeup artists for one reason: Dermacia's breathable, gel-based formula smoothes on beautifully to give you that flawless, glowing complexion you've always wanted without compromising the health of your skin. Developed under the guidance of trained physicians, Dermacia's exclusive, gel-based formula allows air and moisture to pass through to your skin, keeping your complexion looking natural and flawless all day long. www.dermacia.com
Kama Sutra brought their sensual essentials inspired by "The Kama Sutra", the most renowned book on the art of making love. Celebrities took the name to heart, especially Lisa Edelstein (House) and her striking Finnish boyfriend, who were seen having a bit of a PDA session in front of the Kama Sutra booth…apparently these products have such an effect that people can't even wait to get home to use them!
The Kama Sutra Company has created products for over thirty five years that have initiated millions of lovers into the art of "Making love Better." Whether you choose a product that tingles and tantalizes, soothes and seduces, or refreshes and renews, you can be sure if it's Kama Sutra it will incite your senses and bring a richer, more rewarding intimacy into your life. They gifted three of their great products: Massage oil, Tangerines and Cream Honey Dust, and the deliciously-scented (and flavored) Body Soufflé in a choice of mouth-watering scents including Strawberry, Mint, Chocolate and Vanilla. www.kamasutra.com
Astrid Fryns, the adorable designer of Maji Beachwear, brought her sexy bikinis straight from the Spanish Riviera. Isla Fisher (Wedding Crashers) took her time checking out all the suits, speaking at length with Fryns about her creations. Designed in Barcelona, Spain, Maji Beachwear (Maji meaning water in Swahili) is based on the concept of mixing accessories with swimwear. Many of the pieces include gold hardware, shells, and other detailing that makes them look more like jewelry than bathing suits. The collection is a mix of both sex appeal and natural prints. One part accentuates simple, elegant colors mixed with natural accessories like shells, brooches and detachable African inspired jewelry designed exclusively by Alessi New York for Maji Beachwear. Another part is funky colorful prints with more glitzy accessories. Fryns also designs for larger-chested women and for women who have gone through mastectomies, so that everyone can look stunning on the beach. Part of the profit of the latter goes to Breast Cancer research.
Éminence Organics provided pampering beauty treatments such as facials and manicures, as well as gifting guests wonderful skincare products. Celebrities like Josh Henderson (Desperate Housewives) were able to indulge, in Josh's case with a relaxing hand massage treatment. The Eminence Organic Skin Care line offers a truly exquisite experience with products that are so natural that you can see the fresh fruit pulps, seeds, and smell the real herbs. The philosophy is as simple as it is natural, and it fits with the modern need of finding a natural skin care solution. Their active ingredients are 100% natural, organically grown, and adhere to the strictest of quality control. Paul Haggis (Director of Crash) and his lovely wife were completely impressed with the eco-friendly and cruelty-free Eminence products, and stocked up on lip treatment products. www.eminenceorganics.com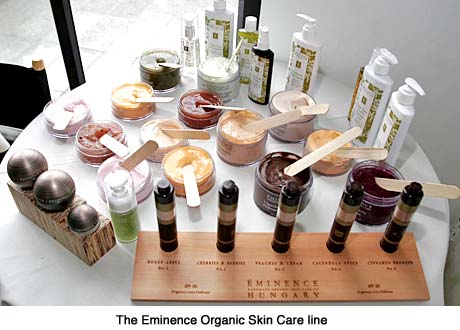 The guests couldn't get enough of the heavenly-scented Dirt Candles. Created by husband and wife team Kelli Palmer Kennedy and James Eric New, Dirt Candles are all natural and made from organically grown American soybeans, essential oils and recycled glass and paper. With fun names like Chop Shop (a spicy cinnamon with green tea and soymilk) and Riot Act (a fruity-floral of berries and herbs) and a variety of tempting scents, it was hard to choose which one to take home. Lacey Chabert sampled Dirt candles with her mom, and finally settled on the "Smart Alek" and "Sugar Rush" scents. The philosophy of Dirt is "all things natural" and nothing artificial will ever find its way into one of their products. Not only do they care about what goes into each candle, they care about what comes out of each line as well. Therefore, a portion of the profit from every candle goes to select charitable causes shared both by the company and its customers. www.dirtcandles.com
Lloyd Klein, designer to the stars, brought their line of couture evening gowns for celebrities to peruse and possibly wear on the big night. Cathy Shim stopped by to get what-to-wear ideas for her next event, while Bai Ling was spotted browsing Lloyd Klein's beautiful creations in contemplation of all the events she has ahead of her that weekend.
Having attended a Givenchy runway show of Haute Couture in his twenties, Lloyd Klein began a self study of the great fashion artists of Europe and the United States. His interest focused on the work of such masters as Yves St. Laurent, Jacques Fath and the timeliness of American designer Halston. His fascination became an obsession and in 1994 he presented his first Lloyd Klein Spring Summer collection on the elegant stage at the Opera Comique in Paris. He has been designing stunning dresses—that look like art but are so wearable—ever since. www.lloydklein.com
Party dresses and other great looks were available hip from LA designer Petro Zillia. Designer Nony Tochterman has created a name for herself through her distinctive designs that run the gamut from flirty blouses, crochet minis, tiered lace prairies, polka dots, and much more. Petro Zillia has just opened its first Los Angeles store on trendy 3rd St close to the Beverly Center. Tochterman's carefree, fearless attitude toward clothes is obvious in the structure and path she has chosen to take. It is inspiration for the woman that is fashion forward, and isn't afraid to wear clothes that reflect her. Bai Ling, ever the fashion girl, picked out two dresses from Petro Zillia. www.petrozillia.com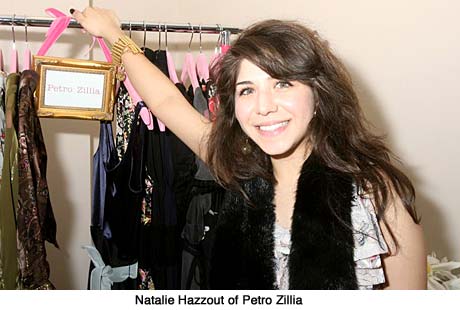 Outside on the patio, overlooking a fabulous view of Los Angeles, Peruvian cigar manufacturer Tabacalera del Oriente held court. Sofia Milos was seen lighting up one of their hand-rolled cigars along with Brandon Davis, who took one for the road. Tabacalera del Oriente makes the world's one and only 100% Peruvian cigars. From the wrapper to the filler, their hand-rolled cigars are made from genuine Peruvian tobacco. Using the finest Peruvian tobacco in each one helps you draw a smooth even puff of smoke and leaves you with a nice tight ash each and every time you smoke one. They also offer the filler from the cigars by the kilo. www.tabacalerainternational.com
The high-end jewelry line Jewelry by Rosalina also gifted precious baubles. Jewelry By Rosalina is one of the premier precious jewelry lines and is sold nationwide at Neiman Marcus and select specialty stores. Founded in San Francisco by celebrity jeweler, Rosalina Lydster, a Rosalina piece is often characterized by bold design and colorful expression. Incorporating both precious and semi-precious stones, the artistry of design is what sets the Rosalina collections apart. Rosalina has garnered an immense celebrity following, and this suite was no different. Lisa Edelstein asked Rosalina if she can wear her one-of-a-kind toucan ring with cognac diamonds to an upcoming event, and she received. www.jewelrybyrosalina.com
For those in need of a refreshment after all that (free) shopping, there were many options to be had, both to eat and drink.
Academia Barilla Italian food served guests hunks of rich parmesan cheese and Italian meats with their line of sweet and savory jams and condiments. The food was so good, that it was hard to get guest to leave! Paul Haggis claimed to be in heaven while sampling strawberries with balsamic vinegar—it was that good. A part of the Barilla family, the mission of Academia Barilla is to protect, develop, and promote the art of Italian gastronomy and culture around the world. It develops the Italian culinary art by celebrating traditions, nourishing innovation, and promoting the knowledge and the enjoyment of Italian regional cuisines. Products, courses, publishing and consultancy services provided by Academia Barilla serve as the key roads towards fulfilling this mission. www.academiabarilla.com
And to wash all that delicious Italian food down, Krol Vodka had us covered. Philip Krol was on hand to talk about the vodka while guest sipped on concoctions like the Pom Pom and other drinks made with their smooth-tasting vodka. The Krol Family secret recipe has been handed down from generation to generation, to create the world's best tasting vodka. Krol Vodka is made from 100% Polish Rye, pure mountain spring water, and is distilled five times from handpicked small batches. Poland is the birthplace of vodka, so it is only fitting that this superior vodka comes from its shores. Shawn Hatosy was seen chatting with friends at the Krol Vodka bar, enjoying the Pom-Pom cocktail, and Josh Henderson came over to thank Philip for providing the drinks at his recent 70s-theme roller skating birthday party. www.krolvodka.com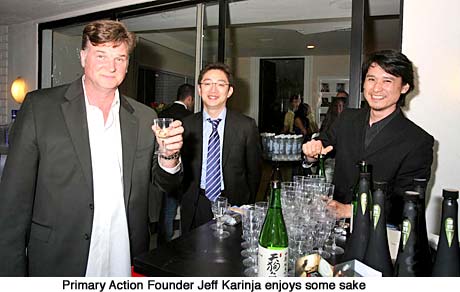 Kizakura and Shata Sake were both providing drinks made with the traditional Japanese drink. Catherine O'Hara declared herself a "sakeholic" and taste-tested both brands while Bai Ling devoured an entire plate of Kizakura's sake cheesecake – leaving everyone to wonder how she keeps that petite figure!
Kizakura is a successful Japanese Sake brewing company concentrating on "Water" and "Rice", the most important elements in producing the highest quality Sake. They combine the precious secrets passed on from generation to generation and modern brewing techniques to provide a deliciously evolved taste. Kizakura's adherence to traditional flavors as well as their dedication to enhancing taste and fragrance makes their sake compatible with contemporary palates. www.kizakura.co.jp
On the lighter side, Aquarius Living Water was there with their exclusive trade-secret, ultra high-tech water purification and restoration technology. Olympic figure skater Sacha Cohen commented on the benefits of Aquarius water for athletes, while Paul Haggis kept asking to take some home with him. Aquarius Water technology has the ability to return polluted water to its pristine natural state where it will again support life and health, not only in the human body but also in stream, field, sea and atmosphere, thus amending damage done by industry. This is partially due to the ability of crystalline, living systems to replicate and organize their surroundings. www.aquariuswater.org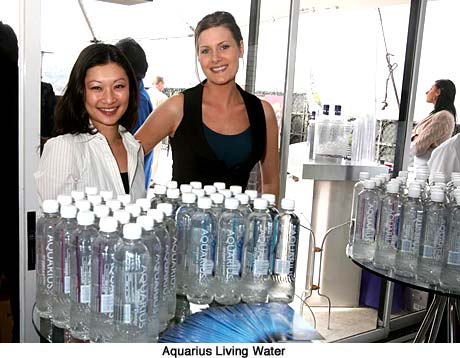 In addition to all this, special guests left with a gift bag for our special guests stuffed with extra goodies from Elizabeth Grant, Eminence, Kizakura, Krol, KamaSutra and Dirt Candles, as well as P.J. Salvage fuzzy slippers, Zoe E. leggings, a gift certificate to Mid Valley Dermatology and Cosmetic Surgery Center, and a membership to Core Pilates.
Primary Action is a product placement, public relations, entertainment marketing and event planning firm specializing in lifestyle luxury brands. Their personalized services are always executed keeping in mind the direct relationship between results and the transition of those results into sales. Open the pages of any major lifestyle publication and you are sure to see the faces of their world-renowned clients.
Wait! Don´t forget to Subscribe for Free!
Main Feed | What is RSS?
Enter your E-mail below to Subscribe

*
No spam
|
Privacy Policy
We will not sell or distribute your e-mail address to anyone else.
Written by Kyra Lausmann