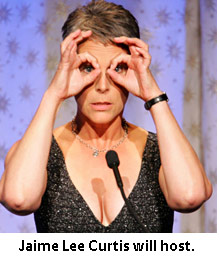 Starlight Starbright Children's Foundation honors Robin McGraw, Pam Omidyar, and Dave Koz at the annual Stellar Night gala for their work with seriously ill children and their families. This charity event is hosted by Jamie Lee Curtis and co-chaired by Queen Latifah and David Hoberman. The celebration will take place March 23 at the Beverly Hilton, featuring performances by noted jazz artist Dave Koz and a special guest, as well as inspirational stories from Starlight Starbright families.
Starlight Starbright Children's Foundation understands that seriously ill children and their families have formidable challenges facing them. To help ease their feelings of pain, fear, and isolation, Starlight Starbright provides entertainment, education, and family activities. Starlight Starbright also recognizes individuals who've reached out to these children and their families.
Starlight Starbright bestows its Heart of Gold Award to an individual who has, as the award's name suggests, a bountiful heart and a profound sense of duty to children. This year, the recipient is Robin McGraw, author of the bestselling New York Times book Inside My Heart, who has lived by the motto "family first" in both her personal and professional lives. Robin is also the wife of Dr. Phil McGraw, the television talk show host.
The recipient of the Jacki Carlish Humanitarian Award (named after an inaugural member of the foundation) has shown the utmost level of commitment to the foundation. This year, Starlight Starbright looks to Dave Koz and his 20 years of work with seriously ill children and their families as they present him with the award.
This year, Starlight Starbright debuts the Peter Samuelson Award for Innovation, named after the foundation's chairman. It rewards pioneers in healthcare, and the first recipient is Pam Omidyar, who's introduced new approaches to improving the lives of children with devastating illnesses. As founder of HopeLab, Pam helped develop Re-Mission, a video game for teens and young adults with cancer.
As you might expect from a foundation dedicated to families, children will be part of the gala's program. The Stellar Night celebration will even show off the volunteer work of other kids, such as in the StarPower program. Young stars such as Christopher Massey (Zoey 101), Kyle Massey (Cory in the House), Lauren Storm (Flight 29 Down), and Ashley Tisdale (High School Musical) have already devoted their time and energy to the project.
Children can also bid their time in the VIK (Very Important Kid) Lounge, sponsored by Hollywood Video. Inside, they can be a part of StarPower and write letters to children in hospitals, or they can test their skills with Starlight Starbright technology, including PC Pal laptops and Fun Centers, featuring Nintendo's GameCube.
Starlight Starbright Children's Foundation touch the lives of more than 180,000 children and families each month. To learn more visit Starlight Starbright