Expertly crafted, though just as expertly inconspicuous, a nugget of wisdom hovers high above the auditorium seats proclaiming "Education is learning to use the tools which the race has found indispensable." Applying this to a musical context, a 70's song-writer by the name of Nick Drake has emerged within the last twenty years to be this indispensable tool in the education of any and every musician. Successful artists such as REM, Radiohead's Thom Yorke, Badly Drawn Boy, Duncan Shiek, and Lucinda Williams have voiced Drake's influence on their work revealing his influential versatility. His untimely death, apparently from an overdose of anti-depressants at the ripe age of 26, contributed to a growing cult following of Drake leading to the release of numerous posthumously released songs, box sets, biographies, documentaries… even a song in a Volkswagen commercial in 2000! Because of this mythic following, but more importantly, because of his tremendous song-writing, the relevant UCLAlive series was honored to host the world premiere of Christopher O'Riley's Time Has Told Me: A Nick Drake Tribute.
The performance began shortly after eight o'clock with spectators nearly filling the auditorium's capacity. O'Riley deftly moved through Drake's musical corpus, performing his more known pieces, but also featured some of his more obscure, posthumously released works as well. In seventy minutes, O'Riley hammered sixteen songs and subsequently performed three encore songs, two from Radiohead and one from Elliot Smith, which as the last song, was appropriately introduced as "Bye".
O'Riley is an excellent figurehead for classical music. Known for his unforgettably sublime interpretations of repertoire classics, O'Riley has recently received acclaim for his groundbreaking and commercially successful transcriptions of Radiohead: True Love Waits (2003), Hold Me To This: Christopher O'Riley Plays Radiohead (2005). Continuing his creativity last year, he transcribed another enigmatic artist, the aforementioned Elliot Smith with his CD Oblivion: An Elliot Smith Tribute. This unique vision allows O'Riley to work and perform in
more pedestrian settings such as Universities, clubs, and on radio. His radio show, From the Top, featured on nationally recognized NPR will be filmed for television in Zankel Concert Hall at Carnegie Hall in 2007 as he works in conjunction with brilliant young artists demonstrating to audiences, with humor and a lack of pretense, the importance and ability of many contemporary musicians. Just as his radio show and his contemporary classical recordings have created a buzz, his performances in traditional classical contexts are equally as impressive, playing Bach, Mozart, and Lizst with the world famous St. Martin in the Fields Chamber Orchestra. Recently, he appeared at the Hollywood Bowl with the Los Angeles Philharmonic.
The unassuming comportment and unpretentious air with which O'Riley conducts himself on stage makes his performances memorable. Generally, a classical performer brings an unfortunate pretentiousness with her or him leaving the less informed feeling rather alienated, or perhaps less dramatically, ostracized from "cultural elites". Friday's performance, however, removed any conceit and all smug self-seriousness by assuming an unassuming gait, addressing the crowd in colloquialisms and congenial conversation. Since the set list featured sixteen songs, he interjected only a few comments, but in his usual conversational style. The first session featured favorites such as "Pink Moon", the song nearly pilfered by Radiohead "Parasite" (followed appropriately with Radiohead's new song "Videotape"), "River Man", "One of these Things First", and "Hanging on a Star". During the intermission, O'Riley mingled with his fans, signing autographed copies of available CDs; he even extended a special offer of this world premiere with an early release of the Nick Drake Tribute CD. CDs were $20. After the intermission, he beautifully performed "Northern Sky", "Three Hours", "Hazey Jane", and concluded with "From the Morning", which features the lyrics engraved on Drake's tombstone: "And now we rise, and we are everywhere".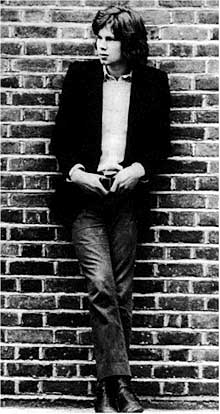 O'Riley's interpretation was enjoyable, effortlessly presenting Drake's emotional rhythms and sublime chord progressions in his sixteen song set list. Drake's natural imagery seemed present within the solos as his autumnal musings created an environment of sorrow and loss, pain and inferiority with his failure to gain commercial success. Drake's career still remains obscure and his lack of attention even more so. Nietzsche once spit: "Some are born posthumously", and in the case of Nick Drake the good European's salivation sticks precisely in the right spot. After a close listen to talented songwriters one generally receives some sort of message, whether abstract, convoluted, vague, etc. one feels the writer specifically designed the lyrics in order to address your particular individual ailment, a folksy political message, or a subtle narrative. Therefore, the music becomes a dialogue, allowing the artist to "speak to" the listener, creating an intimate experience wherein the audience garners life lessons or artistic epiphanies. However, with Drake, the postal comportment of song writing seems disturbed. One experiences a tremor, a turbulence in the rhythmic movement, leaving listeners befuddled as to the exact import of this interesting experience. Drake's music often seems as if it's written for everyone, yet for no one: Addressed to an X. He expressed himself with much pain and suffering creating the impressions that we, as listeners, simply happen upon an artist bemoaning in a poetic medium the plight of artistic obscurity, failed romances, and the struggle for truth. Depicting modern life's resultant alienation, anomie, and atomism his lyrics act as a mediator between self and nature, self and others, and self and self. While the artist may attain transubstantiation with the creative object, losing itself entirely in the project, Drake seems to endorse the idea of difference as a fait accompli: Failed attempts to overcome humanity's finite situation, failed attempts to achieve a true connection with others, and the inability to become one with his surrounding environment, it is here, in this state, that we happen upon him, standing embarrassingly yet interested, peering subtly over his proverbial shoulder in order to discover the origins of such radiant and passionate expression. Little do we know we're pawns in his game, as he prophetically mused in his self-pitying reflections in the prophetic "Fruit Tree": "Don't you worry…they'll stand and stare when you're gone."
UCLAlive will feature Ballet Flamenco Sara Baras on Feb. 21-22 at 8 pm. at Royce Hall. Also, Perla Batalla presents The Gospel According to Leonard Cohen with performances by Jackson Browne, Julie Christensen, Bill Gable, Don Was, Karen Hammack, and directed by Steve Weisberg. This event will take place at Royce Hall on Feb. 24 at 8 pm.