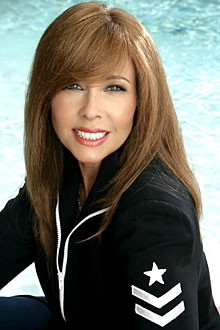 Having spent time in and out of the Hollywood limelight, Emmy Nominated Soap Star, Amy Gibson is now taking her own real life "drama" and creating a huge "splash" that thousands of women worldwide are turning to in their most desperate hours of need. Secretly bald for over 20 years, all the while acting in Hollywood, Amy had to create her own tricks of the trade to keep her baldness hidden. Now, only recently coming forward with her secret, Amy has her own line of women's wigs aptly named, "Amy's Presence" which is based on over two decades of her own trials and tribulations with various wig designs, styles, comfort and fit. Since the launch of her wig line in March 2006, Amy's Presence wigs can now be found in cities nationwide and Amy anticipates the Amy's Presence collection to be carried in over 500 stores by the end of 2007. Amy has also created a line of original products that include, makeup, eyebrows, and many other personal products for women struggling with hair loss.
Recently, Amy has been featured on TV and in news articles almost as frequently as in her days on General Hospital! Media such as The Insider, The Tyra Banks Show, People Magazine and the TODAY Show have all told Amy's story of being a working Hollywood Actress and for over 20 years hiding her biggest secret: being bald.
But, what has garnered the most attention is the fact that the Amy's Presence wig line includes the very first SWIM WIG. Until now, wig wearing women have not had a proper wig to wear while in the water, working out, or even in the shower. Now, thanks to a radical innovation only found in Amy's Presence called Cyberhair, women can stay active and feel confident about their hair even while surfing! The SWIM WIG was a labor of love for Amy. For over a decade she tested everything available on the market and finally came up with her own original design that she could use during her favorite water sports, water skiing and scuba diving!
"I don't sell anything I can't wear," says Amy. Her intention behind everything that she does centers on "helping women feel and look complete from the inside out," she adds.
For years, Amy Gibson has been a well-recognized face in daytime television, with a reputation for taking on daring roles and bringing her characters and story lines to the next level. During the 1980s she was seen on "Love of Life," "Young and the Restless," and "General Hospital". Aside from her current entertainment industry projects, Gibson is the country's number one spokesperson for women dealing with hair loss. After losing her own hair 25 years ago from Alopecia Areata, Gibson launched her own company, Crown and Glory Enterprises, a consulting firm that services those in need of guidance and support who are dealing with hair loss. Crown and Glory also manufactures Amy's line of custom human hair and synthetic pieces and is associated with Los Angeles' leading oncologists and cancer centers. Most recently, Gibson has been referred to as "A woman on quite a crusade", and has been seen in "People Magazine", "The TYRA Banks Show", "EXTRA", "The Insider," "Eye on LA", "Fox Nightly News," "KNBC Nightly News" and "Good Day LA", and is also the top female hair loss and only wig consultant for WEBMD.com.