Nathalie Dubois put together yet another glamorous gift lounge for the 2007 Golden Globe Awards. Held at the luxurious Beverly Hilton the weekend of the show, The DPA World Style Lounge gave nominees, presenters and attendees an "Around the World" experience unlike any other.
From January 12th to the 14th, guests were invited to attend the lounge for the finest gifts from across the globe. This marked the first time the lounge has been held at the Hilton. Dubois choose the location not just for its innate Beverly Hills glamour, but because the Golden Globes are held annually at the legendary hotel, making it more than convenient for the show's stars.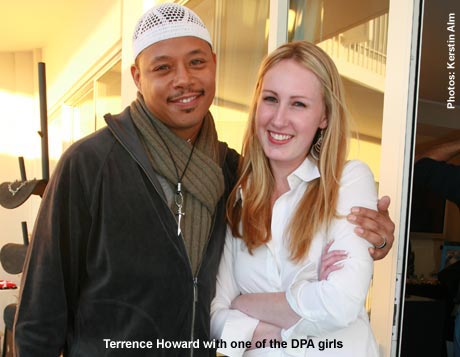 "I will be welcoming some of the Golden Globes nominees in my suite that will be perfectly tailored for the nominee's pleasures and needs," said Nathalie, "I figured, since the stars are going to be somewhat nervous about whatever the outcome may be during the ceremony, why not sooth their senses with a 'visit around the world' right here at the Hilton."
Every area of the lounge was themed with items from a specific continent. Over in the "American Dreams" area guests found several beauty and fashion gifts, starting with Nathalie's long time participant Frederic Fekkai Salon and Spa, which will offer their latest hair product to the stars. They introduced their new Ageless collection, a revolutionary three-step regimen designed to combat the three signs of aging: biological, environmental and mechanical. The Rejuvenating Shampoo, Restructurizing Conditioner and Damage Defense Capsules work together to visibly correct the first signs of aging (dryness, damage, dullness and uneven texture) while proactively protecting hair from daily stresses that accelerate aging. www.FredericFekkai.com
Also for the guests' coiffe, HAielite offered ceramic styling tools and ceramic hairdryers. The superior line of HAIelite Ceramic styling tools are salon developed for professionals by professionals, and were created with the most current innovations in materials and design. Using such innovations as Ceramic Fusion technology and Far-infrared heat, hair is left feeling healthier, shiner, and more manageable.
www.hai-elite.com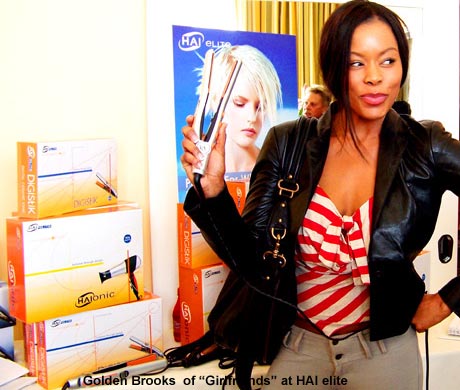 For the skin, Nia24 gave their innovative, Niacin-based skincare products. The benefits of NIA24 help to prevent, repair and fight the visible signs of sun damage. The first inside-out topical skin barrier-building system, it taps into your skin's own self-protective powers by bringing a continuous-release form of Niacin to the skin. www.NIA24.com
For beautiful eyes, Xtreme Lashes offered complimentary applications of their semi-permanent lashes extension. Xtreme Lashes gives you luscious, thicker, fuller lashes instantly. Applied by a certified trained professional, they are perfect for both special events and everyday wear. www.xtremelashes.com
To protect and shade those new beautiful lashes, Oscar de la Renta offered exquisite designer sunglasses. Guest were able to choose from several selections from the 2007 eyeglass collection. From plastic wrapped-frames with gold flower patterns to metal-rimmed aviators, there was a gorgeous style for everyone, all with the signature Oscar logo. www.oscardelarenta.com
Manicures and pedicures will be available courtesy of Nails Plage, a Japanese nail salon on Montana. The stars could relax there while nibbling on delicious Millie's Cheesecakes. Based on a family recipe, Millie's has developed a myriad of delectable flavors and crusts, including banana, sweet potato, carmel and pineapple. With one bite you'll know why they call themselves the "greatest cheesecakes on Earth." www.milliescheesecakes.com
They could also indulge in Belgian chocolates from Madame Chocolat. Located on North Canon in the heart of Beverly Hills, Madame Chocolat chocolates are hand-made fresh everyday in the actual store. The result is decedent designer treats that look as good as they taste. www.madame-chocolat.com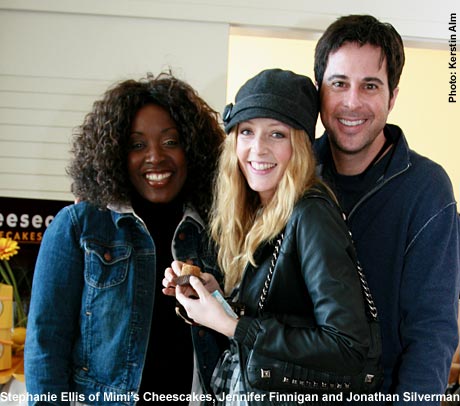 After all those sweets, the all natural Biotène mouth hygiene kit by Laclede they received will come in handy! Daily use of Biotène's effective bio-active enzymatic therapy helps reduce the symptoms of Dry Mouth and helps relieve bleeding gums, gingivitis, minor gum irritations, and harmful odor-causing bacteria. www.laclede.com
Guests also received Kumi Kookoon fine silk eye masks and sleepers (www.kookoon.com), gorgeous wool jackets from Woolrich (www.woolrich.com), exquisite and sexy lingerie from Biatta (www.biatta.com) and Donna L'Oren (www.donnaloren.com), couture shoes from Bill Blass Couture (www.fashionhouseinc.com), luxurious vintage jewels from Jody Viali's private collection, frozen organic baby food from Fifibear's Brasserie (www.fifibearsbrasserie.com), Only Hearts Club dolls, the St. Tropez diet book and V-moda headsets (www.v-moda.com), plus an extravagant gift bag courtesy of STUDIO at Fred Segal, including exotic Nectars, BURN candles and Gift Certificates for their Memoire Liquide Bespoke Perfumery. www.fredsegalstudio.com
Leaving the new continent for the old, in "The European Boudoir" guests could go to Paris, France with gifts from "Oh dis le moi" jewelry. This Parisian line offered their classy and sophisticated rings engraved with sweet words and introduced their one of a kind "attachantes" brooches. www.oh-dis-le-moi.com
Annah Roxxah offered guests some of her most beautiful accessories, including hand-made and beaded sarongs. Her designs are sold in top resorts all over the globe and have been seen on celebrities such as Paris Hilton. www.annahroxxah.com
Guests could quench their thirst with French waters Volvic (www.volvic.com) and Badoit, but if they preferred something a bit more decadent, they could "travel" over to Valdobbiadene Italy to try one of the finest prosecco producers, Bisol sparkling wines. Bisol is one of the very few producers that integrate the entire production process, ensuring quality in every phase, from the selection of the terrain, to growing and hand picking the grapes, to the bottling of the wine. With its crisp and delicious flavor, it's the perfect way to toast a Golden Globes win. Along with the prosecco, some of the guests also took home exquisite Murano glass buckets, all hand blown by an artist on the island of Murano Italy, and all numbered individually. www.bisol.it
Also in Italy, Dubois introduced her guests to Meltin' Pot, one of the best designer denim lines (www.meltinpot.com). From there, they crossed yet another border to Germany, where one of the finest jewelry brands, Niessing, displayed and offered some of their most amazing diamond crafted gold and platinum jewels. www.niessing.com
Moving on to "Nordic Trends", Dubois introduced her guests to Scandihoovians, a bright, innovative and cutting-edge Scandinavian jewelry and design store. They featured items from Scandinavian brands such as trendy Danish fashion jewelry Pilgrim, stylish and handcrafted Rabinovich Designs, and Trollbeads (personalized jewelry in sterling silver, gold, diamonds and Murano glass). The Scandihoovians lounge also featured innovative Danish designs for your home and wine cellar from Menu, beautiful Marimekko handbags, and Singelringen, "The Ring for Singles", worn by proud, confident and available singles all over the world. www.scandihoovians.com
Kerstin Florian also offered her Signature Caviar skincare line. www.kerstinflorian.com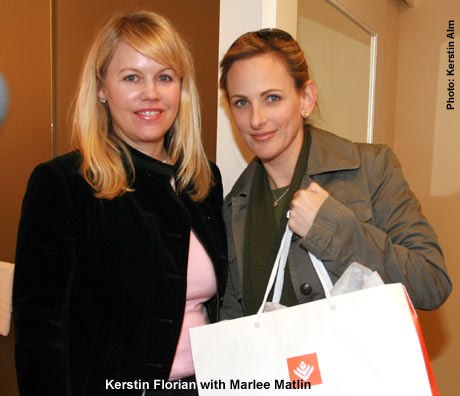 From there, guests traveled to Africa in the "African  Tribes" room. There they received a certificated for an all-inclusive safari in Kenya, including airfares inside Kenya, hotel rooms, safaris, spas, food, jewelry, artifacts (www.kikoy.com and www.kenyakangacollection.com) and  more courtesy of Nana Gecaga, the Kenya representative who will be  personally hosting and organizing trips for the celebrities when they come to Kenya (inquires can be made at nanagecaga@hotmail.com). During  their stay in Kenya, they will be exposed to two charities, The David  Sheldrick Wildlife Trust, who presented celebrites with baby elephants to adopt  (http://www.sheldrickwildlifetrust.org/asp/fostering.asp) and  Mama Ngina's Children's Home, for orphaned children  (http://www.mamanginachildrenshome.co.ke)
Also in Kenya, Diani Reef Beach Resort & Spa offered five and seven night packages. Diani Reef Beach Resort & Spa is a retreat offering a full spectrum of services including a Casino, Padi Water Sports Center and a world-class Spa. Set in the backdrop of a glorious stretch of land overlooking a turquoise ocean, amidst soft white sands, this remarkable hotel redefines efficient service with a gracious attitude. www.dianireef.com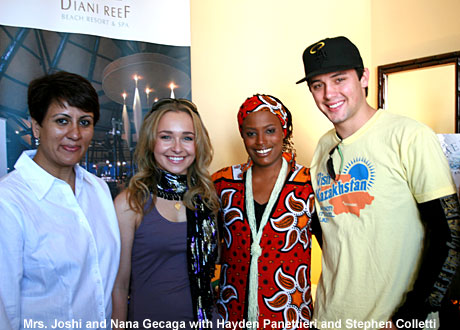 Heritage Hotels also provided guests with high-quality safari packages, offering two nights at the Samburu Intrepids and two nights at the Mara Explorer, their flagship tented camp in the heart of world renowned Maasai Mara. On an Explorer holiday, the standards of luxury and adventure are matched only by the deep knowledge of your hosts – the most qualified people to introduce you to Africa. www.heritage-eastafrica.com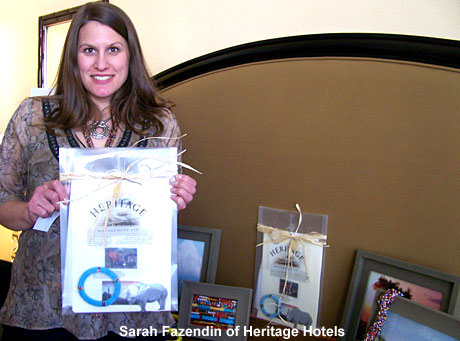 And for the coup de grace, guests traveled to the Pacific in the retreat properly called the "Pacific/Asian Trades". In this corner, jewelry, dresses, exotic locations and, yes, even weddings were presented. The highlight of this suite was the Radisson Plaza Resort & Spa Kumarakom which offered five and seven night packages to their beautiful hotel, along with ayurvedic spa treatments at their world-class spa. Built on 18 acres, this five-star deluxe resort is located in 'Kumarakom', right on the shore of Vembanad Lake. Elegant accommodations, including plush villas with private pools, cottages, and deluxe rooms in tranquil, serene landscaped settings guarantee rejuvenation. www.radisson.com/kumarakomin
Bea Valdes, from the Philippines, offered her fantastic jeweled bags, featured in Vogue (www.beavaldes.com). Creation Poema by Orama from Tahiti, a custom-made line of spiritual ethnic jewelry featuring beautiful Tahitian pearls, gifted the stars unique pendants and bracelets (www.creationpoemabyorama.com). Maggie Coulombe from Maui offered her exquisite and elegant silk wraps and dresses, (www.maggiecoulombe.com), and LucyB, from Australia, gave away their organic lip-glosses. www.lucybcosmetics.com
As for that wedding mentioned earlier, at least one willing guest can now get married or renew their vows in an exotic ceremony in Moorea, Tahiti, courtesy of Tikki Village.
Pearl Resorts (www.pearlresort.com) and Le Tahaa Private Island and Spa (letahaa.com) also invited guests for six-night stays and launched their exotic skincare line Manea Spa. www.maneaspa.com
One of the highlights of the talent lounge was the "Organic Lounge". Here Dubois introduced the BWell Clinic. BWell Clinic provided $20,000 worth of wellness services including a 360-Degree Total Wellness Assessment, 14-day Clinical Detoxification, Cosmetic Acupuncture, and Bodywork. BWell Clinic offered each guest a thorough wellness assessment including 360-degree clinical and laboratory testing, as well as consultations with the world's best toxicologist, internist, Naturopathic and Chinese medicine doctor. Guests also received access to the spa facilities in Santa Monica for a medically assisted 14-day Clinical Detoxification Protocol10, Cosmetic Acupuncture, 100% Organic Chemical Free Liliflora mini-facials, and 10 Bodywork. www.bwellclinic.com
Giving the stars access to an abundance of exotic beauty products, jewelry, clothes, novelty items, exclusive trips and of course delicious catering is Nathalie's mission. And since establishing her strategic marketing company, DPA, she has never failed to accomplish this goal. Her talent suites are some of the most successful in the entertainment industry. Previous credits include the pre-Emmys, the pre-Oscars, the French Cesar's, the Cannes Film Festival and the Venice Film Festival Official gift rooms.
If the gifts weren't extravagant enough, then the gust list is sure to impress. Past attendees stretch an amazing range of renowned talents from Sharon Stone and Scarlett Johansson to Sting and Spike Lee. This year, Terence Howard, Jonathon Silverman, Patricia Arquette and her sister-in-law Courtney Cox, Jessica Biel, Lorraine Nicholson and many more celebrities were in attendance, proving once again that Dubois suites are the place to be if your name is celebrated.
Photo Credit: Kerstin Alm
Wait! Don´t forget to Subscribe for Free!
Main Feed | What is RSS?
Enter your E-mail below to Subscribe

*
No spam
|
Privacy Policy
We will not sell or distribute your e-mail address to anyone else.
Written by Kyra Lausmann