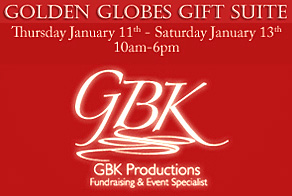 GBK Productions held its annual Golden Globes Gift Suite in celebration of this year's Golden Globes' nominees and presenters. Besides giving stars first access to the latest, most sought after products and perks, the gifting suite benefited Padres Contra El Cancer, Hollywood Habitat for Humanity, Educating Young Minds, Global Green & The AmberWatch Foundation.
The suite was held on January 11th, 12th and 13th at the legendary Friars of Beverly Hills. Celebrities turned out in droves to indulge in the suite's goodies, spa services, eco- friendly gifts and to lend their time to the five charities involved.
The GBK guests had the opportunity to walk away with scores of gifts totaling $60,000. This year's recipients received GBK's exclusive gift bag filled with the newest tech gadgets, health procedures, elite fashion accessories, and spa products on the market. All eyes were on Golden Globe Nominee Leonardo DiCaprio who attended with his supermodel girlfriend Bar Rafaeli. Though Leo did not want to take any photos, he had no problem taking some great gifts. He went nuts over the Ford Escape Hybrid lease, a custom Spalding Basketball Backboard (www.spalding.com) and the Vidalia Grill (www.vidaliagrill.com). He took home an Elezar handbag for his mom (www.elezar.com) and a Pop-Art Toaster for his niece. Bar did not go home empty handed either, taking home a Heidi Merrick '60s-inspired mini-dress (www.heidimerrick.com) and Isaac Mizrahi peep toe pumps from the 2007 collection.
The host venue, The Friars of Beverly Hills, gave platinum memberships to their exclusive club. www.thefriarsbh.com
Dr. Glenn Kawesch gave certificates for complementary Lasik Eye Surgery. With this generous gift, suite guests can now be free from the every-day burden of glasses and contacts. They will join the ranks of celebs such as Jessica Simpson who have entrusted their eyes to Dr. Kawesch. www.kaweschlaser.com
Not to be outdone, Dr. Dan Taheri Laser Center gave certificates worth $2,500. They can use the certificate for LA Laser Center's myriad of procedures such as Mohs surgery for skin cancer, laser hair removal, Botox®, the Fraxel laser, Titan laser, and acne photodynamic treatments. www.lalasercenter.com
Robert Craymer of Robert Craymer Design offered personal design consultations for the celebrities' homes, using his custom-designed eco-friendly furniture. Craymer spent time educating guests on the importance of all-natural furniture for over-all health and well being. His line of furniture uses only natural fibers, never chemicals. www.rccollection.com
Also for the celebrities homes, Ikon Ltd. Contemporary Art Studio offered $5,000 worth of art from their outstanding collection in Bergamot Station. Ikon is a private consulting service and gallery specializing in works on paper from modern and contemporary masters. www.ikonltd.com
Of course, there were plenty of clothing and accessories to be had. Kiwi Studios gave their beautiful, hand-made glass belts, necklaces and plates. Designed by Chris Austin, each piece features a unique design hand-cut and fired into a work of art that's both beautiful and functional. kiwistudios.net
The custom made sport shirts for men from Glenn Laiken for Alandales. Laiken uses your personal colors of hair, skin and eyes and incorporates your individual textures and shapes to create your personal image. This process enables you to know what clothing and accessories look best on you so everyday is a "Great Day". www.alandales.com
O.J.N Unique Style, a new jewelry line designed by Oksana, offered beautiful necklaces from their collection. O.J.N. creates custom jewelry in both gold and silver. You can choose from an assortment of gemstones, pearls and crystals for adornment. And because it's custom made by hand, each piece is unique.
Name Colorology offered custom dresses, as well as founder Baron Paul Greycastle's book, "Name Colorology". Greycastle specializes in colorology and how the different letters in our names are color coded, and determine the foundations of our personalities, talents, and color associations of our seven energy centers. www.namecolorology.com
Bella Bear brought their line of hand-made teddy bears. All are crafted from vintage fur coats to create an enchanting collection of luxurious Heirloom Teddy Bears. You can choose from their selection of luxurious furs or you can have Bella Bear create a custom Heirloom Teddy Bear from your own vintage fur coat or stole. Though Charlie Sheen spent some quality time with almost every vendor at the suite, he loved Bella Bear. Charlie snagged two matching teddy bears for his two young daughters. www.bellabearco.com
Along with style comes beauty, and pampering the skin was definitely part of the day. 3Lab, a revolutionary new line of skin care products, brought their scientifically-advanced anti-aging creams to the suites. Their "h" Serum and WW Cream are both powerful shields against Father Time. The "h" Serum is the world's first anti-aging serum with bio-engineered hGH hormones naturally produced in the body, and the WW Cream contains technologically advanced and patented ingredients to address facial lines, wrinkles, uneven complexion, skin tone and dryness. It's a one, two punch. www.3lab.com
Guests were privy to on-site spa treatments, as well as additional gifts and products. These treatments included manicures and pedicures by Gelousy Gel Nail Systems. www.gelousy.com
Cosmeticians were on hand for makeup applications and distribution of products provided by Bodyography Cosmetics. Since it's founding in the early '90s, Bodyography Professional Cosmetics has become a leading source of products for some of today's biggest names in makeup artistry. With over 300 items to choose from, you're sure to find a shade and formula perfect for you. www.bodyography.com
Moodivations, a mobile Total Wellness spa, provided on-site facials and massages. In the home or office, Moodivations comes to you to deliver massages, manicures, pedicures and other wellness treatments with the utmost quality and friendly service, so you can relax, de-stress and lighten your spirits. www.moodivations.com
For a more traditional approach to lines and wrinkles, Frownies gave out their time-tested Facial Pads and other skin care products. With all the benefits of Botox, but none of the risk or cost, Frownies Facial Pads work as a natural wrinkle reducer and have been smoothing the appearance of deep expression lines for over 100 years. www.frownies.com
Guests also received $500 in hair products by Barbar, including hair dryers, straighteners and curling irons. Barbar is known for its Permanent Hair Straightening System. Fast becoming the hair straightening system of choice in Beverly Hills salons including Cristophe, Juan Juan, and Giuseppe Franco, Barbar is embraced by stylists for its ease of use, gorgeous results, and faster, safer processing for all hair types. www.barbarartist.com
YogaToes was on hand to relax, revive and condition tired feet. YogaToes are truly revolutionary. They work while you kick your feet up and relax. YogaToes will stretch, strengthen, and align foot muscles. This action increases circulation, straightens bent toes, and can even realign the bones. Its Yoga for your toes. www.yogapro.com
For additional pampering, Lomanve provided luxury robes and wraps (www.lomanve.com), Pure Organic Bedding Company provided guests with an organic bedding set and Award-winning Archipelago Botanicals offered products from their wide assortment of natural skin care lines.
Other amazing gifts included the Chronotech Bluevoice Watch. The innovative device is the new wave in communication instruments. In fact, Bluevoice is the first telephone watch based on Bluetooth technology. The Bluevoice ergonomic main unit can be connected to your mobile phone at any time. www.bluetoothwatches.com
Also for the techie, Body Glove had MP3 cases and headphones. The Body Glove Earglove Sport 2.5mm Headset allows you to get active and stay comfortable. Designed for an exceptional fit, these ultra lightweight, ultra secure earloops provide all-day comfort for people with active lifestyles. www.bodyglove.com
Toba Fountains brought their self-contained, remote controlled floating pool fountains. The patented Toba Magic Fountain is designed for home use and instantly brings energy and life to any pool or pond. The award-winning Fountain is the only one of its type on the market, and can simply be placed in a pool and operated by long range RF remote control. With colored lights and three different spray styles, your backyard is one step closer to looking like the Bellagio. www.tobafountains.com
Screen Life Games brought their entire collection of Scene It DVD Games, including the new Music version and American Idol – All Star Challenge karaoke DVD game. They also had the popular Disney and Sports editions of Scene It. All games provide hours of endless entertainment trivia for the whole family. Screen Life has revolutionized family game night with their world-class designs and signature interactive elements. The game is never the same twice! php.screenlifegames.com
Another fun, yet functional, gift was the "Pop-Art Toaster". This innovative appliance creates designer toast with the press of a button. The toaster's unique design features removable plates that burn designs like hearts and smiley faces into your toast. It even comes with flavored food coloring "markers" so kids can get creative and have fun coloring in their breakfast. www.poparttoaster.com
Crustacean of Beverly Hills gave out gift certificates worth $400 along with silver chopsticks. A Los Angeles favorite since opening in1997, Crustacean's awarding winning Euro-Vietnamese design features the now famous "Walk on Water" entrance – a serpentine aquarium that winds through the cocktail lounge of the restaurant, guiding guests to the French Colonial splendor of the main dining room. www.anfamily.com
Besides gift certificates for delicious food, guests were offered tasty morsels to try at the suites. Vidalia Grills served lunch cooked on their innovative grills (which celebrities had the opportunity to take home). From pork to chicken to salmon, all types of delicious and tender meats were expertly grilled by the Vidalia chefs. www.vidaliagrill.com
As for libations, VIP Bartenders poured Black Box Wines, America's highest quality boxed wine. Their vintage dated wines come from the world's premier growing regions so you can now enjoy excellent tasting wine in a box for about half the price you would pay for a bottled wine of the same quality. As an additional bonus, the 3 liter bag-in-box package keeps the wine fresh for at least 4 weeks after opening, and each box is the equivalent of four bottles of wine. www.blackboxwines.com

Peet's Coffee was also there, serving up their freshly brewed coffee and handing out bags of their Deep-Roasted beans. Peet's has always been known for its deeply satisfying roast and the full-bodied flavor that it creates. Every one of their 32 coffees is roasted by hand, every day, by their skilled roasters. Every day each coffee blend is tasted, making sure the coffee in your cup today is as good as it was yesterday. www.peets.com
Other drinks were provided by Pinky Vodka (www.pinkyvodka.com), Contrex Natural Mineral Water (www.contrex-usa.com), Perrier (www.usa.perrier.com) and Who's Your Daddy Energy Drink (www.kingofenergy.com).
For those looking for a more decadent fix, O'Coco's Organic Chocolate Crisps (www.ococos.com) and Bodega Chocolate (www.bodegachocolates.com) served up a few things to satisfy the sweet tooth. Heroes star and a Golden Globes presenter, Masi Oka, obviously left his super powers at home as he could not seem to stop himself from indulging in the Bodega Chocolate.
The celebrities pampered pooches got a little treat, too, as each guest was gifted a one- year supply of natural dog food from Dogswell. www.dogswell.com
To get healthy again after all those indulgent treats, guests also received the book Sugar Shock by Connie Bennett (www.sugarshockblog.com), a Wellness Water Filter (www.wellness.com.au) and a gift certificate to Freedom Laser Therapy for their quit smoking or weight loss programs (www.freedomlasertherapy.com).
To aid in the promotion of environmentally conscious living, Ford offered Golden Globe nominees and presenters leases for the new, Ford Escape Hybrid, giving them an amazing opportunity to drive a great car while also helping to improve the environment. Entourage's Kevin Dillion arrived in style driving the same Ford Escape Hybrid gifted at the GBK suite. He said that he loves that car so much that he wants to trade in his vehicle so that he and his wife could both drive the Ford Escape Hybrid SUV (www.fordvehicles.com).
To further aide their conservation efforts, 4ECorporation & Ethos Environmental supplied guests with a year supply of fuel enhancer, which increases gas mileage by an average 12-15%. www.ethosfrnetwork.com
Forest Whitaker, nominated this year for his role in the Last King of Scotland, was much less interested in what he could get from the suite and rather much more interested in what he could GIVE. He spent more than an hour talking to the five charities at the suite (Educating Young minds, AmberWatch, Global Green, Habitat for Humanity and Padres Contra El Cancer) and left without any freebies.
When Gavin Keilly, founder of both GBK Productions and the Official Celebrity Gift Bags LLC, launched his companies he set out to make a difference in the world and to help as many charities as possible. His companies have given him the opportunity to do just that. GBK donated 20% of the profits to Educating Young Minds, Habitat for Humanity, which continues to help the Hurricane Katrina Victims, Global Green, Eva Longoria's foundation Padres Contra El Cancer and the AmberWatch Foundation. Each charity not only recieved 20% of the profits, but in addition, a celebrity gift bag valued at $60,000 and the unique opportunity to talk to various celebrities walking through the suite about their myriad of causes. Design 21 also donated $21 to every non-profit when a celebrity took a ring to support a particular cause.
www.GBKProductions.com