The organic lifestyle has gained popularity in recent years, as more and more people are realizing the benefits of clean living. We have found some of the best in organic and natural products for the organic in your life, or just as a natural alternative to traditional gifts.
Maile Kauai – Nature's Finest Luxury
Kauai's all-natural line of products for the home, body and spirit…Read our article on Maile Kauai here…
Gift your loved ones with a variety of the island's finest. Packaged in a beautiful gold box wrapped with gold ribbon, Malie?s Gift Box is perfect for recreating the experience of paradise in your home. With Malie Kauai?s Soy Candle, Room Spray, Hand Soap and Lotion Bar Soap your gift will enlighten the home with the truest essence of Kauai. Available in Pikake, Plumeria, Coconut Pineapple or Coconut Vanilla.
The Hawaiian Spa Journey is presented in an Artisan hand-woven custom Pandan Box from Kauai, is the perfect gift for people who enjoy the luxury of a Hawaiian Spa experience at home. Malie?s Spa Box is all you need to pamper and treat yourself with the benefit of Kauai?s natural ingredients while enjoying the aromas of paradise. Begin your Spa experience by soaking in the Body Lather, exfoliate with the Sugar Cane Ginger Body Polish, nourish with Malie?s Mango Butter Bun and finish the treatment with Malie?s aromatic Body Cream. Body Cream and Body Lather available in Pikake, Plumeria, Gardenia or Coconut Vanilla
Or, try items individually:
Room Sprays: Add the ?Aloha Spirit? to your home with Malie Kauai?s Room Sprays. The delicious aromas of these botanical room sprays add a hint of paradise to your environment while entertaining or relaxing. Made with Hawaiian Hydrosols. Choose from Gardenia, Plumeria, Pikake, Coconut Pinapple, or Coconut Vanilla.
Natural Soy Candle: Want to add some warmth to your home during the holidays? Malie Kauai?s natural soy candle will nourish the soul with the scents of Hawaii. These petroleum-free, soy candles burn from a 100% cotton wick, resulting in a cleaner, longer-lasting burn.
Mango Butter Cup: It?s winter and let?s admit it?your skin is starting to get dry and dull. Malie Kauai?s Mango Butter Cup is an in-shower moisturizer that will revive your skin with the nutrients it needs. Rub directly on skin and feel enriched with moisture. Evangeline Lilly loves the Mango Butter Cup.
Nomadic Traders
With Nomadic Traders, not only do you get a warm and snuggly gift, but also the satisfation of giving back. That's because a portion of all proceeds goes to support the local artisans who produce these items.
Len and Anna Shemin of Nomaid Traders have spent the last 25 years traveling the marketplaces of Peru, Bolivia, Bali and Asia, seeking out the finest examples of hand woven,handknit and embroidered textiles. Nomadic Traders was born of the couple's desire to bring the unique beauty of indigenous clothing to the American market. They offer sevel collections, all which will keep you warm on those freezing winter days in the snow.
The Alpaca Accessories collection from Peru offers novelty reversible handknit hats, crochet earflap hats, and fingerless gloves in natural colors. There is also a novelty "sleeve glove" in a finer gauge pointelle knit yarn. The Himalayan Handknits colection from Nepal includes whimsically colored scarves and an assortment of hats made of recycled silk. Look also for fleece lined Nepalese handknit woolen hats in both natural and multi-colors with matching gloves.
http://www.nomadictraders.com/
Tulia
Natural Beauty is the marriage of the inner person with glowing, healthy skin. Gentle, clean, pure Tulia will caress, comfort and protect your skin like nothing you have ever experienced.
Quench your skin with the healing and nourishing properties of pure unrefined shea butter with Tulia skincare.
Tulia utilizes only premium, 100 percent natural ingredients that penetrate deep into the skin for ultimate hydration.
Unrefined shea butter is one of nature's greatest moisturizers and has excellent anti-aging properties. It comes from the tiny nuts of the Karite tree, which grow wild and pesticide free in Africa, and is handcrafted by a centuries old process. Like a all premium, unrefined shea butters, Tulia's has a characteristically nutty scent, which disappears after a few minutes when massaged on to the skin. The natural, nutty scent is your assurance that absolutely no solvents, preservatives, additives, bleaches or chemicals are in their butter.
And since they make their products to order, it comes to you fresh in its purest and most natural state. Its great on everything from dry, cracked skin, to wrinkles, stretch marks, insect bites and stings, and even scars and blemishes. Its also great as a massage oil.
Numi Tea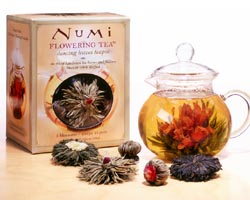 A special gift for the holidays is Numi?s Dancing Leaves Flowering Teapot. The set includes the finest handsewn Flowering Tea leaves and flowers offered together in a glass teapot for a unique and distinguished gift. The Flowering Teas are their specialty, and Numi has just lanched a gorgeaous new exoctic line of these specialty teas. New designs and new packaging include the first ever Flowering Oolong tea. Also a great idea?is Numi?s innovative spa blends. Numi offers a full-line of herbal and white tea blends to enhance the spa experience. Featuring an array of enticing ingredients from luxurious lavender and licorice, to exotic catuba bark and shizandra. These blends will please the palate as they nourish the body.
Produce Organic Beauty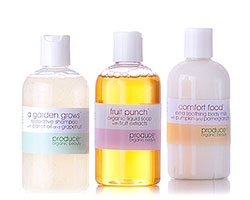 Give someone their full ?servings? of fruits and vegetables for the holidays. Produce Organic Beauty has launched three ways to add more vitamins to your daily routine: Comfort Food extra soothing body milk with pumpkin and pomegranate, A Garden Grows restorative shampoo with carrot oil and grapefruit and Fruit Punch Fruit Punch organic liquid soap with fruit extracts. All Produce products use active ingredients from fruits and vegetables.
Produce makes natural and healing products for the hair and body using certified organic active ingredients from fruits and vegetables. They are chemical, synthetic, pesticide, herbicide, fungicide and toxin free. Produce products are made with ingredients that are of the highest food grade quality. A great idea for the organic in your life!
To order Produce products, call (503) 286-9276 or email ordersproduceorganicbeauty@yahoo.com
Wait! Don´t forget to Subscribe for Free!
Main Feed | What is RSS?
Enter your E-mail below to Subscribe

*
No spam
|
Privacy Policy
We will not sell or distribute your e-mail address to anyone else.
Written by Gianna Brighton