W Hotel Shop Package
Wrap up the year in W style. W Hotels knows how hard it can be to find the perfect gifts for the fashionista in your life, so they're offering the ultimate shopping experience. Shop 'til you drop this holiday season with the Shop package with more than $150 worth of shopping delights. Book a stay at a participating W Hotel by December 31 and receive fabulous goodies that will make your holiday shopping so much easier: a $50 Bloomingdale's Gift Card, $50 off at W Hotels The Store, Limited Edition W Gift Wrap Set, Bloomingdale's Tote Bag, Two Wraptinis and a wonderful room you'll love.
Explore more at http://www.whotels.com/holidayshop
Selective Eyewear Elements
Any self-respecting fashionista knows that accessories make the outfit, from your bag to your shoes to your belt and even your glasses. But these must-have items are not generally available to the majority of the buying public, thanks to their sky-high price tags and cultivated exclusivity. Selective Eyewear Elements (SEE) refutes this system; its optical boutiques offer cool, modern eyewear from the top European design houses, all at affordable prices. You can find both eye glasses and sunglasses. She will be impressed!

For million dollar looks without the pricetag, in Los Angeles, you can find SEE Eyewear in the Beverly Center or order online at http://www.seeeyewear/
Chip and Pepper Jeans
Today's darling needs her designer jeans, and she'll think of you everytime she slinks into her fabulous Chip and Pepper Jeans. Next to the little black dress, a long, lean pair of jeans that hugs her in all the right places and feels like a second skin may be the most desirable, as well as the most versatile, item in her wardrobe. Chip & Pepper has her covered there, with boot-cut, skinny, and classic styles.
Their ideal woman is not bound to cityscapes or beach fronts. Instead, she moves between them with ease and never seems out of place in either. With her in mind, Chip & Pepper have created a women's sportswear line that includes caftans, tailored dresses, tunics, and flowing tops that echo the freedom of the sea but with a touch of polish and flair.
Tsubo
Tsubo means "healing points" in Japanese. These shoes are modern and hip, yet uber
comfortable. Made of some of the most unique fabrics and leathers on the market, Tsubo has cornered comfort and style in one line. This cutting edge brand is a Southern California based company that is exploding into the mainstream in 20 countries worldwide and all over the States. Sold at Fred Segal and Nordstrom's this brand has cornered the market on comfortable, stylish shoes for men, women, and kids.Celebrity fans include Teri Hatcher, Phillip Seymour Hoffman, Ashton Kutcher, and Felicity Huffman and many more.
http://www.tsubo.com/
Brastraps.com
Ditch the boring gifts this year for these cute alternatives by Margarita Couture. Brastraps.com maven Margarita Reis has created a new wave in accessorizing with her designer bra straps. According to Reis, the right bra strap can enhance your outfit, and the new Elite by Margarita fashion straps, which feature between 150 to 344 individual Swarovski crystals per pair, can really make an outfit even more special.
Available in different styles, the Fashion Straps are decorative bra straps that add a little glam to your outfit day or night. Silver Glitter straps and Butterfly Straps are popular with tweens and teens. Adults should try the Beaded, Daisy or Gold Glitter Straps and Diamond or Pearl straps. Specialty Straps are also available and include the new Elite by Margarita bra straps with Swarovski crystals. These "bling bling" bra straps are fancy enough to be worn under a sexy top and also add an elegant touch to evening gowns and wedding dresses.
http://www.margaritacouture.com/
Fun'n Flirty
Want to add that extra pow to your sex appeal? He won't know what hit him!
Fun 'n Flirty introduces their signature product – Thong Along, the pheromone enhanced panty. Science now confirms the power of pheromones – nature's amazing little hormone which creates that subconscious chemistry between two people. It's the "Perfect Aphrodisiac". So have fun being a Thong Along Girl and enjoy being the special, sensual you! What could be better than adding a secret little edge?
Surly Girl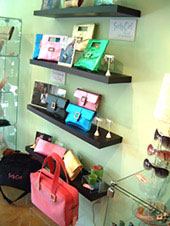 Treat your favorite gal like a Hollywood celebrity with accessories from Surly Girl. These playful but sophisticated clutches and bags have been mainstays of the red carpet and on TV series such as "Desperate Housewives" and "Arrested Development". Eva Longoria, Paris Hilton, Nicole Richie, Nicolette Sheridan, Britney Spears, Rachel Hunter, Christina Milian, Portia de Rossi, Hilary Duff, Joely Richardson are just a few of the many stars who've been spotted with these stylish accessories. The entire range of Surly Girl collections is now available at the flagship boutique on the glamorous Robertson Boulevard in Beverly Hills. In addition to Surly's signature bags, the shop offers Surly wallets, loungewear, belts, Swarovski jewelry, and soy candles.
Unique Handbags 4 Less
The phrase "Made in Italy" remains one of the best-known trademarks of quality and style in the world today. Discerning shoppers especially love to see those three little words on leather goods, and Unique Handbags 4 Less brings a whole range of these products to consumers. A full collection of designer handbags, belts, and apparel made from the finest Italian leather is yours for the picking, at prices any woman (or man) can afford.
Now you don't have to choose between your mortgage and outstanding Italian design, thanks to Unique Handbags 4 Less. The company also proves you don't have to sacrifice choice for affordability. Whether you're looking for a hobo or a tote, an option for evening or a rugged sack for the day, classic neutrals or a bright accessory, Unique Handbags 4 Less has them all. The hottest trends are all here too, from pebbled leather to sexy studded designs. You'll also find intricately embossed patterns and expertly matched multicolored swathes. They'll certainly match whatever you have in your wardrobe.
Kasil
Know someone who has to have the latest in designer jeans? Melt their hearts this holiday with the gift of Kasil denim. Using only the highest quality ring-spun Italian denim and indigo dyes, it stretches to form fit, but it goes back; it doesn't 'blow out' like regular jeans do, for example, at the knees. Besides jeans, Kasil also carries a full line of t-shirts, tailored blazers and accessories. A great gift idea is the Scoodie, a hybrid scarf/hoodie with a little cell/ipod pocket perfect for winter weather. They come in an array of fabrics, patterns and colors, and will soon be available in cashmere.
Kasil Jeans are available in a variety of styles for men and women, and can be found in high-end boutiques across the country in such high end boutiques such as Lisa Kline, Fred Segal, Ron Hermann, and was also recently introduced at Nordstrom. So whether they want the perfect sleek skinny jeans or a sexy low-rise boot cut, you will find the perfect pair with Kasil. They're sure to satisfy even the most die-hard jeans junkie!
Wait! Don´t forget to Subscribe for Free!
Main Feed | What is RSS?
Enter your E-mail below to Subscribe

*
No spam
|
Privacy Policy
We will not sell or distribute your e-mail address to anyone else.
Written by Gianna Brighton