Normally I don't go downtown. Images of homeless people and empty streets with abandoned buildings come to mind, but I had heard a rumor that downtown has been going uptown over the past year or so and that it's becoming the hottest of spots in L.A to hang out at.
I met my friend Nick in the alleyway that hosted the entryway for the Edison Bar. Even though we felt like we were bootleggers heading into some sort of secret speakeasy, we couldn't help but notice that the block was completely non-scary for being in a downtown neighborhood. It was well lit and there were people streaming in and out of sushi bars and nearby lounges. It wasn't a scary area at all. In fact, it kind of reminded me of a street straight out of Manhattan.
After the doorman ticked our name off of a list, we strolled into the looming entryway. Impressive, was the first word that came to mind. First of all, The Edison Bar is two levels of huge. Built in the eary 1900's, the building was originally downtown LA's very first power. Andrew Meieran redesigned the bar to retain its architectural and mechanical artifacts, combining hardwood, polished concrete, massively high exposed brick walls and various metals. Around every corner we found a surprise. There were vintage black and white images being projected onto the walls, dark and cushy lounge sections were we witnessed various couples getting their make out on and a hidden ladder that lead you to a secret scenic view of the bar.
Nick and I did round one and then headed straight for one of their three bar areas. The bar menu had various upscale wines and handcrafted cocktails with names like Charlie Chaplin (apricot brandy, sloe gin and lime), Lovers Temptress (tequila, lime, cointreu and cranberry) and Hemingway (champagne and Absinthe). We were like two giddy teenagers in an alcohol store!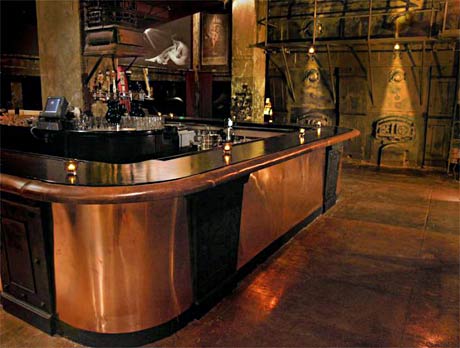 As Nick and I stood and watched our drinks being poured, we quickly compared notes and came to the same conclusion. Even while the Edison Bar projected an upscale vibe, the crowd hanging out was completely eclectic. This was the place where the hipsters go when they feel like Silverlake is becoming too mainstream. It's the place where the cool kids go when they're "so over" the typical Hollywood scene. There were hipsters, prepsters, socialites, artsy types and execs all co-existing and mingling to the music of Miles Mosley and Dj Motiv8 of the Black Eyed Peas. This unique and vast bar had united us all!
All in all, The Edison Bar did not disappoint in any way at any time. It will certainly be setting the standards all around Los Angeles for upscale bars and lounges.
The cutting edge Edison Bar officially opens its doors to the public in January 2007. For more information please view their website at www.edisondowntown.com. Read more about the Edison here..