Every self-respecting fashionista knows that no look is complete without an eye toward cut and color. From head to toe, every little piece counts. But whereas you can pick up the season's shoe or bag on a whim, a great haircut is a little harder to come by – unless you have trusted expert guidance.
In Los Angeles, we're lucky to have specialists in both fields, such as Edward Tricomi and Joel Warren. Together, they helm the Warren-Tricomi Salon, which started in New York. Last year they joined forces with Kaz Amor and now claim their fifth Warren-Tricomi salon, located in West Hollywood.
Seeing a new hairdresser is always a daunting proposition, but the Warren-Tricomi Salon has the kind of credentials to put you at ease. No less legendary a style icon than Vogue, editor Polly Mellon first recognized Edward Tricomi's talents and brought him into the high-fashion world. Since then, he's been a regular contributor to domestic and international editions of Vogue, as well as designer collections at New York City's Fashion Week.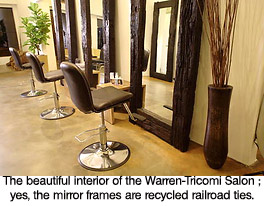 Television has caught on to Edward's talents too, and he can be seen discussing 'dos on The View, Good Morning America, Live with Regis & Kelly, and America's Next Top Model.
Joel Warren is the other half of this successful team, punctuating his clients' looks with just the right shade. Though he's not afraid to try new techniques and explore his talents, his aim is to bring out his clients' personality and individuality, not to force passing trends on them. Joel has five basic techniques that he employs as dictated by his clients' needs. They can range from subtle highlights that mimic the effects of sun exposure to big blocks of color that are sure to turn heads, but they always work with the individual in the salon seat. His roster of satisfied clients, which includes Ivanka Trump, Paulina Porizkova, Kate Beckinsale, and Jessica Alba, reads like a list of the world's best-dressed women.
The Warren-Tricomi experience isn't limited to the salon; Edward and Joel have created several lines of hair treatments for use at home. Pure Strength features the progressive Three-C System (Cleanse, Close, and Condition), while Cabana Collection uses organic ingredients, and Style Line comes in at the high end of the spectrum with professional-quality products that let you wield the power of the salon when you're on your own. All three lines can be found at Bath and Body Works or C. O. Bigelow stores.
The team can also be seen in a new collaboration: Salon Diaries, a reality show that first aired on Bravo in May 2006.
It's nearly impossible to downplay the importance of the relationship between a woman and her hairdresser, and the best-dressed heads can be found on ladies who've found the beauty experts who can interpret their needs. Edward Tricomi and Joel Warren are men who know that women want to express themselves through their appearance. Just as tellingly, the two men understand the trust imparted to them by their clients, who happen to be among the most beautiful women on the planet. If it's good enough for the stars, you have to know it's good enough for you. But if you can't make it to the Warren-Tricomi Salon, the duo has bottled its magic in numerous products available at retail stores. Looking good has never been so easy.
Warren-Tricomi Salon
8327 Melrose Ave. West Hollywood, CA 90069
323) 651-4545
Wait! Don´t forget to Subscribe for Free!
Main Feed | What is RSS?
Enter your E-mail below to Subscribe

*
No spam
|
Privacy Policy
We will not sell or distribute your e-mail address to anyone else.
Written by Jane Emery