After the Great War, that is, World War II, America emerged for the first time as the avant-garde leader of global industrial design. This occurred primarily because Europe's damaged manufacturing capacity to bring innovations to consumers and the depletion of creative manpower quite literally stunted its position and influence in the huge postwar economic boom occurring in the United States.
The designers and artists of the demolished creative centers of Europe were forced to "make do" with whatever resources still existed after the bombings and demise of colonialism's pipeline of inexpensive materials. They cobbled together and massaged designs and concepts that mostly pre-existed at the time war broke out on an international scale. Depending on where you lived and worked, this division in chronologic terms occurred in 1939 Europe after the invasion of France or 1941 America after the attack of Pearl Harbor. This period of time encapsulates the introduction of the first computers, use of nuclear energy, and aerospace and industrial capacities of incomprehensible size. Our post-depression consumer-based society wanted everything imagined. We were a hungry economy. New was in. Different colors and unusual textures were in. Nobody wanted to return to the dark earth tones and brick and mortar days. Plastics, aluminum, Plexiglas, and bright paint attracted the masses. Everything was smaller. Everything was bigger. Everything was new, new, new.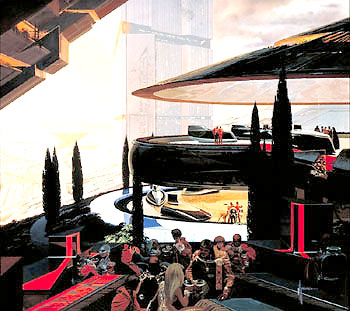 This was the America in which Syd Mead grew up and established his creative footing that represents to this very day his very large creative, conceptual, futuristic footprint. It was not easy for a youngster from a small town to understand the long-term dynamics of industrial design quickly, and to assimilate and then make a lasting impression seemed almost impossible considering the staid corporate design studio mentality of the era. However, Mr. Mead's small-town roots can be viewed as the key or catalyst to his remarkable creative career.
It has long been thought that dense population centers, with their endless rhetorical messages and dumbed-down imagery amidst the traffic and crowded sidewalks splayed about the communities, somewhat mute and deemphasize a child's creativity because the saturated environment leaves little time for one's own thoughts and ideas. The young mind is content and sullied because all the apparent answers are there already and therefore no dilemma exists. America's vastness and rurality, on the other hand, is a huge cerebral reservoir responsible for great changes and unique new expressions unequalled globally. Syd Mead was one of the children whose mind was shaped by his own curiosity and hours and hours of drawing in these small town settings.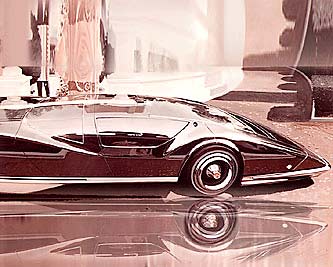 The conceptual art of the 1950s was dreams based on the transportation systems of steamships, trains, and automobiles with the relatively new airliners representing almost all the future. These industries constituted all the futuristic art and generally had been linked to very small changes occurring in the manufacturing of these one-of-a-kind machines. Clichés and reputations, like Flash Gordon and Jules Verne, described the illustrations and renderings and until the 1950s were mostly paperback covers and B-movies. Design moved slowly—and even more slowly when associated with science fiction and fantasy—due to the impracticality of manufacturing or perceived miniscule niche market for these products. Never before had form and functionality been this close together: never at the design studio, never at the board room, and never in the manufacturing plants themselves. Somehow this was about to change in America and we never, as endless consumers, ever looked back. New and different was appealing and became a industrial creed that the rest of the world really has not caught up to—certainly not in the 20th century and probably not the 21st century either!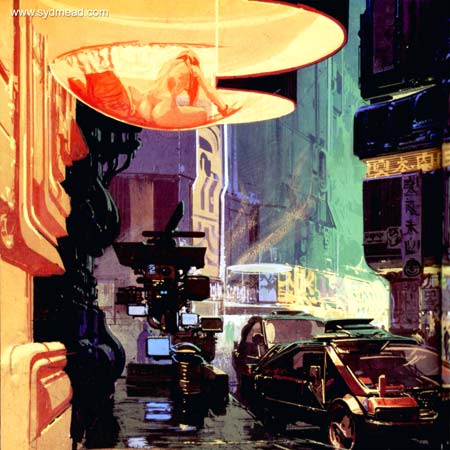 Syd Mead's maturing ideas and concepts were blessed with perfect timing and need. He visualized all the common transportation systems uniquely, getting rid of the ornate gingerbread such as Doric or Corinthian columns and the smooth, rigid shapes added for strength like flying buttresses. Power plants and engines were diminished or removed. Gone were the rather prominent serpentine exhaust pipes or throwback homage to bygone designs including port windows or streamlined edges. Instead, he gave us large architectural surfaces, obviously unsupported by logical means, and people were left to wonder how a truck could be so big (bigger than a highway) or how to appreciate an uncluttered, smooth, empty surface without the accompanied peripheral pipes and boxes and wires, or the inbred conception of familiar swirling chrome shapes and motifs.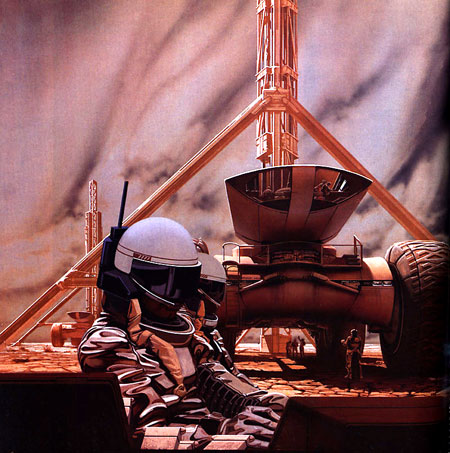 The early designs of Syd Mead showed the creative world that it can be less chaotic and more functional and take advantage of engineering breakthroughs, and that minimal approaches to form are richer than inexpensive ornaments. America is lucky that the preponderant weight of the boardroom culture, chasing the sure bet and value to the shareholder, let an individual artist change consumer visions of what they wanted so profoundly. In hindsight, the art historian will, no doubt, obviously see the difference between Syd Mead and his peers in that critical time frame and understand it is, to beg the analogy, the difference between Jimi Hendrix, guitarist extraordinaire, and the plethora of guitarists playing at the same time. Syd Mead's impact was similar to Hendrix's impact. In the music world, nothing was the same after the influential arrival of Jimi Hendrix. In the art world, nothing was the same after Syd Mead.
So now here we are looking back, Monday-morning quarterbacking the eminent creative genius of the American baby boomer's lifetime. Sum up all boomer works, ideas, protégés, and mentoring and what do we have? Foremost,
the American creative community is the ultimate source of what tomorrow is going to look like. Syd Mead painted and drew a pedestal to which all creative professionals can aspire. In a free, creative society, Syd Mead represents "as good as it can get." His inspiration will beg many souls to try a little harder to throw away old standards and potentially be the one radical conceptual artist of his own era. If there never was someone like Syd Mead—what would the world look like?
Recently, Joaquin Montalvan, independant filmmaker has won the Audience Award for best documentary at Dances With Films festival with his documentary on Syd Mead, called "VISUAL FUTURIST – The Art and Life of Syd Mead". The festival founders indicated that the average audience rating for the film, out of a possible 5, was a 4.97…the highest rating in the festivals 9 year history. To view a 5 minute trailer of his documentary, click here.

"Visual Futurist" is now available on DVD from the Syd Mead website at WWW.SYDMEAD.COM . As Syd says himself, ""It's going to be swell."
Wait! Don´t forget to Subscribe for Free!
Main Feed | What is RSS?
Enter your E-mail below to Subscribe

*
No spam
|
Privacy Policy
We will not sell or distribute your e-mail address to anyone else.
Written by Brent Hamilton