Las Vegas was transported to LaLa Land on August 26 for a little sinful indulgence in the City of Angels. Halos were left at home as guests poured into Barker Hanger at the Santa Monica Airport for Eat:Drink:Play's "Vegas in LA", a celebration of food, wine and gambling for a cause.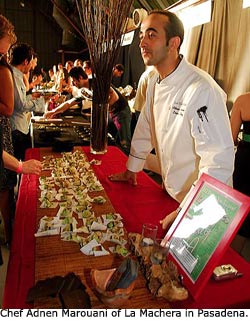 Barker Hangar became a mini-Sin City, a sensual feast complete with food and wine tastings, an international wine bar, VIP Lounge, DJ Fivestar of the clubs Mood and Garden of Eden, and a Vegas-style casino featuring more than 40 tables of blackjack, craps, roulette, and poker. Over 1,000 food and wine enthusiasts enjoyed the walk-around tasting featuring signature dishes prepared by 40 of the hottest local restaurants and wines from 80 domestic and international wineries. Restaurants included: 25 Degress, Angelini Osteria/La Terza, Blue on Blue, Bombay Cafe, Border Grill/Cuidad, Breadworks, Cafe Del Ray, Cafe Surfas, Cha Cha Cha, Chocolat, Compartes Chocolates, Cookies Couture, The CrepeVine Bistro & Wine Bar, EK's Breadbar, i Cugini, La Maschera Ristorante, Leda's Bake Shop, Literati 2, Luna Park, Michael's, Michelia, Ocena and Vine, Ole! Tapas Bar, Pizza Rustica, Red Pearl Kitchen, Rosti, San Gennaro, Sushi Girl, Tagine, The Victorian and Violet.

Wineries included Alexander and Wayne/Arthur Earl, Bonny Doon, Cass Winery, Chalone/Acacia, Classic Wines of California, Cobblestone, D'Anbino Cellars, Eberle Winery, Edward Sellars, Gelfand Vineyards, Giessinger, Herzog Wine Cellars, Honig, Hoyt Family Vineyards, Huber Vineyard, Laetitia/Barnwood Vineyard, L'Aventure, Ovene Winery, Paige 23, Palm Bay Imports, Peju, Rancho Arroyo Grande, Rotta Winery, St. Supery, Summerland Winery, Tablas Creek, Vina Robles, Vinum Cellars, Winepalate.com, and Wines on Pine/Midlife.
Guests used play chips to gamble away at the casino. Any winnings (or leftover chips for those without Lady Luck on their side) were exchanged for entry tickets to a raffle, with the chance to win exciting prizes such as exclusive museum memberships, dinner packages, concert tickets and a first class weekend package to Las Vegas.

The event also featured a silent auction of fabulous prize packages. They included two roundtrip tickets on Southwest Airlines, deluxe accommodations for two nights at the Marriott Las Vegas, four VIP tickets to the World Poker Tour final taping, a couples spa day at Kara Spa at Park Hyatt Los Angeles, and a Diane von Furstenberg Julian wrap dress. Other prizes included restaurant and winery gifts, concerts and TV show tickets, and many other casino, hotel and spa-related items.
A portion of the event proceeds went to Step Up Women?s Network, a nationwide membership organization dedicated to strengthening community resources for women and girls. With hands-on community service, mentoring, and fundraising for women's health and critical issues, they educate and stimulate members to ensure that women and girls have the tools they need to create a better future.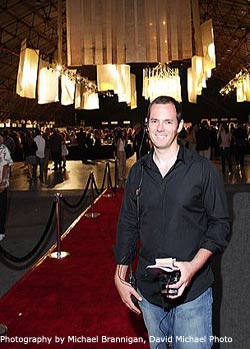 The event was hosted by Dan Silberstein, president and founder of CozmoCard and Drink:Eat:Play. It was sponsored by CozmoCard, the premier dining and shopping cards for Angelenos, in association with OpenTable and LA.com. Other sponsors included Cobblestone Wine, Fiji Natural Artesian Water, BottleRock, GenArt, Brentwood Media Group and K-Mozart.
CozmoCard is a membership program built exclusively for Los Angeles locals who want to "eat, drink and play: at the hottest spots in town, including a variety of hip restaurants, boutiques, and arts and entertainment venues. Membership offers discounts of up to 30 percent at over 750 business throughout town without the hassle and mess of coupons.
http://www.cozmocard.com/
http://www.eatdrinkplay.com/
http://www.stepupwomensnetwork.org/
Wait! Don´t forget to Subscribe for Free!
Main Feed | What is RSS?
Enter your E-mail below to Subscribe

*
No spam
|
Privacy Policy
We will not sell or distribute your e-mail address to anyone else.
Written by Staff Writer